GCSW Alumni Earn UHD Faculty Awards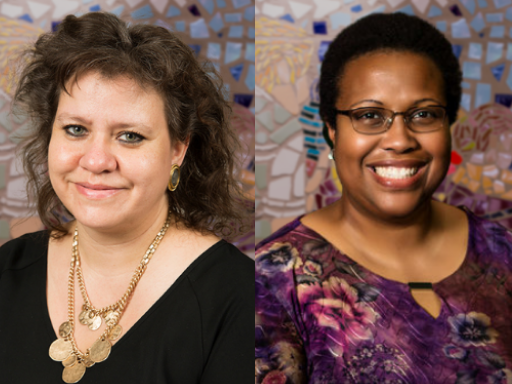 May 28, 2021
(HOUSTON, TX) - UH Alums Angela Goins (MSW '96) and Heather Goltz (MSW/MEd '05) were selected as this year's recipients of the Dean's Awards in Distinguished Teaching and Distinguished Research, respectively, by the University of Houston - Downtown's College of Public Service where both serve as faculty members. 
The criteria to be awarded the Dean's Award in Distinguished Teaching states that the recipient must be a "teaching faculty member whose recent teaching performance and initiatives demonstrate outstanding teaching contributions within the College of Public Service."
Recipients named Dean's Award in Distinguished Research must "demonstrate outstanding research contributions within the College of Public Service."
We asked Dr. Angela Goins to share how her time at the GCSW impacted her social work education and the critical role social workers play in advancing social justice for future generations. 
---- 
Name: Dr. Angela M. Goins, LMSW
Pronouns: she/her/hers
Graduation from the GCSW: (MSW' 96)
Current Title: Lecturer of Social Work  
Along with your recognition, it states that "the single greatest effect on student learning is the effectiveness of a teacher." Why do you believe excellent teaching is vital in the field of social work/public service?                  
When I think about why "great teaching" is essential in social work and public service, the following thoughts come to my mind: When teaching students, I consider how my worldview is critical in how I approach teaching as a lecturer. I believe that our worldview impacts how we see people, the environment, and the world in which we live and that out of that worldview, we arrive at our teaching and learning style. As both a social worker and instructor, my worldview is molded by the strengths-based perspective. This perspective focuses on the positive before the negative when looking at an issue or working with an individual (especially a student). This approach empowers not only the teaching/learning process, the students we work with, but the instructor who uses this lens. It can be challenging to wake up each morning and choose to be positive when there is so much in the world to bring us down. To impart knowledge and encourage learning in the classroom, especially on those "tough" social work issues we face, a strengths-based approach or attitude to teaching is imperative. I also believe that education should be active and involve the student as much as possible. It is easy to be the "sage on the stage" and list all the facts and details (which are essential) regarding our expertise and content discipline. Still, learning requires and necessitates a subjective component for students as well. We should be students' "guide to the side" in the learning process, giving them that gentle and sometimes silent encouragement they need. It is just as important for an instructor to value students' thoughts, feelings, opinions, self-reflection, critical thinking, and connection to the material and content in the classroom. Taking ownership, per se, of the material for a student will help them retain the facts and details and, more importantly, empower and equip them with the tools required to serve and advocate for others and fight for social justice for those who are vulnerable in society.  
How did your time at the GCSW prepare you for your career in public service/social work? 
I am proud to say that I was one of only six students in the gerontology concentration at the GCSW during my four years when I worked on my MSW (1992-1996). We were a small cohort but powerful advocates. I learned how to be a geriatric social worker through my work experience in aging at the time (Adult Protective Services) and from my excellent professors at the GCSW. I learned how to empower older adults in society and provided many opportunities from the College to do so. During my years at the GCSW, I learned how to identify social injustices within any population and how to confront the oppressive systems and barriers that caused those injustices. Engaging in a public service career setting as a social worker came naturally to me and helped me carry out those tasks daily.  
You're a current Board Member of the GCSW Alumni Association. At the GCSW, our vision is to achieve social justice, local to global. Why do you believe this vision resonates strongly today? 
Today, social workers face more complex problems and issues than any other generation of social workers to date. We live in a cruel, unjust world, where the choice of taking a road more comfortable and more traveled is the norm and celebrated. Yet, social workers, with their focus on and practicing social justice for ALL people, locally and globally, are beacons of light and hope in the world. As such, they accomplish great deeds while traveling down roads less comfortable and less traveled. The GCSW provides a nurturing environment where students learn how to achieve social justice for all populations.                  
Anything else you would like to share? 
Sharing knowledge and practice wisdom to the next generations of social workers has been a true honor and a significant achievement for me. Teaching my students at UHD was my inspiration to pursue the Doctor of Social Work (DSW) which I received in 2018 from the joint social work program at St. Catherine University/University of St. Thomas in St. Paul, Minnesota. The doctoral focus of my degree was "Education as Practice." This education and my studies at the GCSW have empowered me to teach confidently and instill in my students the value of service to others, especially those who are marginalized and vulnerable in society. I feel very blessed!