Anna Hunter (MSW '15) Wins National Award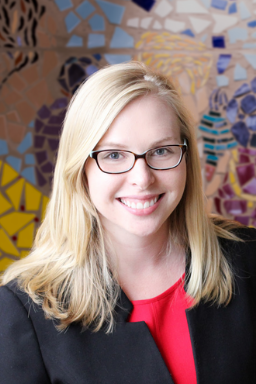 February 8, 2020
(HOUSTON, TX) - GCSW Director of Recruitment and Alum, Anna Hunter (MSW '15), was honored as this year's Rookie of the Year by the National Deans and Directors of Social Work Admissions.
This award recognizes Anna's "creative and innovative approaches to graduate admissions, and her active engagement with the admissions community." Only those working in admissions for less than five years are eligible for this annual award. 
We asked Anna Hunter to discuss how her time as a student at the GCSW shaped her personal approach to recruitment and student affairs.
----
Name: Anna Hunter, (MSW '15)
Pronouns: she/her/hers
Title and Department at the GCSW: Director of Recruitment, Admissions & Student Affairs
When did your career in social work admissions begin?
I joined the GCSW Student Ambassadors in 2013 when I was an MSW student. Even though this was a volunteer position, it allowed me to recruit students for the GCSW through conferences, recruitment events, information meetings, and one-on-one conversations. I loved being an ambassador so much; when I found out they were hiring a College Recruitment Manager in 2015, I jumped at the opportunity to apply! I have been working full-time in the GCSW Office of Admissions and Student Affairs since November 2015.
Who was someone that you looked up to when you began your career?
Amber Mollhagen, without a doubt! She has been a mentor to me since I was a student ambassador, and when I started as the College Recruitment Manager, she taught me everything I know about admissions and recruitment. She has given me countless opportunities to grow in my position, encouraging me to be involved in professional organizations and modeling how to be an effective leader.
What led you to work in the Admissions & Student Affairs department?
I happened to bump into Amber at the United Way Agency Showcase. When I heard that the college was hiring a Recruitment Manager, I thought back to all of the fantastic experiences I had as a student ambassador. Then, Amber sent an email to all former ambassadors once the position was posted, and I had to apply. I could tell there was substantial growth potential in the position, and I knew that I would love the work. Five years later, I'm proud to say that I'm still here, and I have even grown into a new role as the Director of Recruitment!
What do you believe makes the GCSW Admissions & Student Affairs department unique compared to other colleges/universities?
The fact that we serve students throughout their entire experience at the GCSW, from prospective student to MSW graduate, makes us stand out. When Admissions and Student Affairs are separate departments after students have enrolled, Admissions can often lose contact with the student body. Since our department is one team, we can better understand the entire student experience and work together to ensure that experience is positive and successful. I also have to say that everyone in the department is a Rockstar! They are all dedicated to serving our students and supporting every member of the team.
Congratulations on the Rookie of the Year Award! What do you believe to be your most significant impact on the department and the college thus far? 
When I think back on my career, what stands out the most is the personal relationships I have cultivated with prospective students through the admissions process and with current students through the Student Ambassador program, which I now lead. I am immensely proud to play a significant role in the journey of applying to graduate school because it is the beginning of so many social workers' careers. I have also witnessed student ambassadors get their first job opportunity at one of the events they attended on behalf of the college. I am always thinking of making the applicant and admitted student experience better: whether through communication, student ambassadors, resources, or programming.
Anything else you would like us to know?
I want to thank my teammates – Amber, Trenadia, Cindy, Micol, and Kennedy – who make coming to work every day incredibly enjoyable. Over the last five years, they have supported me in all of my significant life changes, and I'm honored to work with them!