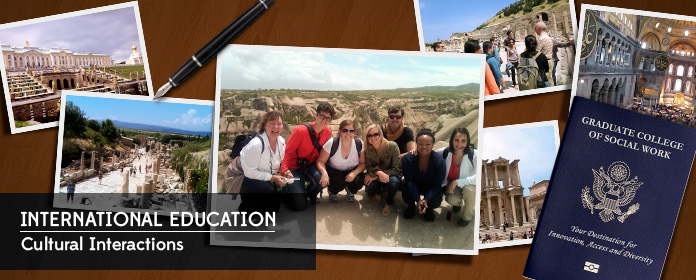 The world community is rapidly changing and becoming an increasingly interdependent global marketplace. The social work profession recognizes that competent practice requires knowledge of other countries and peoples, appreciation of cultural diversity, and the capacity to function as internationally competent individuals.
In order to ensure GCSW students receive the best opportunities to increase their global knowledge, it is of the utmost importance that the GCSW provides support for students wishing to expand their education. The GCSW's Office for International Social Work Education is committed to supporting, promoting, and celebrating individuals in an intercultural global environment. The Office advocates for and facilitates international and cross-cultural experiences, perspectives, and initiatives. Several opportunities for international education are listed below.
Study Abroad
Through our Office of International Social Work Education, students have journeyed to destinations around the globe for study abroad courses. Courses are typically offered in the summer and are 2 to 3 weeks in duration. Usually, courses count towards elective credits. Students benefit from established partnerships with a number of agencies and institutions worldwide. To learn more about study abroad opportunities, attend an information meeting in late fall (look for meeting announcements in GCSW communications), or contact Dr. Patrick Leung at pleung@uh.edu.

The GCSW has led trips to the following countries:
India: 2020

Yogyakarta, Indonesia, 2019

Puerto Rico, Ireland, Wales, UK: 2018
Hong Kong and China: 2003, 2004, 2007,2009, 2010, 2011, 2014, and 2017
Swansea, Wales, UK: 2016
Cuba: 2016
St. Petersburg, Russia: 2015
Bolivia: 2014
El Salvador: 2013 and 2014
Sweden, Finland, Russia, Latvia and Poland: 2012
Turkey: 2007, 2008, 2009, 2010, 2011, 2012, and 2013
South Africa: 2008
England and Scotland: 2006
England and Wales: 2003
Reciprocal Educational Exchange Program (REEP)
For many years, the GCSW has offered international exchange opportunities including hosting several exchange students at the GCSW each spring and placing GCSW students in agencies in Hong Kong focusing on clinical or community practice during the summer semester. Applications for the GCSW students to complete field work in Hong Kong open annualy in spring.
Lectures & Workshops
Throughout the year, we regularly host international social work scholars and students to promote an environment of cultural exchange. Our lunchtime international lecture series provides students a window to the world they will encounter post graduation. The GCSW is committed to offering our students programs, opportunities, and experiences to enrich their social work studies with a global perspective.
Contact Information
For more information on any of the opportunities listed above, contact Dr. Patrick Leung, Director, Office for International Social Work Education at pleung@uh.edu.