Meet Our Students & Graduates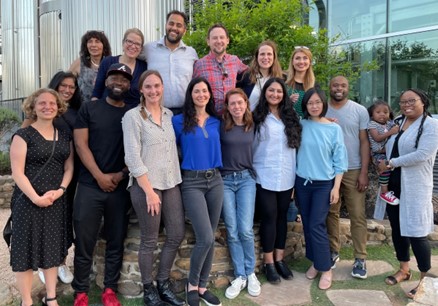 Cohort 2022
 

 

 

Alexandra was born in Seattle, raised in Denver, and is a proud graduate of the Metropolitan State University of Denver School of Social Work. Alexandra worked as a mental health and substance use case manager and residential counselor with adults for four years in Denver. Alexandra has been a research assistant conducting studies on Objectification Theory, Multiple Marginality Theory, policing practices, youth gangs, mass violence, and youth sports. She has worked with community organizations writing grants which allowed her to see how vital organizational support is to the success of the youth served and fueled her desire to improve services for marginalized individuals. Alexandra is interested in studying the adultification of Black girls and its intersection with the Foster Care-to-Prison Pipeline. As a biracial woman, Alexandra is committed to social justice and the empowerment of those who are silenced. Alexandra enjoys listening to live music, hanging out with her dog Rory, and traveling

 

Umaira Khan

 

Umaira grew up in western New York, where she obtained her B.A. from University of Buffalo and MSW from Nazareth College. Prior to joining the doctoral program, she lived and worked in New York City, where she was a licensed social worker in therapeutic foster care. After obtaining a degree in teaching from Pace University, she worked as a special education teacher and instructional coach. In addition to the K-12 school context, Umaira taught several undergraduate special education courses at New York University and served as a field mentor for emerging teachers. Umaira's research interests center on the experiences of youth within systems of oppression, with a particular focus on how interpersonal relationships impact these experiences. Within her practice and teaching, Umaira continually interrogates how racism shapes social systems and hopes to combat these forces through research across disciplines and partnering with communities in co-constructing pathways to equity.

 

 

Sheroo Mukhtiar

Sheroo earned her MSW from Washington University in St. Louisa nd a BSW from Nirmala Niketan in Bombay. She has completed several leadership programs including Leadership Houston and the American Leadership Forum.  Sheroo has over 28 years of experience in non-profit leadership and has gained a wealth of knowledge, skills, and experience in managing and operating nonprofits, including program implementation, strategic planning, fundraising, and board development. She has operated as Executive Director for 5 different organizations before her current role as CEO for SERJobs.  As a result of these experiences, Sheroo is interested in exploring nonprofit leadership, organizational dynamics, and related issues.  She is passionate about developing resources that will enable leaders from within the nonprofit sector to lead and grow impactful organizations.

 

 

Virginia Richard

Virginia is a proud graduate of Xavier University of Louisiana and the University of Southern California. She also received a Masters in Theology and Ministry from Fuller Theological Seminary. She has worked as a math teacher and interventionist which fuels her interest in school-based research. Her research interests include racial/ethic identity development and cultural awareness and competency, specifically within the school context.

 

Andrew Robinson

 

Andrew was born and raised in Houston, Texas, and is a licensed master's social worker in Texas, having graduated from the GCSW in May 2020. Since graduating, Mr. Robinson has worked as an adolescent outpatient therapist, providing individual, family, and group psychotherapy for teens diagnosed with a mental illness or substance use disorder. Mr. Robinson is trained in adherent Dialectical Behavioral Therapy (DBT) and is a volunteer for the National Education Alliance for Borderline Personality Disorder (NEA-BPD). Andrew's research interests focus on mental health in the aging LGBTQ+ community and exploring the ethical use of data science & open-source technologies to improve treatment outcomes among underserved and highly stigmatized populations. In his free time, Andrew loves watching horror movies with his dog, Mouse, fiddling around on his electric violin, shooting film photography, and having weekend dinners with his family. 

 

Chelsea Sanchez

Chelsea is a native Houstonian and proud alumna of Baylor University, where she earned her BSW and MSW from the Diana R. Garland School of Social Work. Throughout her practice experience, Chelsea has provided advocacy, crisis intervention, case management, and counseling services to refugees, survivors of human trafficking, and children and youth who have experienced abuse and neglect. She has presented for conferences and coalitions on building effective coalition partnerships, trained staff and volunteers of victim-service agencies regarding trauma-informed care, coordinated Advocacy Response Teams for law enforcement operations that resulted in the recovery of human trafficking survivors, and taught as adjunct faculty at Baylor University. Her research interests include advocacy and crisis intervention training, human trafficking, and international social work practice

 
Cohort 2021
 

 

 

Gregory is a dual degree (MSW/PhD) student at The University of Houston's Graduate College of Social Work. He is interested in researching how mental health therapies, grounded in evolutionary biology and liberation psychology, can reduce substance use and improve life expectancy and whole being. He focuses on the healing of personal and collective identities, especially for the racially and ethnically othered and those who have been caged. Gregory received his undergraduate degree in biology from St. Mary's University in San Antonio and an M.Ed. from The University of Notre Dame. In his free time, he is either cooking for his family or playing with his two young sons.

 

André Harris

 

André is currently pursuing a PhD in Social Work at the University of Houston's Graduate College of Social Work. Mr. Harris received his Masters of Social Work (MSW) from the University of Houston and his Bachelor of Social Work (BSW) from Fayetteville State University. He serves as a member of the Rare Disease Legislative Advocates Advisory Committee and President of the Association of Black Social Workers (NABSW) University of Houston chapter. André also serves on the Executive Board of the Sickle Cell Association of Houston and holds positions on several other advisory boards for sickle cell and rare disease stakeholders including Forma Therapeutics, Beam Therapeutics, NHLBI, and HHS. He is a proud member of Phi Beta Sigma Fraternity, Inc. and was recently appointed as the National Sickle Cell Liaison Director.

 

 




Jesse Hartley 

Jesse's previous community, education, and professional experience brought her to pursue doctoral education at the Graduate College of Social Work. Jesse's research examines the impact of historical and present-day structural violence, rooted in white supremacy and anti-Blackness, to disrupt hegemonic social work education and child welfare spaces. She is exploring social work's unwillingness to address the field's complicity in upholding and reinforcing white supremacy in the classroom and social welfare institutions. Employing interdisciplinary methods, Jesse aims to support the agency of marginalized individuals in the interest of dismantling (and ultimately abolishing) toxic systems. Jesse holds a Bachelor of Psychology from the University of Southern Mississippi and a Master of Clinical Psychology from Mississippi State University, and a Master of Social Work from Tulane University. She comes to Houston by way of New Orleans, Louisiana joined by her companion of ten years, her rescue dog Sadie.

 

 




Aly Kramer Jacobs

Aly is a doctoral student in the Graduate College of Social Work at the University of Houston. Her scholarly agenda is informed by her 20+ years of direct practice experience and service as the Director of Behavioral Health and Wellbeing at the Houston Area Women's Center. Aly has research interests centered around gender-based violence – including a focus on both survivor and provider-related aspects – particularly culturally specific interventions and supports following experiences of trauma and provider well-being and longevity in the gender-based violence field. In her free time, Aly enjoys working out and spending time with her husband, son, and two foster-fail dogs.

 

 

Tanya N. Rollins

Tanya is a proud daughter, sister, and aunt. Ms. Rollins believes that research efforts focused on systems should include individuals impacted by the system and those working within the system. She believes that one cannot work to dismantle systems without working to change the oppressive realities of those currently trapped in those systems. Ms. Rollins received her BS in Psychology from Texas A&M University in 1990 and her MSW from Texas State University-San Marcos in 2007. Ms. Rollins retired from the Texas child welfare system after thirty years. She occupied various roles during her time with the Texas Department of Family and Protective Services - investigator, intake specialist, intake supervisor, training specialist, training manager, and disproportionality manager. She has presented at numerous national, regional, and state conferences on poverty, child welfare, racial and ethnic identity, racial trauma, and disparities in the child welfare system. She has also taught as adjunct faculty in the School of Social Work at Texas State University – San Marcos.




Katya Strohl

Katya's research focuses on holistic health equity—specifically accountability in the use of government grants to outsource health and human service programs to Voluntary Health Organizations and Nonprofits. This passion is based on her career working within multiple government funding structures in nonprofits and community colleges.  She has seen both the positive and negative impact of these programs as a clinical case worker, program coordinator, and Americorps Member for a Boys & Girls Club, a student success specialist, and as an operational team member charged with expanding programs and increasing Diversity & Inclusion initiatives at a non-profit. Katya has her MSW from the University of Washington and an M.S. in Sports, Recreation, and Tourism from the University of Illinois. 

 
Cohort 2020
 

 

 

Anil was born and raised in Denver, Colorado, and is a proud alumni of the University of Southern California where he earned his MSW. Anil was able to intern and then work in an agency (Wellness Works) that supported Veterans with holistic practices such as mental health therapy, acupuncture, tai-chi, pranic healing, and more. This opportunity spring boarded Anil's interest in advocating with Veterans and their council members for support. Anil enjoyed examining current practices for Veteran mental health through the VA or outside agencies and understanding the importance of community during the transitional period of leaving the military. Anil is passionate about seeing the impact of the individual veteran on the family unit and long-term housing.

 

Riya Bhatt

 

Riya Bhatt is a proud graduate of the University of Texas at Austin School of Social Work. Her years of experience working as a School Social Worker at Houston ISD and Fort Bend ISD enriched her proficiency in child advocacy, managing trauma, and addressing educational inequities for at-risk youth. Specifically, her aim is to improve the social/emotional health and academic outcomes for marginalized youth. She is passionate about social justice and looks forward to expanding her knowledge of social policies and building strong research skills.

 

Marcus Brown

 

Marcus' research interest includes examining racial health disparities in mental health care, with a specific focus on the ways in which social determinants of health shape Black individual's access to mental health care and their related risk and resilience processes. His scholarly agenda is informed by his direct practice experience as a licensed clinical social worker where he worked in both inpatient and outpatient mental health settings with children, youth, and adults. Marcus is interested in teaching human behavior and the social environment, clinical social work practice courses, and research methods.

 

Sean Burr

Sean's research is focused on the areas of suicide prevention and intervention. He is interested in exploring alternative evidence-based interventions that will allow communities to better respond to suicidality. His research focus is informed by his clinical work in Canada and the US where he observed individuals and their families unable to access quality mental health interventions for addressing suicide. Finding innovative ways to promote greater health equity in this area is a primary driver of his work. Sean graduated with a master's degree from the School of Social Service Administration at the University of Chicago and then completed a postgraduate fellowship in psychiatric social work at the Menninger Clinic in Houston. Prior to joining the program, he worked as a clinical social worker in community mental health in Edmonton, Alberta.

 

Holly Davies

Holly Davies, MBA, MSW, is a first-year doctoral candidate at the Graduate College of Social Work, University of Houston.  Her clinical research focuses on trauma with a special emphasis on trauma surrounding natural disasters and force-majeure events.  Holly's passion for trauma studies was informed by her work as the founder of a Community Emergency Response Team in Houston, where the challenges and inequities surrounding recovery from multiple floods became apparent.  She is interested in teaching quantitative research methods and developing evidence-based interventions to facilitate trauma recovery for all people.



  

Jody Gardner

Jody's research focuses on sexuality and intellectual disability, specifically the intersection between the two and the implications of negative perceptions from caregivers. Jody is interested in developing and implementing a progressive sexual health curriculum to enhance the quality of life among this population, decrease the prevalence of abuse and exploitation, and sexually offending behaviors.  Jody's scholarly agenda is informed by her work in residential settings for adults labeled with I/DD and co-occurring mental health diagnoses, as it became apparent during that time that there was a sizable gap in services related to the sexual well-being of these individuals. 

 

Elena Ionescu

Elena's dedication is in the aging arena. Her research focuses on inclusive teaching, practices in the psychosocial care for older adults, healthy aging, conflict resolution, elder abuse, caregiving, dementia behavior, sexual health and sexual behavior among older adults, and geriatric mental health advocacy. Her passion is to promote successful aging by finding emerging lifestyles and proactive options for the aging ones.

Sangina Khudododova

 

I am originally from Khorog Town, a small city in the Eastern part of Tajikistan. I have done my Bachelor's in Education from Khorog State University. Later, I did my double Masters, MA in Education and Master of Teaching from Institute of Education, University College London in UK. Upon completion of the program, I joined teaching career, and as part of this profession, for the past 10 years, I have worked in contexts as diverse as, Kenya, Tajikistan, South Africa and the UK. It was due to this rich experience of working in different contexts, with young boys and girls from different cultural backgrounds, that I realized, the success of every child depends on the state of their mental health. Unfortunately, in the context of my home country, in Tajikistan adolescent mental health is neither taken seriously nor, has ever been studied. To fill that gap and bring awareness about the importance of adolescents' mental health, to identify the major factors leading to mental health disorders among adolescents in Badakhshan (a region in the eastern part of Tajikistan) and make suggestions on how to address these issues, I am interested in studying Adolescents' mental health in Badakhshan. Coming to GCSW UH was a dream to come true for me. I am hoping, with the support of my professors, through this PhD program, I will be able to contribute towards bringing social justice to the lives of young boys and girls in the remote area of Badakhshan-Tajikistan.

 

Ying Ma

 

Ying's research primarily focuses on community-based gerontology, social work interventions in mental health and chronic diseases among older adults with disabilities, and LGBTQ aging. Her research agenda is driven by her teaching and research experience in the School of Health Care Management at Anhui Medical University as well as her direct practice with older adults with dementia in Hefei City, Anhui Province, China. She received her MSW from Brown School at Washington University in St. Louis in 2020. Ying is passionate about social work innovation education. As one of the founders of Hefei Community Governance School (NGO), Ying is committed to improving the quality of community social work practice with a focus on public health through education. She is interested in teaching social work research methods, social epidemiology, issues and theories on aging, and aging network services.

 

Helen Spencer

Helen earned her MSW from the University of Houston and holds a BA In English from Texas A&M University. She was born in Tokyo, Japan, and lived on military bases in Utah and California before putting down roots in Fort Worth, Texas. Her research focuses on conditions that support and impede positive youth functioning in alternative family structures such as stepfamilies. Before entering the dual degree MSW-PhD program at UH, she worked in journalism, communications, and family and community engagement.

 
Cohort 2019
 

 

 

 

Gabrielle Aquino-Adriatico, MSW is a fellow for Council of Social Work Education's Minority Fellowship Program. Her research interests focus on multi-level factors that shape the mental health and well-being of Filipina/o/x communities. Past research projects include: domestic and international research on human trafficking, gender-based violence, minoritized populations, and multi-level factors that impact communities living with HIV/AIDS. Her research agenda is inspired by her family, her community, and her direct practice experiences in Los Angeles, Thailand, and the Philippines. Gabbie is interested in teaching statistics and data analysis, research methods, and community engaged social work practice. Gabbie can be contacted at gaquino@uh.edu.

 

Arlene Bjugstad

 

 

Arlene is a career-long social worker, with more than ten years of direct social work practice, a BSW, MSW and several social work certificates. Her research agenda is uniquely informed by experiences that she has encountered with clients, agencies, and communities through her work. Arlene's research interests pertain to programs and interventions dedicated to improving the lives of Latinx youth. Specifically, she is interested in school engagement and mechanisms by which schools can create environments that promote positive outcomes for first and second-generation Latinx students. Arlene is interested in teaching Practice Skills, Research Methods, and Policy.

 

 

Alberto Cabrera

 

 

 

Alberto Cabrera, LCSW-S, is a doctoral student at the University of Houston, Graduate College of Social Work, where he also works as a research affiliate with the MH-RITES Research Center. Mr. Cabrera has worked for years as a therapist, field instructor, and administrator in mental health settings and has taught graduate students in clinical practice courses as an adjunct professor. His research within the Latinx community focuses on advocacy, improving access to mental health services, and empirically supported treatment of obsessive compulsive disorder (OCD). Drawing from his professional and clinical experiences, Mr. Cabrera's program of research aims to assist Latinos living with OCD and related mental health conditions. He received his bachelor's degree in psychology from the University of Houston and master's degree in social work from Baylor University. He can be contacted at: acabrer3@central.uh.edu

 

 

Priscilla's research interests include participatory research, community social work practice, social policy analysis, and advocacy. A native of Lafayette, Louisiana, she received her MSW from the UH GCSW in 2015 and has four years of agency experience in community outreach to historically excluded people, groups, and businesses; interdisciplinary coalition building to leverage resources; and program development of health improvement interventions. Priscilla is interested in conducting qualitative research related to neighborhood effects on determinants of health and in teaching social policy and community practice. 

 

Gaby Mohr

 

Gaby is originally from Tucson, Arizona and is a proud University of Arizona alum where she earned her bachelors in communication. After UofA she spent some time working with an agency (Amistades, Inc) that transformed the trajectory of her life and she eventually went on to Denver, Colorado to pursue a Masters degree in Social Work at the University of Denver (DU). She then spent time working in the substance use prevention field and wants to focus her research around substance use and the Latinx community as well as marijuana policy research.

 

  

Limor Smith

 

Limor's research focuses on examining factors associated with the level of self-stigma among emerging adults diagnosed with an initial chronic mental health condition. Specifically, this research investigates developmental pathways, ongoing maintenance, and temporal patterns associated with self-stigma. She is interested to explore the relationship between self-stigma and identity formation among emerging adults.
Cohort 2018
 

 

 

 

 

Caitlyn's research focuses on positive youth development in school settings. More specifically, she is interested in promoting positive mental health and resilience among adolescents by examining mechanisms, such as coping, that may be targeted through school-based preventive interventions to enhance wellbeing. Caitlyn's dissertation research will identify and examine the bidirectional relationships among young adolescent coping, wellbeing, and internalizing symptomology over time and across diverse youth. In the long-term, she seeks to inform the equitable development of preventive interventions to promote youth wellbeing across diverse populations of adolescents. Her research agenda is informed by her practice as a school-based mental health therapist and psychiatric case manager, as well as her work for a school district to integrate social and emotional learning and enhance mental health supports in schools. Caitlyn received her BA in Psychology and Sociology from NYU and her MSSW from The University of Texas at Austin. Her teaching interests include human diversity and development, research methods, and positive youth development.

 

 

Lindamarie's research focuses on intervening with at-risk youth to reduce justice system involvement and promote positive youth development. Specifically, my program of research focuses on interventions for at-risk youth to reduce their initial contact with the justice system and to limit their ongoing involvement in the system. This intervention research will explore and examine the effects of trauma-informed care and neuroscience on cognitive, mental health, and behavioral change within this population. Research objectives include building and expanding the state of knowledge in this field to address the interconnection of neuroscience, adolescent development, trauma, and juvenile offending, and to bridge the gap between research and practice to facilitate a more effective and responsive justice system for youth.

 

Natalia Giraldo-Santiago

 

 

Natalia's program of research focuses on addressing mental health disparities by improving access to care among racial and ethnic minorities. Through community-based participatory research and policy analysis, Natalia aims to establish partnerships with community-based and faith-based organizations in Puerto Rico to improve behavioral health services. As a community leader, activist, and believer in the power of community, Natalia recognizes the importance of bridging the gap between formal and informal pathways of care to pursue culturally grounded and evidence-based interventions. Natalia's long-term goals include evaluating the quality, effectiveness, and cultural grounding of behavioral health interventions in the United States.

 

  

Wen Xu's research focuses on child development, especially on how parenting and education impact on children's future. She is fascinated by using longitudinal designs to identify the core environmental factors that are strongly associated with children's positive outcomes. Methodologically, Wen is interested in cutting edge quantitative methods, such as Structural Equational Modeling, Multilevel models, and Social Network Analysis. Wen got her MSW from Washington University in St. Louis. Prior to her Ph.D. study, she has experience in both social work education and practice in different areas of mainland China. She is interested in teaching research methods, statistics, and early intervention.
Cohort 2017
John Bickel

 

John has been a social work practitioner since graduating with an MSW from Indiana University in 1998, and his work experience has informed his interests in youth mental health. In particular, he has focused on social relationships and interconnectedness and the role that metallization plays in developing curiosity, understanding and predictability in one's mind and in social interactions with others. Implications of this research relate to developing strategies that focus on "hard to reach" youth in child welfare and mental health settings.     

 

 

Chinyere Eigege

 

 

 

 

Chinyere's research focuses on examining, advocating for, and informing best practices around perinatal mental healthcare of Black women. Specifically, her research seeks to explore factors that influence coping and resiliency among Black women who experience perinatal loss. Her scholarly agenda is informed by several years of behavioral health practice as a licensed clinical social worker, and her community engagement efforts related to improving perinatal health outcomes in the Houston area. Chinyere is interested in teaching qualitative research methods, practice skills lab, social science theories, and health disparities. 

 

Sandra Jeter

 

 

Sandra conducts research focused on examining, advocating, and intervening to promote educational equality for Black girls and women. Specifically, her research seeks to investigate bias at the intersection of race and gender within education (system and structure), and its influence on Black adolescent girls and their educational experience, as well as examining protective factors to mitigate the negative effects. Through her dissertation, she will explore how school racial socialization impacts developmental competencies among Black adolescent girls, and factors that may protect against negative school racial socialization. Sandra's scholarly agenda is informed by her work as an Adaptive Behavioral Specialist and Community Psychiatrict Treatment Worker with the St. Vincent Family Center's Therapeutic School Age Program. She is interested in teaching Human Behavior in the Social Environment, Confronting Oppression, and Research Methods.

 

Sujeeta Menon

 

 

Sujeeta Elizabeth Menon, L.M.S.W, R.S.W (Singapore) is a third year Doctoral Candidate at the Graduate College of Social Work, University of Houston. Sujeeta's research focuses on justice involved youth, particularly in justice involved females with their offending, rehabilitation and desistance process. Sujeeta is interested in developing and implementing evidence based intervention for the juvenile justice system to enhance the desistance process among justice involved females, increase positive social, emotional and health related outcomes and reduce overall recidivism. She has disseminated her research across a number of forums nationally and Internationally such as the Joint World Conference on Social Work, Education and Social Development (SWSD) 2018, Council on Social Work Education and Society for Social Work Research. Sujeeta's scholarly agenda is informed by her prior work as a Social Worker in Singapore for 10 years with Methodist Welfare Services between 2006-2016, where her passion for youth work was fueled and the exposure to the challenges of youth rehabilitation became apparent. She is currently a Teaching Fellow for the online MSW program at the UHGCSW. 

  

Yu-Ju "Julia" Huang

 

 

Yu-Ju (Julia)'s research interests are coping strategy development, individual and family stress management, psychosocial well-being, and complementary and alternative treatments to regulate mental health issues (especially depression and anxiety) among cancer survivors. Her current research focuses on examining the impacts of psychological and social factors on health and mental health conditions among Asian populations; another interest focuses on the impacts of personal past traumatic experiences on clinical social work professional development in MSW students. Her scholarly agenda is informed by clinical experiences in hospitals and healthcare agencies both in Taiwan and the United States working with cancer patients and their families. These clinical experiences have led to her dissertation. For Yu-Ju's dissertation, she will identify the relationship between coping mechanisms and the effectiveness of acupuncture in reducing levels of depression among cancer survivors. Yu-Ju is interested in teaching statistics and data analysis, social work research methods, oncology social work, and social work ethics.
Cohort 2016
 

Theresa Chrisman

 

 

Theresa received her undergraduate social work degree from the University of Alaska, Fairbanks.  She moved to Houston to continue her education at the University of Houston Graduate College of Social Work.  She has a broad background in social work, with specific training in gerontology.  She is certified in Reminiscence and Life Story Work. Theresa's research focuses on ways to improve the quality of life and care for those living and working in long-term care facilities. She values the importance of providing compassionate care for older adults from all cultural backgrounds and health disparities.  She enjoys listening to older adults' life stories which led to her particular interest in the use of reminiscence interventions with older adults. Theresa's long-term goals include advocating for long-term care living and working reforms to protect the well-being of older adults by improving the facilities in which they live. Additionally, involving older adults in the conversation about living environment changes for ensuring livability, equity, and affordability. She is interested in teaching social work research methods, program evaluation, issues and theories on aging, and death and dying.

Nicholas Hardy

 

Nicholas' research focuses on the influence of depression and financial stability on healthy marriages/relationships in low-income African American and Hispanics. His dissertation study utilizes secondary data from a federally funded, Healthy Marriage and Relationship Education grant - where he also worked as Graduate Research Assistant. His scholarly agenda is informed by his clinical experience as a Licensed Clinical Social Worker in private practice, outpatient substance abuse settings, and school social work.  He has a Maters in Social Work and an undergraduate degree in Business Management.  In addition to his scholarly interests, Nicholas has served in a variety of nonprofit leadership roles, including Director of Development, Consultant Manager, and currently as a Chief Program Officer. After completing his Ph.D., he plans to pursue a Clinical Faculty position, where he can leverage his real-world experience and academic training to improve the application of social work education.  
Cohort 2015
 

Flor Avellaneda

 

 

 

Flor Avellaneda's research, funded through a dissertation grant from the Research Program on Migration and Health of the Health Initiative of the Americas at UC Berkeley, builds on her professional experience with the intersectional challenges faced by minority women. Using qualitative and quantitative original data approaches in Mexico and secondary data analyses from data collected in the Southeast U.S., her dissertation examines the relationship between migration (in-country and transnational), intimate partner violence, and health, in Mexican migrant women. She completed bachelors and master's degrees in social work, and prior to her doctoral studies she served as an advocate for victims of domestic violence at the Family Abuse Center, Executive Director of AVANCE, and faculty member of the Baylor University Diana R. Garland School of Social Work, all in Waco, TX. After completing her Ph.D. studies, Flor plans to pursue a tenure-track faculty position to continue building her research agenda.

Hannah Kimbrough

 

Hannah's research focuses on leadership and organizational development in mental health agencies, with a particular interest in the evaluation, development, and promotion of leadership skills within the social work profession. Her research interests derived from several years of practice experience in mental health settings as well as teaching online social work courses to graduate and undergraduate students. Hannah hopes to continue improving online learning experience for future social workers as well as continue teaching courses such as social work practice, human behavior and the social environment, and on death and dying.

Kenya Minott

Kenya Minott's research interests are anti-racist organizational change and understanding how professionals can employ racial equity practices in their workplace. Her prior experiences include facilitating over 30 dismantling racism training sessions for grassroots organizers, college students, labor groups, government employees, and non-profit organizations throughout the Midwest and Western regions. She served on local, state-wide, and national coalitions to address various forms of systemic racial oppression and has direct civic engagement experience with organizing alongside grassroots leaders in communities of color. While in the doctoral program she engaged in research on barriers to mental health support for former foster youth and young adults experiencing housing insecurity. Kenya received her Bachelors in Social Work from University of Central Missouri in 1994 and her Master's in Social Work from Saint Louis University in 1997. She is currently a doctoral candidate and planning to graduate in Spring 2021. Her dissertation study is on the development of a racial equity beliefs survey for personnel working in Pre-K through 12th grade school settings.   
Cohort 2014
 

Tamara Al-Rawwad

 

 

 

Tamara's education and training have been both multidisciplinary and inter-professional; she hold a master's in public health and a bachelor's degree in nursing.
She has more than 15 years of academic experience – both international and domestic. Her expertise include quantitative, qualitative, and mixed methods research methodologies, particularly in community-based research, culturally-appropriate prevention interventions, inter-professional collaborations, and implementation science. Her research focuses on HIV, substance use, and mental health among diverse populations.

Shahnaz Savani

 

 

Shahnaz Savani works full time as a Lecturer of Social Work at the University of Houston-Downtown and as an adjunct in the DSW program at Tulane. She holds a PhD in Social Work from Graduate College of Social Work, University of Houston. She is a licensed social worker and an experienced practitioner in behavioral and mental health issues. Her research interests focus on mental health awareness/education in low and middle-income countries, suicide prevention/intervention in the global south, particularly Central Asia, closing the treatment gap for mental health care in low-income countries and scaling up mental health services at the community level by training lay personnel to provide evidence-based psychosocial interventions. Dr. Savani teaches an elective course on Suicide Prevention/Intervention at her home university and leads a Study Abroad course on Mental Health and Suicide Prevention in India.

Ann Webb

Ann's research focuses on the intersection of social work and the law, with particular interest in multidisciplinary practice involving social workers and lawyers, and immigration issues affecting children and families. She has served as faculty on collaborative projects involving social work and law students assisting detained women and children seeking asylum, and has developed a unique experiential learning program to engage social work students in practice arenas involving law and social work. Her scholarly agenda is informed by her experience as a lawyer and social work clinician, and by her role as advocate for underserved populations. She is interested in teaching assessment, social policy, social work and the law, and social work with refugees and immigrants.

 

Miao "Jessica" Yu

Jessica's central research interest is maternal mental health. She is particularly interested in promoting mental health accessibility and reducing health disparities among socially disadvantaged women. Her dissertation examines the stress-buffering effect of social support on postpartum depression among teen mothers. Her current program of research investigates the effectiveness of home visiting models on postpartum depression among low-income racial/ethnic minority mothers. In addition to her focus on maternal mental health, Jessica is also interested in advanced statistical analyses and evidence-based research methods. She has been working as a data analyst on projects involving meta-analysis, factor analysis, structural equation modeling, hierarchical linear modeling, longitudinal moderation analysis, longitudinal mediation analysis, project evaluation, and factorial survey experiment.

Shu Zhou

Shu Zhou's research interests are related to social work education in the areas of supervision, teaching and training, curriculum mapping, and international social work. Her current research focuses on the development of an evidence-informed training curriculum for new social work supervisors. Through her dissertation, Shu will explore the concept and processes of supervisory transitioning among new social work supervisors, and examine the knowledge, skills, and abilities that social work supervisors are equipped with before preparing for their leadership positions. Her scholarly agenda is informed by practice experience as a frontline social worker and a supervisor. She is interested in teaching assessment, practice skills lab, field education seminars, and child welfare.
Cohort 2013
 

Liza Barros

 

 

 

Liza's research focuses on understanding factors that influence economic inequities of Latinos and Latino immigrants in the United States. Specifically, she is interested in developing interventions that promote economic development for Latinos at the micro, mezzo, and macro level. Her scholarly agenda is informed by her significant time in direct practice with the Latino community in the Houston area, and her research experience with undocumented immigrants. Liza is passionate about promoting economic justice by teaching financial capability courses to social work students. Additionally, she is interested in teaching social welfare policy and macro social work practice courses. With many years of teaching experience, Liza is proficient with face-to-face, hybrid, and online instruction and is currently a member of the online instructional design team for the new MSW online program at the GCSW.

Lynley "Christian" Carr

 

 

Dr. L. Christian Carr is a Post-Doctoral Fellow with the Center for Mental Health Research and Innovation in Treatment Engagement and Service (MH-RITES). Dr. Carr specializes in the application of state-of-the art quantitative methods, such as structural equation modeling, hierarchical linear modeling, longitudinal methods, mediation, moderation, analysis of categorical variables, advanced handling of missing data, Monte Carlo simulations for power analysis, and classical and item response theory approaches to psychological measurement. He has published research in several applied areas, including mental health and child welfare. He is also pursuing methodological research interests, including simulation studies on the performance of model fit indices under varying conditions. Dr. Carr holds a master's degree in organizational psychology and is pursuing an MS in statistics. Previously, he was an airline pilot instructor and safety/regulatory compliance manager for over 20 years.

Xin Chen

Coming Soon.

 

Maurya Glaude

Maurya's research focuses on improving accessibility of continuing care services for adolescents experiencing substance dependence, with a particular interest in developing culturally relevant practice models for minority adolescent males and their families. Her scholarly agenda is informed by over seven years of behavioral health practice experience as a licensed clinical social worker, a decade of social justice advocacy as well as significant administrative experience in social services delivery, grant writing and program development. Maurya is interested in teaching social work methods, social justice theory and social work ethics.

 

Bec Sokha is a first generation college grad and PhD Candidate at the UH Graduate College of Social Work. A descendant of Cambodian genocide survivors who were persecuted for being intellectuals, Bec Sokha views knowledge and access to education as a form of resistance to oppression and injustice. Their scholarly interests include community led knowledge production, social/systemic change informed by research, and making research more accessible to the general public. Bec Sokha's dissertation focuses on interpersonal and structural affirmation of genderqueer and nonbinary communities. They are currently a Public Impact Scholar and guide for the ACTION TGNC grant at SUSTAIN, a funding and capacity building center that partners with community based organizations led by and serving communities living with and disproportionately impacted by HIV.

Richard Wagner

 

Richard's research agenda centers on developing evidence-informed health interventions that can be quantitatively examined to determine their effectiveness. His prior experience includes delivering in-home alternative-to-incarceration juvenile justice programs, and child abuse prevention programs in the New York City area. A career goal of his includes developing and assessing health interventions for individuals in underserved communities with cancer. These interventions are team-delivered and intended to reduce outcome disparities that may be related to treatment-incompletion, which is often due to multiple factors.
Cohort 2012
Christine R. Block, PhD, LCSW

Dr. Block is a research scientist with the University of Texas School of Biomedical Informatics, Houston Emergency Opioid Engagement System (UT HEROES). She graduated from UHGCSW with her MSW in 2012 and her PhD in 2018. Dr. Block received a postdoctoral fellowship from the Stanley Family Distinguished Chair of Population Health and Community Medicine where she conducted research on medical legal partnerships and community outreach. Her research interests are population health, interprofessional collaboration in healthcare research, education, and practice, mental health and substance abuse disorders. Dr. Block is also trained as a clinical therapist and in an active adjunct professor.

Kit Ying "Anny" Ma

 

Dr. Ma earned her MSW (2005) and Ph.D. in Social Work (2017) from University of Houston. Her doctoral research studies focused on the roles of PTSD and traumatic stressor exposure on reintegration needs of OEF/OIF Veterans, unique needs of Women Veterans, and barriers to evidence-based practice in social work. Dr. Ma has provided social work services thru clinical practice, program development, research, and education in the Greater-Houston area for over 15 years. Dr. Ma sets the standard for both clinical practice and leadership functions. As a clinician, she demonstrates her advanced clinical knowledge and skills while serving clients with integrity, respect, and excellence. As a leader, Dr. Ma inspires colleagues via motivational coaching, constructive feedback, and consultation to consistently meet productivity and performance standards, as well as to continuously grow as licensed professionals. Throughout her social work career, Dr. Ma has significantly contributed to process improvement projects, including performance tracking and monitoring, policy development, documentation coding research, and program-wide training initiative. Dr. Ma is passionate about teaching social work students how to systematically evaluate social work practice and programs using robust research designs and methods.  

 

Rebecca L Mauldin

 

Rebecca's research focuses on social relationships and wellbeing among older adults, with a particular emphasis on relationships in assisted living facilities. She is interested in interventions that improve social integration and empower older adults to provide social support to one another. Her dissertation research uses social network analysis to examine the co-evolution of friendships, acquaintances, social support, and negative interactions with physical and cognitive functioning and depression in an assisted living facility. Rebecca's CSWE presentation, The Evolution of Student Relationships over Time in a Cohort-Based MSW Program, presents findings from a social network analysis she conducted among MSW students. Rebecca is interested in teaching macro social work, research methods, social theory, and aging studies.

Anthony H Minter

 

Across fifteen years Anthony has taught children in Texas public schools and adults at the Goodwill Central Texas Excel Center and in a women's correctional facility. Through this work Anthony developed a passion for empowering communities through education. His primary research interests center on education equity, racial-ethnic discipline gaps, and the school-to-prison pipeline. Anthony's secondary research interests include application of geographic information systems and so-called 'big-data' methodologies in social work research. At present he resides in Corpus Christi, where he works with the Antonio E Garcia Center on educational outreach, and chess club director.