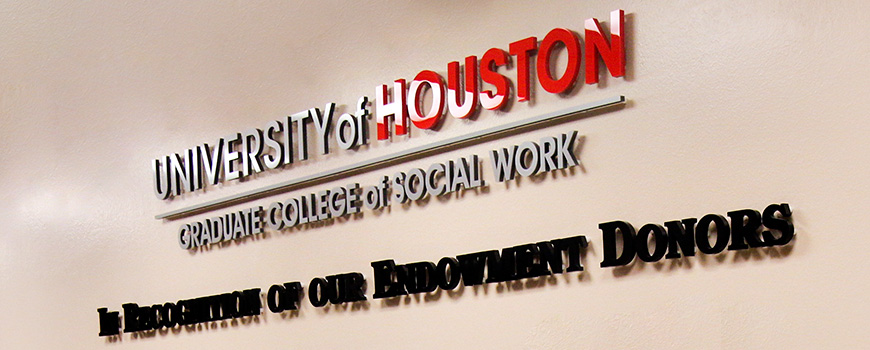 The University of Houston Graduate College of Social Work (GCSW) prepares diverse leaders in practice and research to address complex challenges and achieve sustainable social, racial, economic, and political justice, locally and globally, through exceptional education, innovative research, and meaningful community engagement. We need your support to achieve our mission.
Current Funding Opportunities Page
Ways to Give
When you make a gift to the University of Houston, you help UH have a significant impact—on our students, on our community, and on the world. There are many ways to make your gift, ranging from online giving to including the University in your estate plans. Whichever method you choose, you may give an unrestricted gift to be used for an area of greatest need, or you may choose to support a specific program or college.
Giving can take the following forms:
Gifts of cash
Include online giving by credit card, giving by mail, automatic deductions from your bank account, and more.
Gifts of stock or securities
Can provide significant tax advantages.
Matching gifts
Double (or triple!) the impact of your gift.
Planned gifts
Can allow you to support the University of Houston in perpetuity—and sometimes pay you back.
Gifts of property such as real estate, art, or collectibles can provide excellent tax benefits.
Questions about giving?
Contact Abby Whitmire, Director of Advancement for the Graduate College of Social Work at awhitmire@uh.edu or call 713-743-2659. Thank you for helping the University of Houston continue to make a difference.

Opportunities to Give

Scholarships, Fellowships, and Endowments make the difference in students pursuing their dreams or simply watching from the sidelines. We need social workers – the professionals who are on the front lines addressing critical human needs from birth to death – for all of us.

Renovation of the Social Work Building prepares the GCSW for the changes in delivery of education in the 21st Century by creating open meeting spaces for visitors and students, using space more efficiently through design based on anticipated needs for instruction, learning, and research. As a result, it raises GCSW in national rankings by increasing the quality of students' experience, improves potential for recruiting and retaining higher caliber students and faculty, and builds on the impact the GCSW already has nationally and internationally.

The Austin Legislative Internship is one of very few opportunities nationally for social work students to participate full-time in the legislative policy-making process. Students report that this is an incredible and useful learning experience, one that often changes their life. Clinical interns often find that they better understand how policy impacts practice and feel more equipped to support their agencies in advocating for policies to meet clients' needs. Macro students gain valuable insight into the policy-making process and are competitive for policy advocacy jobs requiring prior legislative experience.
Social Justice Initiatives: With a vision to achieve social, racial, economic, and political justice, the GCSW has opportunities to support new and established initiatives that allow underrepresented populations to engage broader communities in meaningful and stimulating conversation, research, and training.
Questions about giving?
Contact Abby Whitmire at 713-743-2659 or awhitmire@uh.edu. Thank you for making a difference in the lives of GCSW students and faculty.