Giving to the Graduate College of Social Work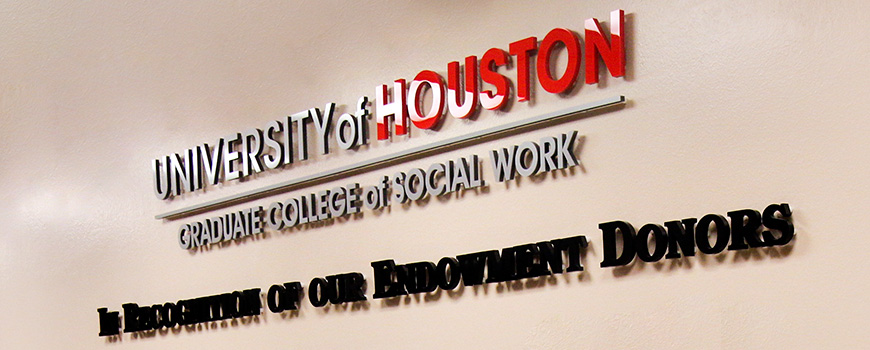 The University of Houston Graduate College of Social Work (GCSW) prepares diverse leaders in practice and research to address complex challenges and achieve sustainable social, racial, economic, and political justice, locally and globally, through exceptional education, innovative research, and meaningful community engagement. We need your support to achieve our mission. 
Ways to Give
When you make a gift to the University of Houston, you help UH have a significant impact—on our students, on our community, and on the world. There are many ways to make your gift, ranging from online giving to including the University in your estate plans. Whichever method you choose, you may give an unrestricted gift to be used for an area of greatest need, or you may choose to support a specific program or college.
Giving can take the following forms:
Gifts of cash: to include online giving by credit card, giving by mail, automatic deductions from your bank account, and more.
Gifts of stock or securities can provide significant tax advantages.
Matching gifts can double (or triple!) the impact of your gift.
Planned gifts can allow you to support the University of Houston in perpetuity—and sometimes pay you back.
Gifts of property such as real estate, art, or collectibles can provide excellent tax benefits.
Questions about giving?
Contact Abby Whitmire, Director of Advancement for the Graduate College of Social Work at awhitmire@uh.edu or call 713-743-2659. Thank you for helping the University of Houston continue to make a difference.