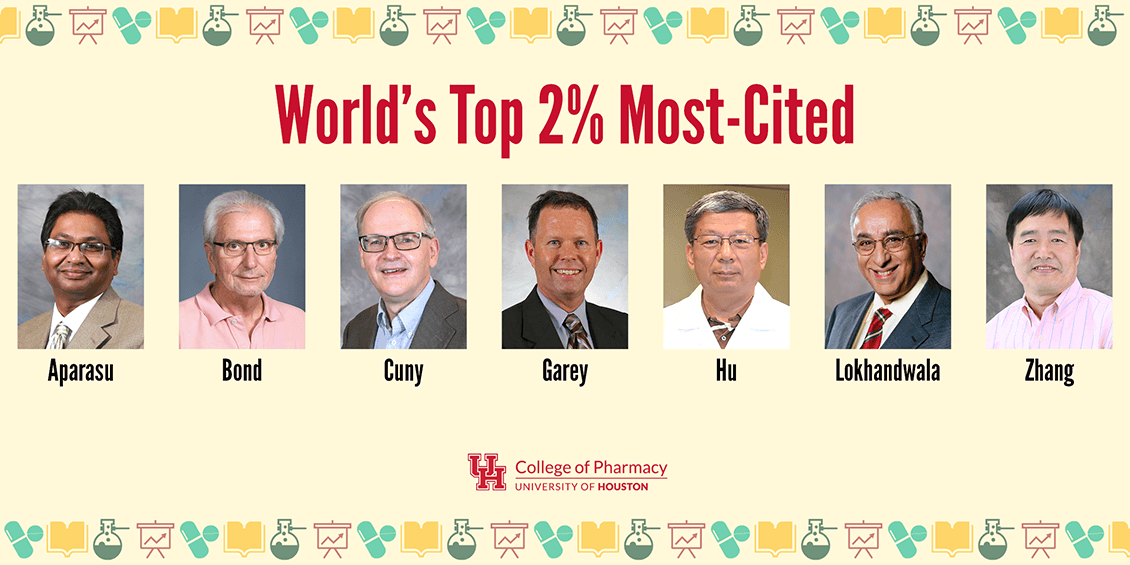 Highly Referenced Researchers
7 UHCOP Faculty Members Among 'World's Top 2% Most-Cited' Scientists
October 21 — Seven University of Houston College of Pharmacy faculty members are among the "world's top 2% most-cited scientists," according to a publicly available database of the work of 100,000 scientists across all disciplines.
The "rankings" by Stanford University researchers are the result of a composite index based on several citation metrics from data sourced on scientific publisher Elsevier's Scopus platform, a curated abstract and citation database of peer-reviewed literature.
The UHCOP faculty members who made the most-cited list and their primary research interests are:
Rajender R. Aparasu, Ph.D., FAPhA, Mustafa F. & Sanober Lokhandwala Endowed Professor of Pharmaceutical Health Outcomes and Policy, safe medication use in geriatric patient populations;
Richard A. Bond, Ph.D., professor of pharmacology, development of novel or optimized therapeutics for asthma;
Gregory D. Cuny, Ph.D.,

Joseph P. & Shirley Shipman Buckley Endowed Professor of Drug Discovery, development of small molecule inhibitors in the treatment of diseases such as infections by the protozoan parasite Cryptospordium

;
Kevin W. Garey, Pharm.D., M.S., FASHP, FIDSA, FCCP, Robert L. Boblitt Endowed Professor of Drug Discovery, infectious diseases pharmacotherapy, antimicrobial resistance and rapid diagnostics, with focus on the bacteria Clostridioides difficile;
Ming Hu, Ph.D., Diana S-L. Chow Endowed Professor of Drug Discovery and Development, metabolism and bioavailability of drugs, micronutrients and other compounds;
Mustafa F. Lokhandwala, Ph.D., professor emeritus of pharmacology, inflammation and oxidative stress in hypertension and kidney dysfunction; and
Ruiwen Zhang, M.D., Ph.D., professor of pharmacology and medicinal chemistry, drug discovery and development in cancer biology and therapeutics.
In addition, two UH faculty members with joint appointments at UHCOP – M.D. Anderson Professor Scott R. Gilbertson, Ph.D., from the College of Natural Sciences and Mathematics and Hugh Roy and Lillie Cranz Cullen Endowed Professor Chandra Mohan, Ph.D., from the Cullen College of Engineering – also were recognized among the top 2% most-cited scientists.