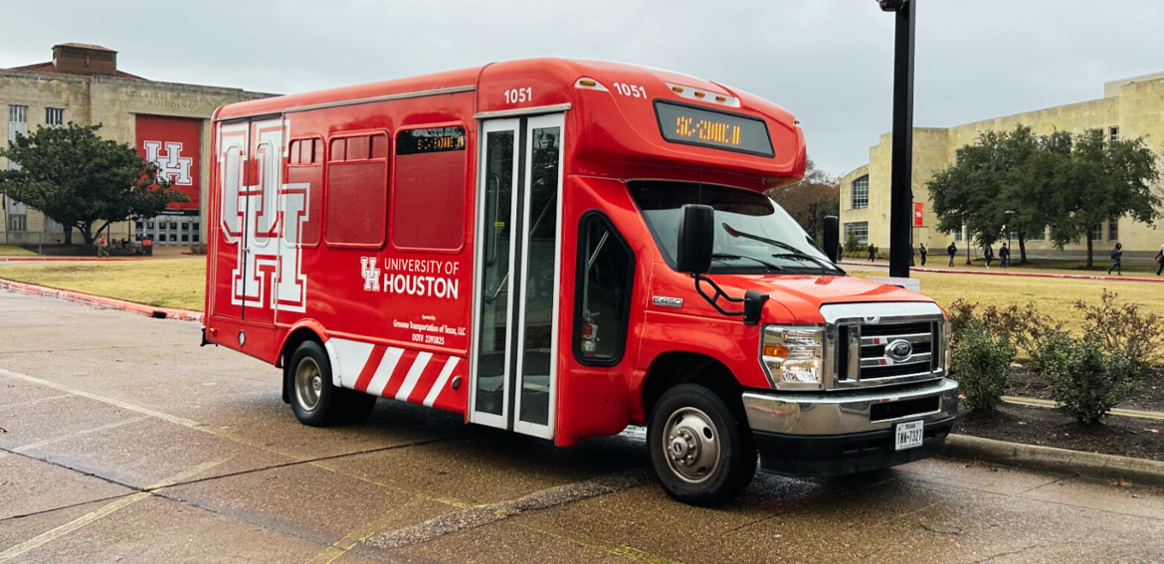 SHUTTLE ALERT
The last day the Cougar Ride late-night shuttle service will run for the fall will be Wednesday, Dec. 13. Service will resume Jan. 16, 2024.


REQUEST A RIDE
Rides can be requested through the UH Go app.
Cougar Ride Hours:
9 p.m. to 2 a.m.
Sunday

6 p.m. to 3 a.m.
Monday-Thursday
The Cougar Ride After-Hours Shuttle Service is a program from Parking and Transportation Services that provides rides to and from all on-campus shuttle stops, as well as MD Anderson Library and Cougar Village/Moody Towers. The service is part of the multi-faceted approach of the Transportation & Security Work Group.
This service is:
* A late-night ride service that is a supplement to the Cougar Line Shuttles that operate during the day
This Service is NOT:
* Uber. The drivers will not take you to your door or vehicle. The Cougar Ride shuttle bus will drop you at your selected shuttle stop or stops at MD Anderson Library/Cougar Village/Moody Towers.
Please Note:
* Be at the pick-up location when you make your ride request. Do not request a ride while still travelling to campus
* Make sure you know which shuttle stop you are at when requesting your ride
* Cougar Ride will not operate on days that home football games are held 
*Days/hours subject to change due to holidays or other unforseen circumstances. Notifications of changes will be posted to Parking and Transportation's social media, which can be found on the left side of the page.