Event Held May 13 at NRG Arena
Congratulations to our graduating physics undergraduate majors! The Department of Physics wishes them good luck in their future endeavors.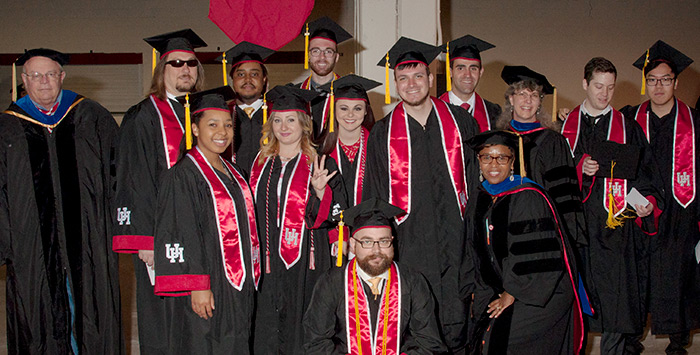 The Convocation for all graduates of the University of Houston's College of Natural Sciences and Mathematics was held on Saturday, May 13, from 9-11 a.m., at NRG Arena.
In Photo
First Row: Aaron Ryan
Second Row: From left, Jaelyn Kelly, Michelle Nowling, Brooklyn Tanner, Joshua Curry, and Dr. Donna Stokes.
Third Row: From left, Dr. Edgar Bering, John Requardt, Christopher Bias, Brandon Carter (departmental banner bearer), Phillip Petty, Dr. Rebecca Forrest, Dillon Kopecky, and Huu Nguyen.
Graduates not pictured include Ryan Hannigan, John Lumongsud, William Nisbett, Brian Tran, Taylor Wampler, and Joseph Hernandez.