Facility Tour Demonstrates Integricote's Nanocoatings to Protect Wood and Concrete from Damage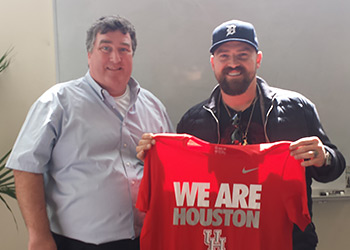 Today Integricote, a spin-out company from the College of Natural Sciences and Mathematics, hosted Zac Brown from the Zac Brown Band. Professor Shay Curran introduced Brown to the new nanocoatings which are used to protect wood and concrete from damage caused by weathering and rain. Integricote is based at UH's Energy Research Park.
Steve Mostyn of Mostyn Law, a well-known Houston entrepreneur, businessman and philanthropist who knows both Brown and Curran, organized the meeting and attended the discussions.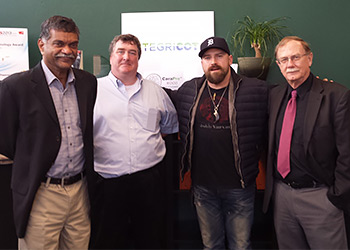 At the Integricote facility, from left, Gemunu Gunaratne, physics chair, physics professor Shay Curran, Zac Brown and NSM Dean Dan Wells.Zac Brown also met with Dean Dan E. Wells and Physics Chair Gemunu Gunaratne. Brown described a new development he has been pioneering called Camp Southern Ground, which is based in Peachtree, Georgia. The facility will be used to educate and help kids with special needs, inner city kids and children with parents in the military. It will have an aquatic center, art center, chapel, amphitheater, and organic farm as well as many hiking trails. Integricote and NSM will look to help this development by providing some of Curran's nanocoatings.
Integricote is a nanocoatings-based company that produces sealers for wood and concrete. The products can be purchased on order from Integricote at purchasing@integricote.com.