UH Physicist Helped Develop Technology to Improve Cancer Management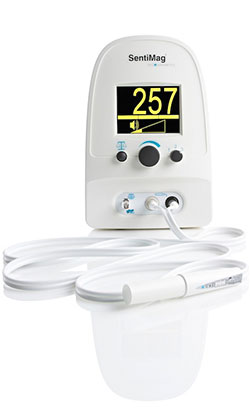 Endomagnetics, the company co-founded in the United Kingdom by a University of Houston research professor to develop products to improve the standard of breast cancer care, has been named one of two winners of an inaugural Nanomedicine Award in the European Union.
Endomagnetics was founded to develop and distribute products based on technology created by Audrius Brazdeikis, research associate professor of physics in the UH College of Natural Sciences and Mathematics, with colleagues at the University College of London to detect the spread of breast cancer and allow physicians to better plan interventions.
The Nanomedicine Award was organized by the European Technology Platform for Nanomedicine, together with the EU-funded consortium NANOMED 2020, to honor the best international nanomedicine innovations. It was announced during the Nanomedicine Panel Session at BIO-Europe 2013 in Vienna, Austria.
"It's nice to be recognized by our peers for all our efforts," said Brazdeikis, who remains involved with the company.
Endomagnetics, based in Cambridge, was formed to bring the technology developed by Brazdeikis and researchers from University College of London, physicist Quentin Pankhurst and systems engineer Simon Hattersley, to the marketplace.
The technology includes the SentiMag, an intraoperative probe that allows surgeons to more easily locate the sentinel lymph node – the first lymph node to which a tumor's metastasizing cancer cells drain – by using nanotechnology and advanced magnetic sensors.
Dr. Eric Mayes, CEO of Endomagnetics, said the Nanomedicine Award will increase the visibility of the company's technology to potential partners.
"Endomagnetics is honored to have been selected for an inaugural Nanomedicine Award, particularly given the global candidature and great promise of this convergent industry," he said.
The technology is already used in eight European countries, and the company is seeking regulatory approval in other countries, including the United States, of its SentiMag system, which eliminates the need for the radioactive isotopes in use today, said Brazdeikis, who heads the Biomedical Imaging Group at the Texas Center for Superconductivity at UH.
Endomagnetics will showcase its technology at the 2013 San Antonio Breast Cancer Symposium in San Antonio, Dec. 11-13.
- Jeannie Kever, University Communication