Forrest Honored with NSM Teaching Award

Award Recognizes Faculty for Engaging and Challenging their Students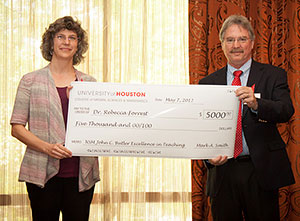 Rebecca Forrest receives the John C. Butler Excellence in Teaching Award from Dean Mark Smith.The 2012 winners of NSM's John C. Butler Excellence in Teaching Award have a few things in common - patience, the ability to clarify complex topics, and a willingness to spend time outside class helping students.
Rebecca Forrest, instructional and research assistant professor of physics, is one of the 2012 recipients of the Butler Excellence in Teaching Award. Established in memory of former NSM Dean, John Butler, the award recognizes faculty members who best engage and challenge their students and who share their enthusiasm for the subject matter they teach. Peter Copeland, associate professor of geology, is the other Butler award recipient.
The Butler award is given each year to one tenure/tenure-track faculty member and one instructional faculty member and includes a $5,000 prize. Nominations may be made by NSM departments, student organizations, faculty, students, and staff. Forrest received letters of nomination and support from faculty members, current students, and former students.
Forrest, who joined the UH faculty in 2004, uses interactive and collaborative teaching methods in her introductory physics classes, and also teaches upper level courses of solid state physics and advanced lab. She was part of the team that revised the advanced laboratory courses, which included introducing new experiments and refining existing experiments.
Nomination letters pointed out Forrest's keen ability to "explain difficult concepts at a level where students feel comfortable with them." Another letter highlighted her innovative teaching style, stating that Forrest "utilizes technology to its fullest" and "uses many props to bring the concept she is teaching to life and to aid any visual learners."
Forrest received her award at the NSM Tribute to Scholars, Leaders and Partners in Excellence Luncheon.
- Kathy Major, College of Natural Sciences and Mathematics