UH Represented at Invest in Ireland Forum

Prof. Curran Attends Event Focusing on Partnerships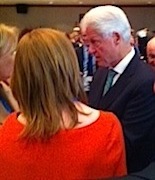 President Bill Clinton greeting attendees at the Invest in Ireland Forum.
Former President Bill Clinton addressed members of the Global Irish Network and business leaders representing some of the United States' top businesses at the Invest in Ireland Forum held Feb. 9 in New York.
High-ranking officials from Ireland attended the meeting, including Prime Minister (or Taoiseach) Enda Kenny, Deputy Prime Minister (Tainiste) Eamon Gilmore, and Richard Bruton, Minister for Jobs, Enterprise and Innovation. Bruton addressed the gathering answering a number of questions and discussing growing unique opportunities between the U.S. and Ireland.
Ireland has a high tech-centric focus and is looking to build on its strong educational system to help the country increase the level of business opportunities in an export-led recovery from its current challenging economic position. Education and research are seen as key elements of the recovery, and there are opportunities for partnerships between both countries.
Professor Seamus Curran, director of the Institute for NanoEnergy at University of Houston, attended the meeting. In the last few years, Curran has been encouraging and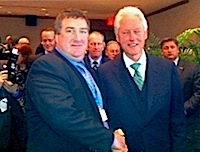 Prof. Seamus Curran, Institute for NanoEnergy director, with former President Bill Clinton at the Invest in Ireland Forum. pushing for these types of partnerships between Houston and Dublin.
"One such initiative is the relationship between UH and the Dublin Institute for Technology," Curran said. That relationship was established in 2009 by Curran and Professor Brian Norton, president of the DIT.
Read more about the Invest in Ireland Forum online in Irish America.