Ceremony Celebrates Summer and Fall 2021 Graduates
Bachelor's, master's and doctoral degree candidates participated in the University of Houston Commencement for College of Natural Sciences and Mathematics (NSM) on December 18. The ceremony, held at Fertitta Center, included remarks from UH President Renu Khator.

More than 600 NSM students completed degree requirements in summer and fall 2021. In all, 73 doctoral candidates earned degrees in atmospheric sciences, biochemistry, biology, chemistry, computer science, geology, geophysics, mathematics, or physics. More than 100 NSM students were candidates for master's degrees, and nearly 450 students were candidates for bachelor's degrees.
There were 40 summa cum laude graduates, the highest academic honor for bachelor's degree recipients. An additional 84 students graduated magna cum laude, and 78 students graduated cum laude.
Dan E. Wells Outstanding Dissertation Award – Jamie M. Karthein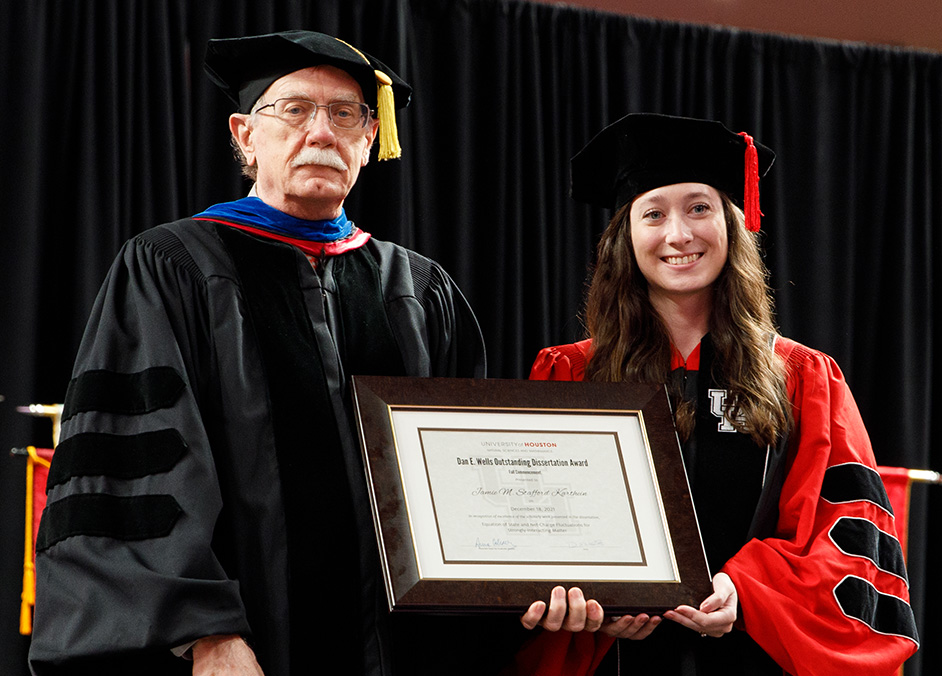 Each commencement, NSM recognizes a graduating doctoral student who has performed outstanding research and submitted the best dissertation to the College. The summer-fall recipient of the Dan E. Wells Outstanding Dissertation Award was Jamie M. Karthein, a physics Ph.D. candidate. She received a certificate and an award of $1,000.
Her dissertation is entitled "Equation of State and Net-charge Fluctuations for Strongly-interacting Matter." Karthein's research uses a particular first-principles computational method to interpret experimental results obtained at CERN and Brookhaven National Laboratory.
The research goal is to understand the properties of matter at extremely high temperatures and densities, such as those that existed in the universe in the very first few microseconds after the Big Bang or that may be found in the core of neutron stars. Her mentor is Claudia Ratti, associate professor and associate chair of the Department of Physics.
Karthein received the 2021 Relativistic Heavy Ion Collider and Alternating Gradient Synchrotron Merit Award. The award recognizes her outstanding research contributions to activities in nuclear and high-energy physics at multiple research facilities. She is also the recipient of a National Science Foundation Ascending Postdoctoral Fellowship that will support her postdoctoral work at MIT.
For the award, nominated dissertations are evaluated for:
Significance and impact of the research
Originality of the work
Quality of the scholarship
Quality of the presentation and organization of the dissertation
NSM's 4.0 Summa Cum Laude Graduates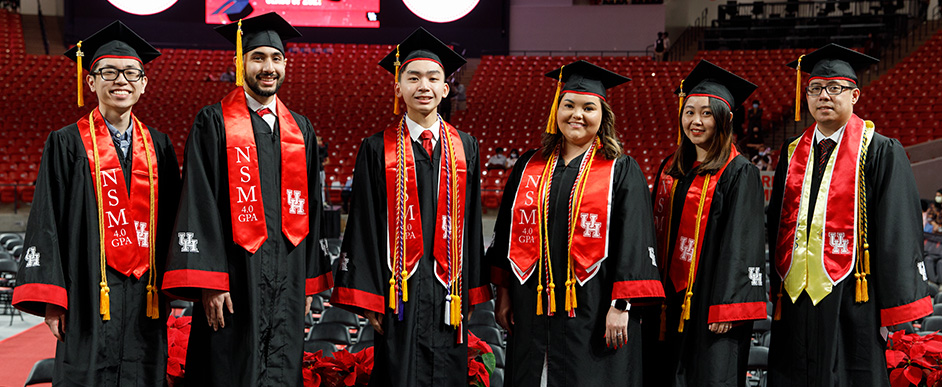 Six students participating in the ceremony completed their studies at UH with perfect 4.0 summa cum laude academic honors.
Ryan Chang, Bachelor of Science in Biology
Chang will enter the UH College of Optometry in the fall.
Ha Dang, Bachelor of Science in Mathematics
She will pursue a master's degree in statistics and data science at UH.
Fernanda Marrero Hi, Bachelor of Arts in Earth Science
After graduation, Hi will teach math and science at Lamar High School and will enter an education policy master's program in the fall.
Chiminh Pascal, Bachelor of Science in Computer Science
Pascal is currently a software engineer/developer at BP.
Istvan Wang, Bachelor of Science in Computer Science
He will join JPMorgan Chase as a software engineer.
Shehzad Yousaf, Bachelor of Science in Computer Science
In January, Yousaf will begin work as a technical consultant at Pariveda Solutions.
Commencement Banner Bearers – NSM Outstanding Students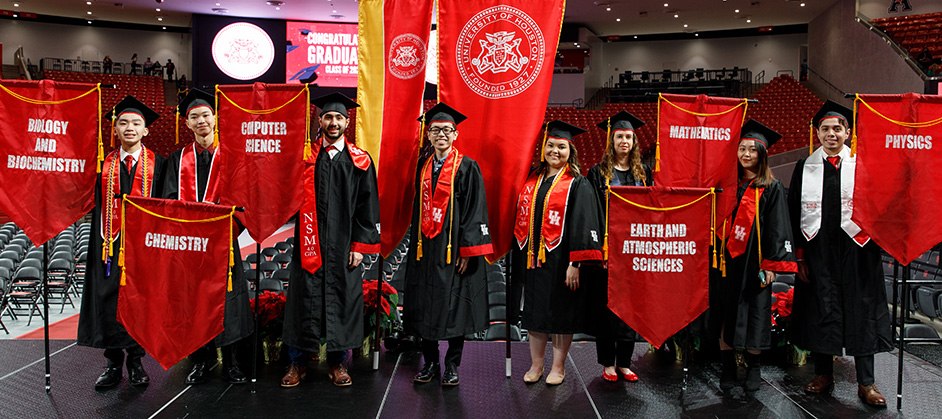 The College's Commencement processional included outstanding students from NSM's six departments carrying the University, NSM and departmental banners. The banner bearers have the additional honor of sitting on stage as part of the Commencement platform party.
University Banner: Fernanda Marrero Hi, Earth Science major
College Banner: Istvan Wang, Computer Science major
Department of Biology and Biochemistry: Ryan Chang
Department of Chemistry: Justin Leba
Department of Computer Science: Shehzad Yousaf
Department of Earth and Atmospheric Sciences: Michelle Hollaway
Department of Mathematics: Ha Dang
Department of Physics: Stephen Medel
- Kathy Major, College of Natural Sciences and Mathematics