College of Natural Sciences & Mathematics Opens New Labs

Event Highlighted Donations from Chevron, Agilent Technologies


The University of Houston College of Natural Sciences and Mathematics and the Department of Earth and Atmospheric Sciences held a reception on Nov. 13 to showcase laboratories equipped by donations from Chevron Corp. and Agilent Technologies Inc.
The open house in the Science and Research 1 building allowed visitors, UH faculty and students to tour the new additions to inorganic and organic analytical labs, as well as the Center for Petroleum Geochemistry.
The instruments and labs, added to equipment recently funded by the National Science Foundation and NASA, allow the University to provide researchers with highly sophisticated geochemical, bio-geochemical, chemical and isotope ratio analytical spectrometry facilities.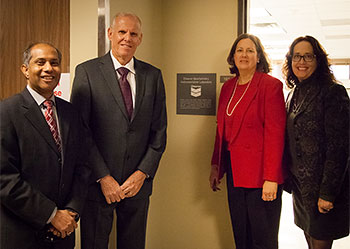 Preparing to tour the labs are (from left) Dr. Roth Bose, Vice Chancellor/Vice President for Research and Technology Transfer, UH System and University of Houston; Dr. Wayne Collins, Worldwide Manager, Energy & Chemicals, Agilent Technologies; Janeen Judah, General Manager, Southern Africa Business Unit, Chevron Corporation; and Sharon Buckley, Senior Manager, Sales, Agilent Technologies.Rathindra Bose, vice president for research and technology transfer for the University, said the new labs will allow students and researchers to keep up with the latest evolutions in the industry.
The benefits won't be limited to just one department, he said.
"They include a remarkable set of organic and inorganic mass spectrometry facilities that will benefit a large number of scientists and engineers on campus, providing them with powerful and valuable technologies that can identify and quantify parts-per-billion to parts-per-trillion level concentrations," he said. "We are thankful to both Chevron and Agilent Technologies for their donations."
Although the donations were made separately, both focused on what the geochemistry programs at UH and the Department of Earth and Atmospheric Sciences contribute to the energy industry and will enhance the University's collaborations with the petroleum industry, as well as with environmental, medical and other programs.
Bill Hunter, manager of Chevron's University Affairs Program, said the company is proud to continue its long-standing partnership with UH by helping to establish the Chevron Geochemistry Lab.
"We believe this lab will help provide state-of-the-art research and teaching capacity to benefit students preparing for careers in energy and other industries," he said. "University of Houston students have a reputation for being incredibly creative and well-prepared to enter the workplace. Our partnership with the University is a key part of Chevron's efforts to hire top-quality graduates to help us meet energy demands around the world."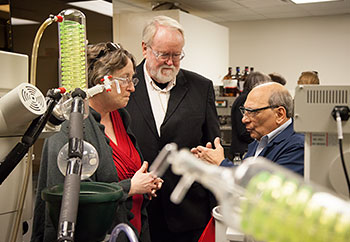 Adry Bissada, research professor of geology, organic geochemistry and petroleum systems analysis in the Department of Earth and Atmospheric Sciences, said most of the donated facilities will focus on research related to unconventional resource plays and deep water exploration plays – the two hottest areas for drilling today.
The $530,000 Chevron donation allowed the purchase of a RockEval-6 pyrolysis instrument, an Agilent 7890 Gas Chromatograph for extended natural gas analysis and a Delta-V stable isotope mass spectrometer for compound-specific carbon and hydrogen isotope analysis in natural gas and carbon, hydrogen, nitrogen and sulfur isotope analyses in oils and other organic materials.
"As the petroleum industry moves more into unconventional shale oil and shale gas and ultra-deep water plays in the Gulf of Mexico, the need for high-grading and pinpointing sweet-spots in the unconventional domain, and for characterizing and predicting exploration outcomes in the ultra-deep water plays is critical," Bissada said. "Both donations will be instrumental in the molecular and trace-element characterization of the unusual crude oils expected from ultra-deep water exploration plays."
Wayne Collins, worldwide market development manager for Agilent's energy and chemical business, said the instruments provided by the company will enable researchers at UH "to gain new insights into the science of petroleum exploration and refinement. These instruments will also enhance the university's instructional program, giving students the chance to train on the same instruments found in (other) elite research institutions."
John F. Casey, professor of geochemistry in the Earth and Atmospheric Sciences Department, said Agilent Technologies Inc. has agreed to provide UH with $3.3 million worth of instruments and services over three years.
"The unique collaborations with Agilent will allow a wide array of new inorganic and organic analytical methods to be developed at the University of Houston, and this will lead to important enhancements of our research capabilities and the more widespread applications of these methods to a variety of important scientific, resource-development, sustainability and other societally important research problems," Casey said.
He said the Agilent-provided technology will include many of their most recently developed technologies, including the Agilent microwave plasma-atomic emission spectrometer and the Agilent inductively coupled plasma-optical emission spectrometer, along with a range of sophisticated organic instruments.
- Jeannie Kever, University Communication