First Friends of NSM Graduate Fellows Selected

Twenty-Two Ph.D. Students Receive $5,000 Stipends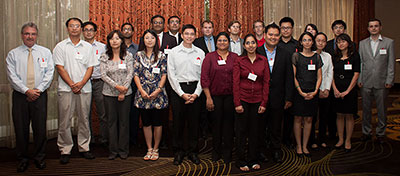 The College of Natural Sciences and Mathematics (NSM) announced the first group of Friends of NSM Graduate Fellows at the Fall Convocation.
The Friends of NSM Graduate Fellowship Program is supported by generous donors, who make it possible for the College to provide an additional $5,000 stipend to promising doctoral students. The competitive fellowship program is enabling NSM to increase the number of outstanding Ph.D. students entering its programs, directly impacting research productivity, faculty recruitment, and doctoral degrees awarded each year.
"These 22 Ph.D. students represent the best and brightest of NSM and embody the broad scope of research interests in the College of Natural Sciences and Mathematics," said Mark A. Smith, NSM dean. "We are pleased to be able to award this additional support for their research endeavors."
NSM plans to greatly increase the number of fellowships by the next academic year.
2012-2013 Friends of NSM Graduate Fellows
Department of Biology and Biochemistry
Philip Jonsson
Cecilia Williams, Advisor
Hongan Long
Rebecca Zufall, Advisor
Quyen Tran
George Fox, Advisor
Yinhua Wang
Timothy Cooper, Advisor
---
Department of Chemistry
Gino Canlas
Scott Gilbertson, Advisor
Santa Jansone-Popova
Jeremy May, Advisor
Ilja Popovs
Olafs Daugulis, Advisor
Ly Tran
Olafs Daugulis, Advisor
---
Department of Computer Science
Apurva Bedagkar-Gala
Shishir Shah, Advisor
Yu Li
Albert Cheng, Advisor
Nikhil Navkar
Zhigang Deng and Nikolaos Tsekos, Advisors
Vishwanath Venkatesan
Edgar Gabriel, Advisor
Department of Earth and Atmospheric Sciences
Barry Shaulis
Thomas Lapen, Advisor
Hua Yu
Fred Hilterman, Advisor
---
Department of Mathematics
Manisha Bhardwaj
Kresimir Josic, Advisor
Jeffrey Freeman
Robert Azencott, Advisor
James Trousdale
Kresimir Josic, Advisor
Licheng Zhang
Matthew Nicol, Advisor
---
Department of Physics
Ho Yin Chan
Vassiliy Lubchenko, Advisor
Shabnam Hossein
Kevin Bassler, Advisor
Hong Liang
Arthur Weglein, Advisor
Gopi Krishna Vijaya
Alex Freundlich, Advisor