Weiyi Peng, Ph.D.
Assistant Professor
Department of Biology and Biochemistry
Office: SERC, 3025
Contact: wpeng2@central.uh.edu - 713-743-6941
Dr. Weiyi Peng's long-term research goal is to understand and overcome the immune resistance in cancer patients. Aligned with this goal, her primary research efforts focus on elucidating the interplay between cancer and the immune system, dissecting regulatory pathways controlling the rate-limiting steps in the cancer immune cycle, and translating this knowledge into novel therapeutic approaches to improve the effectiveness of cancer immunotherapy. Her current studies include 1) the regulatory role of tumor oncogenic signaling pathways in modulating T-cell mediated antitumor immune response, in particular the PI3K pathway; 2) the impact of deregulated metabolic pathway in tumor on immune resistance; 3) the signaling pathways controlling T-cell proliferation, survival, and tumor trafficking.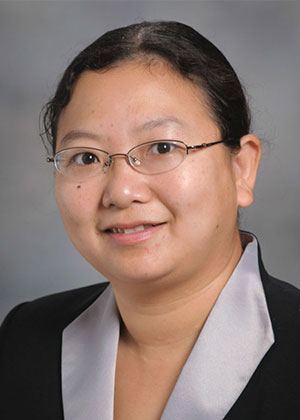 Weiyi Peng, Ph.D.
Assistant Professor
Department of Biology and Biochemistry
University of Houston
Houston, Texas 77204-5001
Office: SERC, 3025
Phone: 713-743-6941
Email: wpeng2@central.uh.edu