Gridlock. Inactivity. Dysfunction.  These words have been used to describe the U.S. Congress in recent years. 
The University of Houston Hobby Center for Public Policy (HCPP) is hosting the authors of "The Partisan Divide: Congress in Crisis." Former House Republican Campaign Committee chairman Tom Davis and former Democratic Congressional Campaign Committee chairman Martin Frost will discuss the legislative gridlock that has come to define Congress.
The event is at 4 p.m., Wednesday, March 11 in the Conrad Hilton Ballroom of the UH Conrad N. Hilton College of Hotel and Restaurant Management. It is free and open to the public. Books will be available for purchase and the authors also will be on hand to sign copies.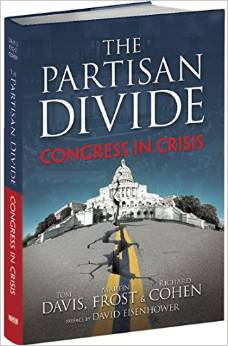 "We are very pleased to have two political veterans from both parties who have first-hand experience with the political polarization in Congress," said Jim Granato, professor and director of the HCPP. "They have diagnosed the challenge and are proposing solutions based on their shared experiences."
According to the authors, "Congress is incapable of reforming itself without a good kick in the seat from the American public." Their book offers bi-partisan plans for returning Congress to performance and productivity. 
"This is very much in keeping with the efforts of our namesake, Lt. Gov. Bill Hobby, to get things done. A quality he exemplified over his long tenure in the Texas legislature," Granato said.
Established in 1981, the Hobby Center for Public Policy serves the Houston community as an impartial research organization within the UH College of Liberal Arts and Social Sciences.
 For more information on the UH Hobby Center for Public Policy, visit http://www.uh.edu/class/hcpp/
WHAT: "The Partisan Divide: Congress in Crisis," featuring Tom Davis and Martin Frost
WHEN: 4 p.m., Wednesday, March 11
WHERE:  UH Conrad N. Hilton College of Hotel and Restaurant Management, Hilton Ballroom
For directions and parking information, visit http://www.uh.edu/maps/buildings/?short_name=CHC
---