From exploring the physics of rollercoasters to networking with astronauts, three camps at the University of Houston (UH) offer a variety of opportunities this summer for students in grades five through eight.
With a shared mission of encouraging young people to pursue studies in science, technology, engineering and mathematics (STEM), the camps are open for registration and filling up fast. All affiliated with UH's
teach
HOUSTON math and science teacher preparation program, the camps provide opportunities for hands-on experimentation, networking with STEM professionals, field trips and exposure to college life.
A returning favorite for its 14th year at UH is the ExxonMobil Bernard Harris Summer Science Camp. The camp seeks budding scientists and engineers interested in sharpening their skills alongside STEM professionals and former astronaut Dr. Bernard A. Harris Jr., the first African-American to walk in space and camp founder. Harris created the all-expenses-paid, two-week camp to offer a dynamic summertime learning experience to underserved youth that explores how science impacts daily life.
Throughout the camp, students live on campus and participate in interactive, inquiry-based classes taught by university faculty, secondary teachers and other professionals. Campers also have the opportunity to explore local museums, nature centers and ecosystems, discovering science at work in their communities. From building models of bridges to designing robots and creating spacesuits, students will see firsthand how STEM can come alive through real-world applications.
Held June 15-27, the camp will accept 54 students to attend. To be eligible, students must be entering sixth, seventh or eighth grades in fall 2014; have received median-to-superior scores on standardized math and science tests; and submit two teacher recommendations. The application deadline is April 4. Students can find application information at
http://theharrisfoundation.org/sitecontent/663/university-of-houston/category/466/embhssc-universities.aspx
.
One of two new additions for 2014 is The Bonnie J. Dunbar STEM Academy at
teach
HOUSTON. Named for retired astronaut and director of the UH STEM Center, the academy curriculum incorporates STEM design projects and engaging hands-on lessons that encourage innovative thinking. Open to students entering sixth, seventh or eighth grades in fall 2014, the non-residential camp takes place 10 a.m. to 3 p.m. the weeks of July 14-18 and July 21-25. Students have the option of attending the academy one or both weeks. The cost is $350 per week, which includes tuition, fees, supplies, meals and an academy shirt.
The academy aims to increase students' STEM skills and introduce them to college life, stimulating their interest in science, technology, engineering and math as potential career paths. Each day, students will attend rigorous courses and go on campus excursions to foster and develop their problem-solving, research and communication skills in biology, chemistry, physics, environmental sciences, earth sciences, math, engineering and design. The academy curriculum will provide opportunities for students to work in a collaborative environment that delves deeply into STEM topics, teaching them to design projects such as energy-efficient dwellings, bridges, towers, robots and rollercoasters. Campers also will be exposed to such technology applications as computer programming, probeware, software and electronic data collection.
Accepting 200 students, the selection committee will look at an applicant's interest in STEM, involvement in academic clubs and extracurricular activities, and teacher recommendations. The application deadline is May 8. Students can find application information at
http://nsm.uh.edu/news-events/stories/2014/0310-stem-academy.php
.
Another new offering at UH this year is the Cougar STEM Camp, a four-week camp where children entering fifth, sixth or seventh grades can get out of their desks and into the action. Campers' imaginations will focus on exploring alternative energy sources, crime scene investigations, creation of action movies and roller coaster physics.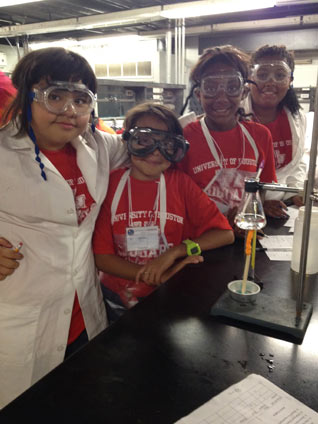 Each week will feature a specific theme. Putting on their detective hats, campers will dive into forensic science by looking at the mysteries of crime scenes, collecting, analyzing and examining evidence such as fingerprints, hairs, fibers and DNA to solve crimes. They also will have an opportunity to become environmentally responsible citizens by exploring alternative energy resources by creating their own inventions, finding sustainable energy sources and examining a greener lifestyle to lessen their impact on the environment. Another adventure will be to discover the world of physics through demonstrations and hands-on activities, learning about the physical laws that govern the world and being given a chance to develop tools to design an apparatus capable of death-defying feats. Finally, campers will explore the math and science behind the Hollywood stunts, explosions and costumes that bring movies to life.
Two sessions will be offered 9 a.m. to 4 p.m. daily June 9 through July 3 or July 9 through August 1. The cost is $699 per session. There is not a registration deadline, but registrations will be closed once the camp reaches capacity. Students can find application information at
http://cougarstemcamp.weebly.com/registration.html
.
By providing students with access to these fun learning opportunities, inspirational role models and gifted teachers, the camp organizers not only hope to cultivate interest in STEM, but also encourage Houston-area youth to pursue higher education and become the next generation of innovative problem solvers.
###
About the University of Houston
The University of Houston is a Carnegie-designated Tier One public research university recognized by The Princeton Review as one of the nation's best colleges for undergraduate education. UH serves the globally competitive Houston and Gulf Coast Region by providing world-class faculty, experiential learning and strategic industry partnerships. Located in the nation's fourth-largest city, UH serves more than 39,500 students in the most ethnically and culturally diverse region in the country. For more information about UH, visit the university's
newsroom
.
To receive UH science news via email, sign up for
UH-SciNews
.
For additional news alerts about UH, follow us on
Facebook
and
Twitter
.
---