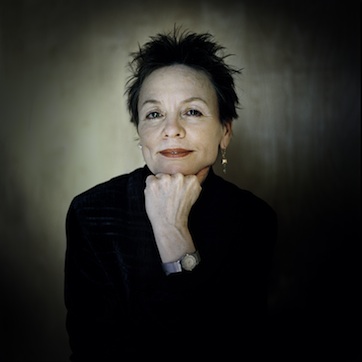 This fall, the University of Houston's Cynthia Woods Mitchell Center for the Arts launches its 2014–15 season of public events featuring a range of newly commissioned works, collaborative partnerships and presentations by visionary artists from across the globe.
Among the 2014–15 highlights are acclaimed multimedia artist and performer Laurie Anderson delivering the Mitchell Artist Lecture, and CounterCurrent, the annual festival of bold, experimental art presented throughout the city. Mitchell Center Artist-in-Residence Daniel Bernard Roumain returns to UH this fall, designing a performance featuring two of the region's top college marching bands – UH's Spirit of Houston and Grambling State University's Tiger Marching Band.  And the center's first partnership with the Menil Collection features artist Dario Robleto leading discussions with noted artists and authors on topics related to the human heart.
Other events include a "Afoot!," a collection of marching bands (including UH's Spirit of Houston) choreographed by  Allison Orr of Folklift Danceworks as part of the East End Street Fest, and "Unsilent Night" an interactive musical experience along Buffalo Bayou.
For more additional details and updates, visit the Mitchell Center's website.
Members of the media may contact Nicole Romano for publicity photos or details on all Mitchell Center events at nlromano@uh.edu or 713-743-5749.
The Mitchell Center's fall activities are as follows:
Daniel Bernard Roumain
September 6
University of Houston, TDECU stadium
Mitchell Center Artist-in-Residence Roumain (or DBR) performs with the University of Houston Cougar Marching Band and the Grambling State University Tiger Marching Band following a week long "band camp", and what transpires is a unique halftime spectacle during the second home game in UH's new TDECU stadium.
Mitchell Artist Lecture featuring Laurie Anderson
7 p.m., Sept. 10
University of Houston, Moores Opera House (Free)
The annual Mitchell Artist Lecture features legendary individuals emblematic of artistic collaboration and innovation. Each fall, the event includes a leading artist discussing the power and potential of interdisciplinary collaboration. The Center's 2014 speaker is Laurie Anderson. Anderson is recognized worldwide as a groundbreaking leader in the use of technology in the arts and as one of today's premier performance artists. She is known primarily for her multimedia presentations and has cast herself in roles as varied as visual artist, composer, poet, photographer, filmmaker, electronics whiz, vocalist, and instrumentalist. In her Mitchell Artist Lecture, Anderson will discuss her significant legacy of interdisciplinary collaboration over the course of her career, including artistic partnerships with Wim Wenders, Jonathan Demme, Bill T. Jones, Trisha Brown and Robert LePage.
Dario Robleto – "The Boundary of Life is Quietly Crossed"
The Mitchell Center partners with the Menil Collection on an exhibition and accompanying series of public programs by artist Dario Robleto, commissioned and developed through a joint research residency. In addition to the exhibition, which will be on view at the Menil Collection Aug. 16 through Jan. 4, 2015, public programs include:
Opening Lecture: Dario Robleto
6:30 p.m., Sept. 12
UH Dudley Recital Hall, Fine Arts Building (Free)
Robleto has explored love, loss, grief and other universal aspects of the human condition throughout his career, often distilling these complex states into meditations on fragility and change. "The Boundary of Life Is Quietly Crossed" revolves around his most recent area of inquiry: the largely unexplored history of the human heartbeat as sound. This lecture draws on his extensive research into the earliest attempts to record the heartbeat as sound and image, the heartbeat and brainwave recordings on a probe currently headed toward the edge of the solar system and recent developments in the evolution of the artificial heart.
Conversation with the Artist - Ann Druyan and Dario Robleto
6:30 p.m., Sept. 23
The Menil Collection, 1533 Sul Ross (Free)
In 1977, Ann Druyan, an author and producer specializing in cosmology and popular science, became the creative director of the Golden Record. Formed by her soon-to-be-husband, astronomer Carl Sagan, the team of seven created a portrait of Earth from natural sounds, images, musical selections, spoken greetings, and recordings of Druyan's own heartbeat and brainwaves that was launched aboard the unmanned space probes Voyager 1 and 2 on a billion-year journey into space. Thirty-seven years later, Voyager 1 is just now exiting our solar bubble and entering interstellar space. In this program, Druyan joins Robleto in a discussion of the creation of the Golden Record and the relationship between science, art, emotion and the human desire for long-term preservation.
 Conversation with the Artist - Patrick Feaster and Dario Robleto
6:30 p.m., Oct. 21
The Menil Collection, 1533 Sul Ross (Free)
Prior to Thomas Edison's groundbreaking invention of sound recording and playback technology in 1877, the ephemerality of sound meant that it only existed in the moment of its creation. To "record" sound before this time meant it appeared as oral or written descriptions or musical scores. In 2008, Patrick Feaster, a researcher and educator specializing in the history and culture of early sound media, and his colleagues revolutionized the field of historical sound recording by suggesting that attempts to record sound waves as visual tracings almost two decades before Edison's breakthrough could be "played back" today as sound. In this discussion with Robleto, Feaster speaks about his work and their recent collaboration on "playing back" the earliest 19th-century attempts to visually record the human pulse and heart.
 Film Screening: "Man, Art, Machines"
6:30 p.m., Nov. 18
The Menil Collection, 1533 Sul Ross (Free)
Quests such as visualizing the mysterious movements of the human pulse and heartbeat, building a mechanical heart from scratch, landing humans on the moon, or sending a vessel past the edge of the Solar System embody a sense of technological optimism and wonder that defined American idealism in the 1960s. It was also a driving force behind "The Machine as Seen at the End of the Mechanical Age." Organized by Pontus Hulten, the exhibition opened at the Museum of Modern Art, New York, before traveling to the Rice Museum, Rice University, in 1969. Featuring appearances by Dominique de Menil, Pontus Hulten, and sculptor Jean Tinguely, "Man, Art, Machines" explores the evolution of the exhibition in Houston.
Conversation with the Artist: Mimi Swartz and Dario Robleto
6:30 p.m., Dec. 2
The Menil Collection, 1533 Sul Ross (Free)
In her upcoming book, Mimi Swartz, an executive editor of Texas Monthly, traces the history of the artificial heart. The first artificial heart was implanted in 1969 at the Texas Heart Institute in Houston, and much of this tale of ambition and innovation focuses on the work of surgeons living and working in the city today. Robleto and Swartz have been in dialogue since the early stages of their respective projects and invite the public to join them in a layered conversation about the past, present, and future of this technology.
Transported + Renewed: "Afoot! - A Marching Band Extravaganza"
11:00 a.m., October 25
Navigation Boulevard Esplanade (Free)
As part of the Houston Arts Alliance's Transported + Renewed initiative, local marching bands, the University of Houston Cougar Marching Band, Austin High School Sonic Boom and Milby High School Marching Thunder, will ignite a spectacle of big sound. The performance is curated and choreographed by Mitchell Center guest artist Allison Orr, of Folklift Danceworks, in collaboration with local choreographers via Dance Houston. Enjoy food, fun and music at the East End Street Fest. Defying easy description, Forklift Danceworks Artistic Director Allison Orr's work challenges audiences to expand notions of dance and performer while posing the question: Who and what can be presented on stage? Orr finds the raw material for her work among the stories and everyday experiences of ordinary people, spending months researching and immersing herself in the community she is engaging. Uncovering that which is essential to the life of a community but often goes unnoticed is central in Orr's work, as she seeks to give voice to people who may be marginalized or frequently overlooked.
Unsilent Night
7 p.m., Dec. 11
Lot H of Sabine Promenade along Buffalo Bayou (Free)
The Mitchell Center collaborates once again with Buffalo Bayou Partnership for this free, interactive holiday event. New York composer Phil Kline created this 43 minute piece, written specifically to be heard outdoors in the month of December. It takes the form of a street promenade in which the audience becomes the performer. Each participant gets one of four tracks of music that can easily be downloaded on a smart phone upon arrival.  When participants play their different "parts" simultaneously, it helps create the special sound of the piece. Revelers will walk a carefully chosen route along Buffalo Bayou's beautifully lit Sabine Promenade.
CounterCurrent
April 8-12, 2015
CounterCurrent is a festival of bold experimental art that occupies a range of unexpected sites in the city of Houston. Presented by the University of Houston Cynthia Woods Mitchell Center for the Arts, CounterCurrent includes audio and visual installation, live performance, and participatory events by artists from around the world. Collaborations with dynamic organizations and artists in the Houston community are included as well as fresh new works by University of Houston faculty and students.
###
About the Cynthia Woods Mitchell Center for the Arts
The Cynthia Woods Mitchell Center for the Arts is dedicated to interdisciplinary collaboration across the performing, visual, and literary arts. Based at the University of Houston, the Mitchell Center commissions and produces new works, presents public performances and exhibitions, offers curriculum and scholarships, and hosts residencies with renowned visiting artists from throughout the world. The Center is home to the Mitchell Artist Lecture, an annual event featuring a pioneer in contemporary art-making, as well as CounterCurrent, an annual spring festival of new performance. The Mitchell Center forms an alliance among five departments at UH: the School of Art, Moores School of Music, School of Theatre & Dance, Creative Writing Program, and Blaffer Art Museum. For more information visit www.mitchellcenterforarts.org.
About the University of Houston
The University of Houston is a Carnegie-designated Tier One public research university recognized by The Princeton Review as one of the nation's best colleges for undergraduate education. UH serves the globally competitive Houston and Gulf Coast Region by providing world-class faculty, experiential learning and strategic industry partnerships. Located in the nation's fourth-largest city, UH serves more than 39,500 students in the most ethnically and culturally diverse region in the country. For more information about UH, visit http://www.uh.edu/news-events/.
---