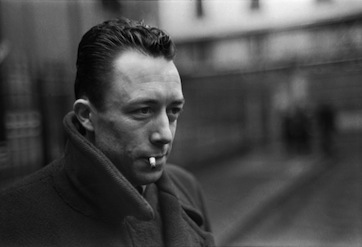 Author Albert Camus would have turned 100 this month. A car accident, however, cut his life short more than 50 years ago. Still, Camus left behind a body of work that continues to raise questions and provoke critical discussions.
On Friday, the Nobel Prize-winning writer will be celebrated during an afternoon of conversations and readings at the University of Houston Honors College. "A Life Worth Living: Albert Camus 100 Years Later" will run 3 – 7 p.m. and include guest speakers journalist and author Jason Berry (presenting "Albert Camus and Civil Rights: A Journalist's Brief") and University of California – Irvine professor and author Ève Morisi (presenting "To Kill A Human Being: Camus and Capital Punishment"). The event also will showcase a dramatic reading of Camus' play "The Just Assassins" by Honors College students.
"A Life Worth Living" is presented by UH's Honors College and Texas A&M's Glasscock Center for Humanities Research.
Camus' works explored socially and politically charged themes and topics such as capital punishment, totalitarianism and terrorism, all the while seeking to forge a humanism capable of meeting the unprecedented challenges of our age. During his career, Camus wrote three novels—"The Stranger," "The Plague," "The Fall"— had begun his fourth, "The First Man," which was published posthumously. Additionally, he composed a collection of short stories  ("Exile and Kingdom"), philosophical essays ("The Rebel," "The Myth of Sisyphus") and several plays ("Caligula," "The State of Siege," "The Just Assassins").
In 1957, he was awarded the Nobel Prize in Literature for "for his important literary production, which with clear-sighted earnestness illuminates the problems of the human conscience."
"He was an advocate for human rights and a spokesperson for those who could not speak for themselves," said Robert Zaretsky, UH professor of French history in the Honors College. "This event is particularly important because his works addressed important issues with which we still wrestle and must discuss. And that's what this event aims to do … provoke a discussion."
This University of Houston event is part of a two-day conference focused on Camus. On Nov. 21, Zaretsky and Texas A&M University professor John McDermott will discuss the author at Texas A&M in College Station, Texas.
In 2010, Zaretsky's book "Albert Camus: Elements of a Life" was published to commemorate the 50th anniversary of the author's untimely death. This month Harvard University Press published his new book, "A Life Worth Living: Albert Camus and the Quest for Meaning."
For additional details on "A Life Worth Living: Albert Camus 100 Years Later," visit the event's website.  
The Honors College at UH is a hub of excellence that serves the needs of gifted undergraduates in more than 100 fields of study and reflects the rich diversity of the University of Houston in its courses, faculty and students. For over 50 years, the Honors College has offered students the best of both worlds: the advantages of a small college together with the comprehensive resources and rich diversity of a large university. For more information about the Honors College, visit http://TheHonorsCollege.com. 
###
---