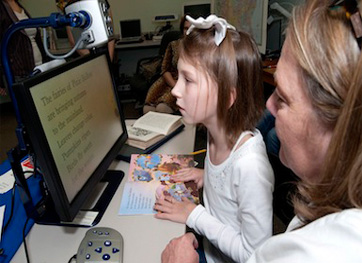 For the third year, a children's vision alliance is teaming up at the University of Houston (UH) to provide life-changing assistance to a visually impaired child in need.

Nine-year-old Martin Velasco, who suffers from Vogt-Koyanagi-Harada disease, is severely impaired, with one eye seeing only 20/400 and recently learning the other eye also is beginning to fail. Often called VKH syndrome, this rare disorder affects many body systems, with the most noticeable symptom being a rapid loss of vision.

To help alleviate some of his struggles, Martin will receive an electronic video magnifier thanks to an alliance between the Center for Sight Enhancement (CSE) at UH's College of Optometry and two partner organizations, Optelec and Sight Savers America. The MultiView electronic magnifier the Velasco family will receive is a high-tech aid capable of enlarging reading material up to 79 times its original size with high-contrast viewing modes. With a flexible camera, movable reading table and large widescreen display, the device is designed for use on a table or desk, which will allow Martin to focus on such activities as reading, writing, drawing and – his favorite – Legos.

Currently, Martin has started using a similar device provided by his school, but it's not his to keep and must be brought back and forth to the school. His mother, Martina Velasco, is struggling with cancer and says she is finding it increasingly difficult to transport the magnifier. She says he is able to do his homework better with it and see the smaller parts in building his Lego models.

"Having a video magnifier system at home will truly be a blessing this holiday season," said Martina. "He's a strong child for the pain he has had to endure. He has been my inspiration since my diagnosis of bile duct cancer, which is also quite rare. Seeing what he's been going through the last few years, though, makes me stronger. I hope both of us can now be an inspiration for others after being so blessed with this donation during such difficult times."

According to CSE director Stanley Woo, O.D., vision rehabilitation maximizes the use of remaining functional vision, using techniques, devices and assistive technology to enable patients to succeed in school and maximize their independence. The CSE at UH specializes in helping patients in that area.

"From our experiences of making these devices available to children in need, we've found these highly specialized vision aids not only greatly enhance their vision, but also their quality of life and development," said Woo, who is also a clinical associate professor at the optometry college. "We are continually encouraged by reports from past recipients about huge improvements in their grades, as well as new-found opportunities to explore their surroundings in a way not possible before."

Partnering with UH to provide the equipment and training, Optelec is a leader in innovative and life-changing assistive technologies for the blind and visually impaired, and Sight Savers America is a not-for-profit organization that provides free vision aids to legally blind children whose families can't afford the equipment. With devices like the MultiView being so costly and not covered by insurance, the alliance allows all three organizations to fulfill their shared goal of helping children make the most of their remaining vision, regaining their childhood independence and improving their quality of life.
###
***NOTE TO JOURNALISTS: Martin Velasco and his mother will be on campus, available to speak with media, when he receives his new video magnifier. They will be at the Center for Sight Enhancement, getting training with CSE doctors, from 10 to 11 a.m., Tuesday, Dec. 11. Parking is available in the gated lot off Wheeler behind the J. Davis Armistead Building (map: http://www.uh.edu/campus_map/buildings/JDA.php). ***

About the University of Houston
The University of Houston is a Carnegie-designated Tier One public research university recognized by The Princeton Review as one of the nation's best colleges for undergraduate education. UH serves the globally competitive Houston and Gulf Coast Region by providing world-class faculty, experiential learning and strategic industry partnerships. Located in the nation's fourth-largest city, UH serves more than 39,500 students in the most ethnically and culturally diverse region in the country. For more information about UH, visit the university's newsroom at http://www.uh.edu/news-events/.

For more information about the UH Center for Sight Enhancement, visit http://www.opt.uh.edu/uei/services/lowvision/.

For more information about Sight Savers America, visit http://sightsaversamerica.org/.

For more information about Optelec, visit http://www.optelec.com/home.


---