This year marks the 10th anniversary of the Mars Rover Model Celebration and Exhibition. A workshop to prepare teachers for coaching their students through the planning and completion of operational rover models will be held at the University of Houston (UH) 9 a.m. to 4 p.m., Saturday, Sept. 17. While walk-ins are welcome, the deadline to sign up for receiving materials is Sept. 10.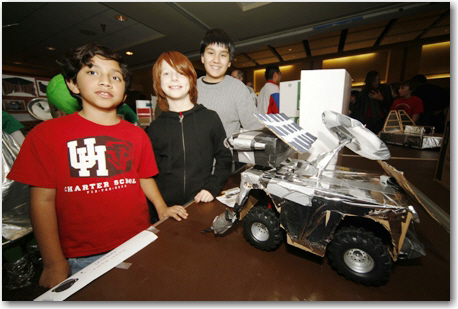 Houston-area students in grades three through eight interested in science and engineering will be invited to compete in the design and construction of a Mars rover model to carry out a specific science mission on the surface of the red planet. Teachers will be trained to guide their students in building models during six-week classroom-learning and homework projects.
This workshop will prepare teachers who are considering entering their students in the competition by covering the details of the celebration, accompanying curricula and proven methodologies for introducing and supervising the projects. Teachers participating in the workshop receive print and electronic copies of the curriculum and one solar model kit. Advanced registration is required to receive a model kit. Interested teachers should fill out and mail in the registration form, along with a $25 check payable to Texas Learning and Computation Center, University of Houston. For the registration forms, visit
http://marsrover.phys.uh.edu/workshop.php
.
This competition is part of the education and public outreach component of the World Space Congress, made up of the world's space community to chart new directions for humanity's future in space. The citywide finals will be held Jan. 28, 2012, in the Houston Room of the University Center at UH.
For questions, contact Edgar Bering, professor of physics, electrical and computer engineering at UH, at ebering@mail.uh.edu. For more information about the Mars Rover Celebration, visit
http://www.marsrover.org/
.
WHAT:  

Mars Rover Model Celebration and Exhibition Teacher Workshop
WHEN:
9 a.m. to 6 p.m., Saturday, Sept. 17
(Registration deadline: Saturday, Sept. 10)
WHERE:
University of Houston
Phillip G. Hoffman Hall, Room 232
Off Cullen Boulevard, Entrance 14
Parking available in lot 15F
WHO:
Instructed by Edgar Bering, UH professor of physics and electrical and computer engineering, for Houston-area primary and middle school teachers
###
For more information about UH, visit the university's Newsroom. 

To receive UH science news via e-mail, sign up for UH-SciNews. 

For additional news alerts about UH, follow us on Facebook and Twitter. 
---