A parade of Mars rovers will be buzzing around the University of Houston (UH) Saturday, Jan. 29 at the ninth annual Mars Rover Celebration. Held from noon to 6 p.m. in the Houston Room of the University Center at UH, the event hosts hundreds of contestants and is free for the public to attend.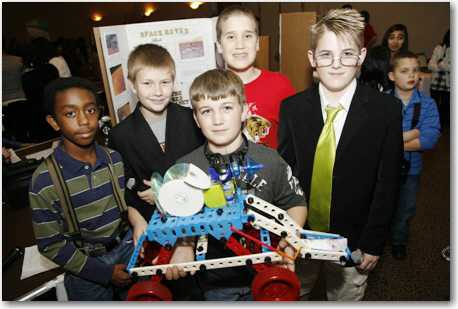 Working tirelessly at the helm of this competition for nearly a decade, UH physics professor Edgar Bering is expecting more than 600 students, representing nearly 40 schools and 85 classrooms, at the event. An educational endeavor for third- through eighth-graders from Houston and its surrounding areas, the contest was developed to spark students' interest in science and technology.
Each year, student teams research, design and construct a model rover to carry out a specific science mission on the planet's surface. A $25 limit on supplies helps students learn about budgets and project management, while keeping the costs accessible for all schools. Past rovers have been crafted from simple art supplies, found objects, solar-power kits and radio-controlled car chassis.
As students demonstrate the products of their hard work to the judges, various UH departments and programs will be showcasing educational exhibit booths and stops on a campus tour oriented toward science and engineering. Among these will be a virtual 3-D drive on Mars and simulated roller coaster in the Texas Learning and Computation Center's visualization theater, a weather balloon launch with atmospheric scientists that collects chemistry and meteorological measurements for air quality in the Houston area, and a levitation demonstration at the Texas Center for Superconductivity at UH.
At the close of the competition, students will hear talks from Microsoft's Jonathan Fay, the chief programmer of the WorldWide Telescope; NASA's Tess Caswell, who will speak about the future of space exploration; and UH geology professor Janok Bhattacharya, whose presentation "Ogling Planets and Googling Earth" will talk about remote sensing in the 21st century. Former NASA astronaut Joan Higginbotham will cap off the event with the awards presentations.
WHAT:
Ninth Annual Mars Rover Model Celebration and Exhibition
WHEN:
Noon-6 p.m., Saturday, Jan. 29

Noon-1 p.m.        Students arrive with their entries
1-2:40 p.m.         Elementary school judging
2:40-4 p.m.         Middle school judging
4-4:30 p.m.         Reception
4:30-5:30 p.m.    Speaker presentations
5:30-6 p.m.         Awards ceremony
WHERE:
University of Houston
University Center – Houston Room
Off Calhoun Road, Entrance 1
Map: http://www.uh.edu/campus_map/buildings/UC.php
WHO:
Area elementary and middle school students (entrants)
Former NASA astronaut Joan Higginbotham (award ceremony MC)
###
NOTE TO JOURNALISTS:
Short preview video at
http://tinyurl.com/6kdjekk
and photos of last year's event at
http://tinyurl.com/65dre87
. High-resolution photos can be downloaded at
http://tinyurl.com/62lwyg2
.
For more information about UH, visit the university's
Newsroom
. 
To receive UH science news via e-mail, sign up for
UH-SciNews
. 
For additional news alerts about UH, follow us on
Facebook
and
Twitter
. 
---