For the second year, a children's vision alliance is teaming up at the University of Houston (UH) to provide life-changing aids to visually impaired Houston-area children in need.

The Center for Sight Enhancement (CSE) at UH's College of Optometry identified five young patients to receive electronic video magnifiers, which are high-tech aids capable of enlarging reading material up to 79 times its original size with high-contrast viewing modes. They will receive the equipment and training at a low-vision clinic held at the CSE from 9:30 a.m. to 12:30 p.m., Tuesday, Dec. 13.

The children, ranging in age from 7 to 16, have severe vision impairments, ranging from retinal detachments to brain tumors, that render them legally blind. Vision rehabilitation maximizes the use of remaining functional vision, using techniques, devices and assistive technology to enable them to succeed in school and maximize their independence. The CSE at UH specializes in helping patients in that area.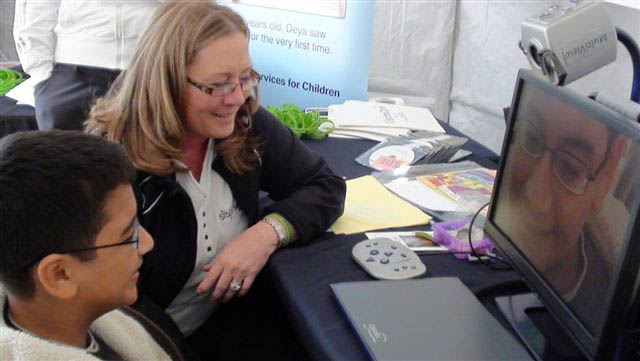 Partnering with UH to provide the equipment and training are Optelec, a world leader in innovative and life-changing assistive technologies for the blind and visually impaired, and Sight Savers America, a nationally expanding not-for-profit organization that provides free vision aids to legally blind children whose families can't afford the equipment. Sight Savers and Optelec are donating five MultiView electronic magnifiers and a variety of handheld magnification devices. Sight Savers will train the children on how to use their new equipment during the low-vision clinic.

In most cases, placing highly specialized vision aids in the homes of these children not only greatly enhance their vision, but also their quality of life and development. One example of what low-vision aids can do for a child with impaired vision is Abisai Andrade, a 15-year-old Houston teen and student at Kipp Academy. The first child in Texas to benefit from the alliance's work last year when he received an electronic video magnifier, he uses his equipment constantly and has seen a huge improvement in his grades, as well as the new-found opportunity to explore his surroundings in a way he couldn't before.

With the equipment being so costly and not covered by insurance, the alliance allows all three organizations to fulfill their shared goal of helping these children make the most of their remaining vision, regain their childhood independence and improve their quality of life.
WHO:
UH Center for Sight Enhancement, Optelec and Sight Savers
Team Up to Help Children in Need
WHAT: 

Visually Impaired Children Receive Equipment, Training at Low-vision Clinic
WHEN: 

9:30 a.m. to 12:30 p.m., Tuesday, Dec. 13
WHERE:
University of Houston
College of Optometry – J. Davis Armistead Building
Parking off Wheeler, behind building in gated lot
Map: http://www.uh.edu/campus_map/buildings/JDA.php
###
For more information about UH, visit the university's Newsroom at http://www.uh.edu/news-events/.

For more information about Sight Savers, visit http://sightsaversamerica.org/.

For more information about Optelec, visit http://www.optelec.com/home.
---