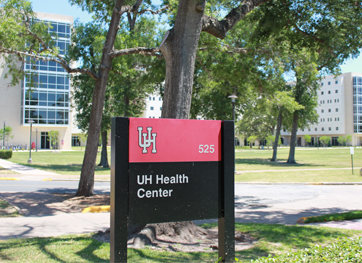 University of Houston (UH) students now have something more to smile about. The university will offer
dentistry services on campus
at the
UH Health Center
beginning May 2. Bringing private dental care to a university setting is a novel approach. The UH clinic will be the only dental facility currently offered at a university in Texas that is not affiliated with a medical or dental school.        
"We have been researching ways to deliver dental services to our students for a long time. Our students were asking for access to on-campus dental care," said UH Health Center director Floyd Robinson. "Only in recent years has the technology evolved in a way that allows us the opportunity to bring a permanent dental clinic on campus."
The dentistry services include routine cleanings, restorative repairs, fillings and limited major dental procedures. Dental care is available two days a week to all students enrolled at UH through a partnership with Cornerstone Onsite Dentistry, a Houston-based practice that brings complete, state-of-the-art dental practices to the patient.  Cornerstone staffs the UH clinic, located within the UH Health Center, with dental professionals. Currently, services are offered in a room dedicated to dentistry, but future plans include a full operatory that will expand the services that can be provided at UH, while rivaling most traditional dental offices. 
 "UH had an interest in dentistry services, and our team was already providing these services to residence facilities, military installations, employers and other long term and acute care hospitals in the community," said Cornerstone founder Scott Coleman, D.D.S., who also serves on the Stephen F. Austin Board of Regents. "It made perfect sense to look into how we might also be able to serve the student population. UH was a great place to start."
Coleman said since UH committed to opening its dental clinic, other universities have approached him about offering similar services. But, he said, the UH clinic is a pilot program for bringing private dental services to higher education.
"We believe the current demand for dentistry combined with the convenience and quality of our services will combine for a meaningful wellness benefit for all," said Coleman. 
According to the UH Health Center, the cost includes a $20 co-pay, and other charges are based on the services provided at "a reasonable and customary rate." Cornerstone accepts most insurance plans. Scheduled to launch in May and open to students on Mondays and Wednesdays, Robinson said the goal is for the UH dental clinic to develop into a full-time facility available to faculty, staff and students, five days a week.
"We need to make sure the wellness of our student population is the priority," said Robinson, "but we believe we have the demand among the entire campus community to expand our services to faculty and staff. We hope to do that as early as fall 2011."
For now, students can smile big and brush up on their dental care, right alongside their books.
For more information about the UH Health Clinic services visit http://www.uh.edu/admin/hc/
To make an appointment for services call the UH Health Clinic at (713) 743-5151
About the University of Houston
               The University of Houston is a Carnegie-designated Tier One public research university recognized by The Princeton Review as one of the nation's best colleges for undergraduate education. UH serves the globally competitive Houston and Gulf Coast Region by providing world-class faculty, experiential learning and strategic industry partnerships. Located in the nation's fourth-largest city, UH serves more than 38,500 students in the most ethnically and culturally diverse region in the country.
For more information about UH visit the university's Newsroom at www.uh.edu/admin/media/newsroom
---