With video game sales surpassing Hollywood box office receipts, gaming has become a multibillion dollar industry with lucrative job opportunities.  Eight University of Houston students from its gaming program will be featured in Washington, D.C., this weekend in a national computer game design competition sponsored by Microsoft. 
Two teams from UH are among 10 finalists who beat out thousands of America's brightest young techies to reach the final round of the U.S. Imagine Cup April 23-26.  They will vie for an $8,000 grand prize against teams from Yale University, the University of Southern California and other schools. 
UH was the only school to have two teams in the final 10.  This achievement reflects the rapid progress of the university's relatively new gaming program, said Olin Johnson, a computer science professor who is one of the instructors for UH's game development courses. 
The theme of the game design competition is to imagine a world where technology helps solve some of the toughest problems, such as poverty and environmental sustainability.  Using the United Nations Millennium Development Goals as guidance, teams were encouraged to have fun while tackling global issues.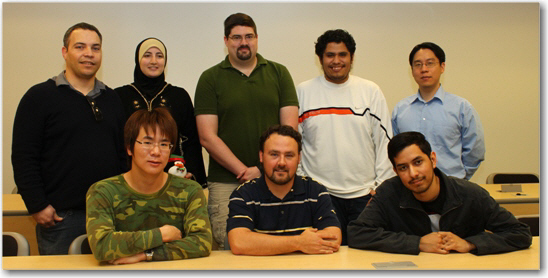 The Imagine Cup entries started as group class projects, and in the past few months the teams have been perfecting their games.  Team Ifrit Salsa is comprised of graduate student Daniel Biediger and undergraduates Alaa Gharandoq, Jesus Hernandez and Arifur Sabeth, who qualified with their game RoboRecycler.  The team's mentor is computer science instructor Chang Yun. 
RoboRecycler is a game centered around the idea of sometime in the future developing a recycling robot.  Gamers play a character that controls a robot armed with a claw and poker that collects paper, glass, plastic and metal and then sorts them into appropriate bins for each.  The recyclable items differ in point value and ease of collection, so gamers have to play smart to maximize their point totals.  Up to four players compete to collect the most trash, with each level presenting a different setting, such as a park or a beach. 
The students wanted to reward in-game behaviors that would possibly translate to players recycling outside of the game, teaching children that recycling is easy and fun.  They plan to develop the game further beyond the Imagine Cup competition, one day hoping to eventually create an actual recycling robot. 
Graduate student Yu-Chao Chen and undergraduates Reggie Tye, Paul Diaz and Syung Whan You, known as Team Level 13, created a game called Antitoxin Squad.  The team's mentor is computer science instructor Jose Baez-Franceschi.  In Antitoxin Squad, the goal is to destroy pollution through bioremediation, where biological agents, such as algae or plants, are used to neutralize contaminants in polluted soil or water.  They basically react with pollution to change it into something that is less harmful to the environment. 
"Players fire cleansing plant seeds at crawling, dirty globs of pollution while dodging the toxic goo the globs are throwing their way," said Tye.  "At each level, the pollution globs become more powerful, while the players acquire more potent weapons.  The game's seven levels reflect the planet's seven continents, and the graphics and game elements on each level reflect that particular region." 
The Imagine Cup is an annual competition that draws thousands of the world's brightest tech students who vie in several software categories, including game development.  The best will compete in the International Imagine Cup later this year in Poland. 
Since 2007, UH has offered computer science students courses in interactive game development and graphics.  In 2008 a UH team finished in the top 20 in the international round.  UH students have excelled in game development, and the computer science department was among the first in the nation to offer these courses. 
The gaming curriculum consists of four courses, and plans are under way to offer a master's degree in computer science with a concentration on game development in the near future.  Johnson, along with assistant computer science professor Zhigang Deng and instructors Baez-Franceschi and Yun, teach the courses. 
"Game design is a particularly challenging form of software development, as it requires both technical savvy and creativity, and the gaming courses offered at UH have helped students merge those diverse skills sets," Biediger said.  "You know what games are fun and what ideas and elements you'd like to see in a game, and then you use your hard-science side to figure out how to actually create that." 
After an active day of presentations, training and talking with experts in the field, finalists will present to a panel of judges Friday, April 23.  The top teams will present at an exhibition for academics, industry insiders and other influential leaders Monday, April 26 in this multiday event. 
###

NOTE TO JOURNALISTS:
  A high-resolution photo of the two UH teams with their mentors is available to media by contacting Lisa Merkl. 
About the University of Houston
The University of Houston is a comprehensive national research institution serving the globally competitive Houston and Gulf Coast Region by providing world-class faculty, experiential learning and strategic industry partnerships.  UH serves 37,000 students in the nation's fourth-largest city in the most ethnically and culturally diverse region in the country. 
About the College of Natural Sciences and Mathematics
The UH College of Natural Sciences and Mathematics, with 170 ranked faculty and approximately 4,500 students, offers bachelor's, master's and doctoral degrees in the natural sciences, computational sciences and mathematics.  Faculty members in the departments of biology and biochemistry, chemistry, computer science, earth and atmospheric sciences, mathematics and physics conduct internationally recognized research in collaboration with industry, Texas Medical Center institutions, NASA and others worldwide. 
For more information about UH, visit the university's Newsroom at
http://www.uh.edu/news-events/
. 
To receive UH science news via e-mail, visit
http://www.uh.edu/news-events/mailing-lists/sciencelistserv.php
. 
For additional news alerts about UH, follow us on
Facebook
and
Twitter
. 
---