Known Issues (FAQs) and Common Alerts
---
COMMON ERROR OR ALERT MESSAGES
---
GENERAL INFORMATION and NOTES, FULL-VPN
The UH Virtual Private Network (VPN/Full-VPN )
From May 19, 2023 forward: UH Full-VPN is now required to log into the UH Cascade CMS from off campus. Please visit the Infotech VPN pages to learn how to install UH-VPN for your system. 
For the connection address use: full-vpn.uh.edu.
If you already have UH VPN installed on your system (Cisco AnyConnect): 
You need not reinstall anything to switch from vpn.uh.edu  to  full‑vpn.uh.edu. Before connecting, simply click and type into the address field to add "full-" in front of vpn.uh.edu (in other words, the field would then say full‑vpn.uh.edu). See illustration following. Connect via 2FA as usual.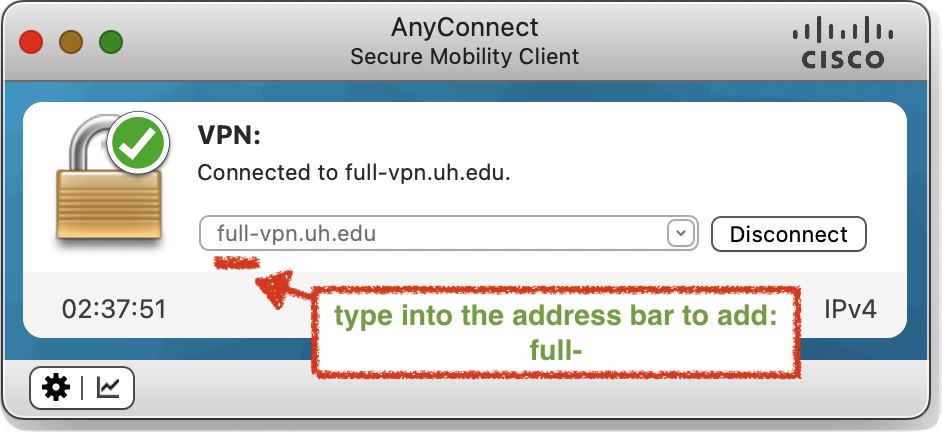 If you are already connected and need to switch, you would need to temporarily disconnect the VPN and then reconnect after adding the "full-" text as described above. You may experience momentary connection interruptions until connection re-establishes. Service should resume as normal shortly after completing connection with full‑vpn.uh.edu. In some instances you may need to reconnect with certain services.
Please contact either cms@uh.edu or the UIT helpdesk if you experience any issues which do not resolve as expected.
Also, some of our Users have found that their browser 'updates' their Cascade login shortcut link or bookmark when encountering the Cascade CMS's VPN security alert page. This action is on the browser's-side. Users would need to reset any link which may get changed in this way.
 
Non-crawled staging/test publishing
Also, regardless of your location, if you are not using UH Secure to connect, then the UH-VPN will also be needed to view the non-crawled Staging- and Testing- publishing addresses (either vpn.uh.edu or full‑vpn.uh.edu settings may be used).
If you are unable to load the non-crawled addresses even with the UH-VPN installed and running, and/or if you need assistance locating the non-crawled address[es] for your site[s], please contact cms@uh.edu or webservices@uh.edu.
---