What is VPN?
A VPN is a Virtual Private Network. It provides a method for employing encryption to provide secure access to a remote computer over the Internet. 
What is the UH VPN service?
VPN service is available to UH students, faculty, and staff to help connect to UH computing resources that are not otherwise accessible from your internet connection when off campus. Access to the VPN is granted using your CougarNet credentials.
There are two VPN services available:
The VPN.uh.edu service tends to get the majority of connections. If you encounter problems accessing the VPN.uh.edu, it may be because it is at the maximum number of clients.
The Full-VPN.uh.edu gets much fewer connection and may be more available.
Please also note the differences in VPN use, listed in the examples following:
Examples
Needs VPN:
To connect to a UH Desktop system with Remote Desktop Protocol (RDP) services, you would use the VPN.
To connect to an internal campus website, you would use the VPN.
Does Not Need VPN:
The campus Skype-for-Business service is unique in that it has both a public/external view and a campus view; however, with the VPN you are considered to be using a public/external view and do not need the VPN.
AccessUH.uh.edu is a public service and would not use the VPN. The various services connected via AccessUH.uh.edu are all pubic services and do not need the VPN. This includes: Canvas, Peoplesoft, etc.
Microsoft 365 is a public cloud-hosted service, and so does not need the VPN.
Using your local (home) network printer would not require the VPN.
Your normal internet services, like general web traffic, Netflix, Facebook, Google, etc. are public based services and do not require the VPN.
As you may see from these examples, only internal UH systems need VPN.uh.edu to communicate. Overall, if you are not using campus resources, you do not need VPN.


What is VPN.UH.EDU?
This is a "split-vpn" tunnel which provides split access between the campus private resources and public/local resources, like home printer, Netflix, Hulu, IoT devices, Office365, MS Teams and Skype for Business. The campus private resource traffic is directed to the VPN tunnel to communicate with the campus private resources, while all other traffic continues to travel without the VPN tunnel using your normal internet view/connectivity.


What is FULL-VPN.UH.EDU?
This is where ALL your internet traffic can be tunneled to a campus public IP address and go out to the internet.
Some resources outside of UH can only be accessed from on campus. For example, third-party services like library research databases only accept connection from on-campus. Full-vpn.uh.edu will allow this type of access. It also ensures all your internet traffic is accessing UH resources as you would on campus.
However, because all your traffic is using the new campus public IP address, you would lose access to local services, like a home printer, etc.
Connecting or disconnecting from the Full-vpn.uh.edu will change the view of your system towards the services that you are using (i.e. your system's IP address will change). Connecting to the VPN while you are already in the middle of one of your services (such as a Skype-for-Business call) may disrupt the service.
Comparing all examples for VPN.uh.edu, ALL traffic would use the Full-VPN.uh.edu tunnel, including your general internet traffic. Because the other end of the Full-VPN.uh.edu tunnel does not see your local (Home) printer, you will be unable to use it while the Full-VPN.uh.edu is active.


Which one should I use?
Use the one that works the best for you. The Cisco AnyConnect application is a onetime install. You can change the address to the vpn connection by changing the connect address shown below.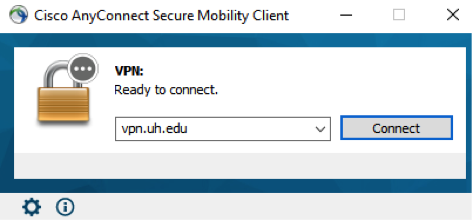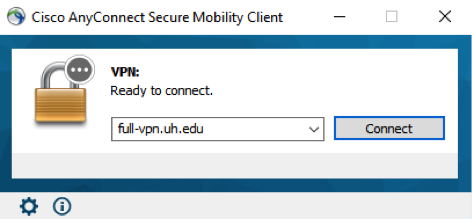 What credentials do I need for both?
You need your CougarNet account credentials to download, install and authenticate to VPN.


How do I install VPN application on the various devices?
Contact UIT
Call Us: 713-743-1411
Fax Us: 713-743-1109