Empowering through new knowledge, Enriching through shared experience, Excelling toward the future.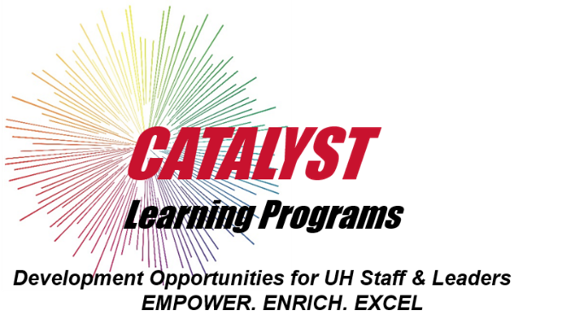 Catalyst is a learning and development program designed to provide opportunities for staff to enhance knowledge and develop skills for future opportunities within the University of Houston.  This program features innovative development courses for Individual Contributors, Supervisors, Managers and Senior Leaders. 
To view courses currently available and to enroll view the CATALYST Enrollment App.
Click HERE to view our course Catalog.
                            

Are you looking for workshops and activities for your department to enhance communication and team spirit? Team Development is customized for each department or team based on their development goals. Training programs and activities are developed based on a needs assessment conducted by a Talent Development team member.

To request a team development session please complete a training request form. 

 

LinkedIn Learning offers a customized learning experience that features instructional content relevant to your professional interests and goals. UH Employees have unlimited access to more than 5,000 video tutorials covering business, creative and technology topics.

Click Here for a list of recommended courses from LinkedIn Learning!