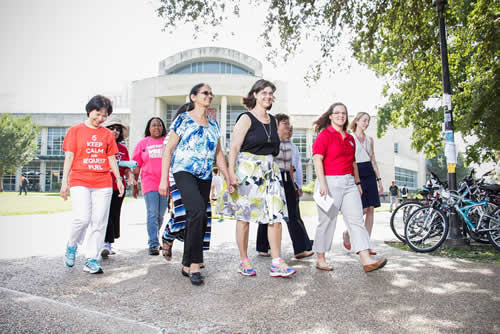 What's free, relatively easy to do, and can make you feel good all over? WALKING! That's right! For many of us simply getting up and walking around is the perfect Rx for what ails us. It reduces the risk of cardiovascular disease and diabetes, strengthens muscles and bones, and can help you to maintain a healthy weight. If all that weren't enough, it also boosts productivity, reduces stress, elevates mood and improves quality of sleep.

To support a healthier you, the POWER UP Employee Wellness program has developed a series of Cougar Walking Paths on campus. To walk a desired distance, connect the routes or walk them more than once consecutively. For example, twice around the Centennial Walk equals 2 miles. Explore one or more of the paths on your lunch break – or apply for Fitness Release Time to walk 30 minutes 3 times a week. Encourage others to join you in the adventure. Better yet, buddy up – or consider starting a walking group!

Use your walking activity not only to move your body and get your heart pumping, but also to relax and de-stress. Don't text and walk! Instead take in the fresh air, clear your mind and enjoy seeing parts of the campus you may never have seen before – including numerous pieces in the University's Public Art collection!

Many health organizations recommend 7,000 - 10,000 steps a day as a level to strive for in becoming more physically active. However, if you are not a regular walker or are new to exercise, checking with your doctor first and starting slowly is always advisable. Click here for warm-up techniques, fitness walking tips, pedestrian etiquette and safety precautions.
Maps
Click on a route below and take your walk on the go.
• Cougar Pride (0.6 mi)
• Art Walk (1.3 mi)
• da Vinci Walk (0.6 mi)
• Centennial Walk (1.0 mi)
• Recreation Trail (0.3 mi)
Two miles a day, keeps the doctor away! Note, the Centennial Walk takes you straight through the heart of campus! Twice around equals 2 miles!

Inclement weather? Try one of these covered alternative walking locations:
• Farish Hall First Floor Hallways (11 laps around the KIVA = roughly 1 mile)
• McElhinney Hall Exterior Walkways (8 laps around the building = roughly 1 mile
• Campus Recreation and Wellness Center Indoor Track (4.4 laps = 1 mile) *CRWC Members
Need a little extra motivation? Have a fitness tracker or fitness app on your phone? Track your physical activity and earn rewards! As a BCBSTX HealthSelect member you can accrue and redeem Blue Points for a wide variety of merchandise. Get started by logging in to your Blue Access for Members account. Then click on "Well on Target" to browse and connect to different activity apps!
*Note Cougar Walking Paths are not ADA compliant.