UH Students Earn Prestigious Goldwater Scholarship
By Martha Hayes
April 9, 2021  
For the second time in three years, not one, but two outstanding University of Houston students have been awarded the prestigious Barry Goldwater Scholarship. Honors College juniors Gabrielle Olinger, majoring in physics, and Javi Solano, majoring in mechanical engineering, will each receive awards of up to $7,500 for their senior year to be applied toward tuition, books and housing.
"This fellowship represents one of the highest achievements for our students in natural sciences, engineering, and mathematics. That we again have two highly-qualified students awarded in one year speaks to the hard work and dedication of the Office of Undergraduate Research and Major Awards in mentoring students through the application process" said Paula Myrick Short, UH System senior vice chancellor for academic affairs and UH senior vice president for academic affairs and provost. "Gabby and Javi's accomplishments serve as an inspiration for other high-achieving UH students in STEM fields and are a reminder that the University of Houston has some of the most promising young scholars in the nation."
This marks the third time that the University has had multiple recipients in a single year. From a pool of over 5,000 sophomores and juniors at 438 institutions across the country, 1,256 outstanding undergraduates in the natural sciences, engineering and mathematics were nominated for a 2021 Goldwater Scholarship.
Partnered with the Department of Defense, the Goldwater Foundation trustees awarded 475 Goldwater Scholarships to sophomores and juniors who intend to pursue research careers in natural sciences, mathematics and engineering and were nominated by the Office of Undergraduate Research selection committee.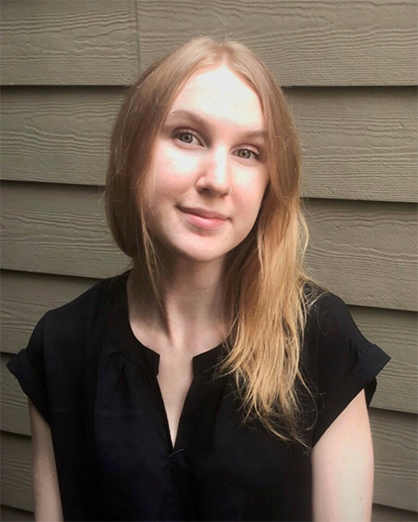 Gabrielle Olinger is a junior in the Honors College pursuing a major in physics and a minor in mathematics. As a freshman, Gabrielle began working with René Bellwied, M.D. Anderson Chair Professor of Physics at the UH College of Natural Sciences and Mathematics, as part of the Experimental Heavy Ions Group. She has since used statistical thermal models to better understand the transition between the universe's primordial phase of matter, called the quark-gluon plasma, to the hadronic matter (e.g., protons and neutrons) that makes up the universe today. As a rising sophomore, Gabrielle participated in SURF, and under the guidance of Professor Eric Bittner began modeling the dynamics of a variety of quantum systems to understand how light-matter interaction with a cavity mode affects transport of an excitation along a chain of coupled spins. Today, Gabrielle continues to be involved in research with both Bittner and Bellwied, and in her free time enjoys playing the piano and baking.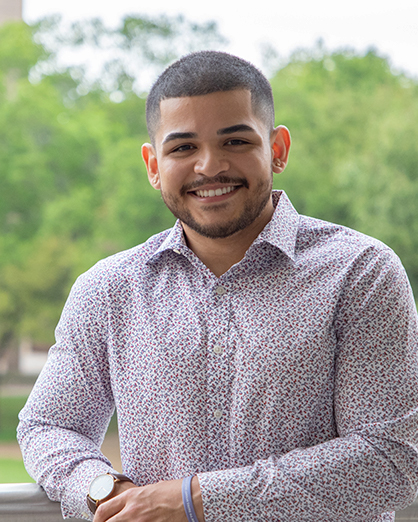 Javi Solano, a fourth-year mechanical engineering major, is a student leader in the First Year Experience program at the University of Houston. In this capacity he has served as a lead undergraduate teaching assistant, cultivated an afterschool STEM education program for underrepresented elementary students and served as a research intern in many labs on and off the Houston campus. Upon graduation, he plans to continue his research career at Purdue University, where he will enroll as a doctoral student in the School of Aeronautics and Astronautics. Through his research, he aspires to integrate computational modeling and simulations to characterize in-service aerospace structural components and their defects more efficiently. While pursuing his doctorate, he hopes to develop an afterschool STEM program for Purdue-area elementary schools.
"The Goldwater Scholarship is awarded to the nation's most outstanding STEM undergraduates, and Gabby and Javi have particularly distinguished themselves with their many academic achievements," Ben Rayder, director of the Office of Undergraduate Research and Major Awards in the Honors College said. "Despite the challenges posed by the pandemic, Gabby and Javi not only continued to conduct a high level of research but also demonstrated remarkable commitment during the Goldwater application process. They are terrific representatives of the University of Houston to the scientific community who will continue to perform transformative research in the future."
Olinger and Solano utilized opportunities such as the Houston Early Research Experience and the Summer Undergraduate Research Fellowship for hand-on research activities alongside faculty members offered by the Office of Undergraduate Research and Major Awards. Through the mentoring and direction offered by Rayder, who works extensively with University fellowship applicants, they were well prepared for the application process.
Olinger and Solano are joining good company. Over the past 30 years, Goldwater Scholarships have been awarded to nearly 9,500 undergraduates, many of whom have gone on to win other nationally-renowned scholarships and fellowships, such as the National Science Foundation's Graduate Fellowship, the Rhodes Scholarship and others. Goldwater alumni can be found conducting research to increase national security, finding cures for catastrophic diseases and teaching future generations of scientists, mathematicians and engineers.
---
The Honors College at the University of Houston is a nationally recognized learning community. As a vibrant, leading presence within the University, the Honors College attracts highly talented and motivated students and educators to a collegial environment where tradition is honored, and possibilities are both created and realized.