Minors and Programs: Medicine & Society
Gene Harper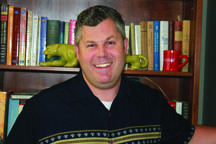 Medicine & Society student Gene Harper took what some might view as the long way around to preparing for medical school—he just views it as a "set of experiences that connected as a pathway."
A native Houstonian who graduated from Strake Jesuit College Preparatory, Gene first came to the University of Houston as a percussion major in 1990. Success with his music encouraged him to move to New York to play professionally and work on a recording contract. The attacks on September 11, 2001, had a deep impact on Gene, however, inspiring him to join the Marine Corps. After training at Camp Pendleton and serving multiple tours of duty, Gene returned to Houston and worked in technology, but his degree "nagged at him as an unfinished chapter."
Thanks to the GI Bill, Gene returned to school; thanks to all the experiences that had shaped his path, he came back knowing he was interested in medicine and anthropology. Through his involvement with Alpha Epsilon Delta, the premedical honor society, Gene was introduced to the Medicine & Society program soon after his return to college. Since joining the Honors College—and the Medicine & Society (MedSoc) minor—in early 2010, Gene has enjoyed the "intellectual challenge and academic immersion" he's found here. In particular, Gene appreciates the way his MedSoc classes and activities "cross-pollinate" with classes in his anthropology major. Readings in Medicine and Society, for example, offered views on a mix of historical and modern issues that showed him the state of health care discourse. Another favorite experience in the MedSoc program was the Clinical Application of Anatomy and Physiology course he took from Drs. Kathryn Peek and Helen Valier. In addition to challenging him and showing him the "vastness of what [he doesn't] know," the course offered him the tools to "dig out of" that hole and taught him that the "language of medicine is decipherable." He learned to love the problem-based learning that forced "synthesis instead of regurgitation." He said, "it was very Socratic-feeling: gritty, real, and visceral." 
While one of the benefits of the Medicine & Society program is help connecting with internships and co-curricular experiences, Gene has shadowed a physician at UTMB in Galveston for the past four years, worked as a peer mentor with the Wounded Warrior Project, and volunteered at the veterans hospital. His experiences outside the classroom combine with his classes to support his interest in the patient illness narrative, where he's aware of the "messiness and ambiguity outside of the textbooks" and how these facets of family, culture, and context contribute to the entire patient and to appropriate treatment choices. As Professor Valier said, "Gene has been one of the most outstanding students the program has ever had because of his dedication to his studies. His ability to integrate course materials with clinical experiences is very valuable in class dialog."
Gene hopes to serve the Texas community and bring his experiences, insights into human behavior, and interest in how humans create and experience disease to bear as he plans for graduation, the MCAT, and medical school. 
Topping 100
The Medicine & Society minor has grown from its first year in 2005 to serve 108 students this year. Program coordinator Dr. Helen Valier thinks the growth is spurred by "the students being positive and spreading the program through word of mouth." She believes that having more great students attracts more faculty and staff interest and support, which in turn creates more exposure and opportunities for students in the minor.
More new classes
In addition to the new Death & Dissection course described in the winter issue of Areté, Medicine & Society is also launching a medical humanities class in conjunction with the graduate program at UTMB. The month-long course will explore the various disciplines that make up the medical humanities and apply their various perspectives to three case studies. The medical humanities graduate faculty at UTMB suggested their interest in adding good undergraduates to their graduate classes, so this summer's class will act as the pilot of a program they hope to expand with more classes in future semesters.
Another course being offered for Medicine & Society credit for the first time is "A Crime without a Name": 20th Century Genocides, a multidisciplinary capstone course being offered by Professor Irene Guenther this fall. The course will examine the emergence, development, causes, uses, and responses to genocide and ethnic cleansing in the 20th century.