Mat Bosch and 8 Other Undergraduates Present at NCUR
When Mathieu Bosch first entered the Honors College in fall 2010, transferring in from Houston Community College as a sophomore, he knew he wanted to get involved in research. As a chemistry major with his sights set on earning an advanced degree, he was eager to pursue an educational path that would enhance his academic career.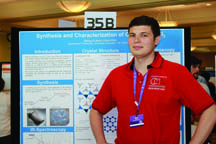 That fall he enrolled in inorganic chemistry with Dr. Angela Möller from the Department of Chemistry. While they were consulting regarding Mat's petition for Honors, Professor Möller offered him the opportunity to develop a route to prepare synthetic minerals only found near the Tolbachik fissure volcano at one of the remotest places: the Kamchatka Peninsula in Russia. Mat seized this opportunity, and enjoyed the research immensely. He continued to work with Professor Möller through the PURS spring 2011 program, and the project ultimately resulted in Mat synthesizing a mineral that had never been artificially produced before. 
"Honors pushed me to get involved in research early, and it proved valuable. You should build a relationship with a professor and have an idea of what you want to do as early as you can," shared Mat. 
One year later, Mat had the good fortune of accompanying eight other undergraduates to present at the National Conference on Undergraduate Research (NCUR), the largest national conference of its kind. 
The NCUR 2012 Conference took place at Weber State University in Ogden, Utah, and welcomed research presentations from over 3000 undergraduates. "We were delighted that UH was represented for the first time at this conference. It offered a forum for our students to present on their research on a national stage and learn from their peers—both students in their discipline and outside of their field," said Dr. Stuart Long, associate dean of undergraduate research and the Honors College. Long, Karen Weber, director of the Office of Undergraduate Research, and Jodie Köszegi, assistant dean, accompanied the nine students on the trip.
Mat concurs with Dr. Long, sharing, "The conference allowed me to meet and talk to other chemists about my research, and also helped me learn how to present my research more professionally and effectively. My favorite aspect of the trip was the oral presentations I was able to see in chemistry. It was interesting to hear and ask questions about other students' research that I could understand and evaluate on a deeper level."
The conference entailed attending a wide range of oral, poster, and creative presentations from undergraduates across the U.S. The group also enjoyed the plenary speakers: Mario R. Capecchi, a Nobel laureate and Distinguished Professor of Human Genetics and Biology at the University of Utah, and Anne Fadiman, an award-winning author, essayist, and editor, who is the inaugural Francis Writer in Residence at Yale University, and author of The Spirit Catches You and You Fall Down. 
As his senior honors thesis, Mat is characterizing the mineral he created by exploring the reaction conditions and learning more about the synthetic aspects of formation. The mineral's inherent physical properties are studied for the first time and reveal unexpected novel insights well into the field of material sciences. He will defend the project in December, and then plans to attend graduate school in fall 2013 in inorganic chemistry. Mat is hopeful the research he conducted as an undergraduate will pave the way for his success. "It is having the opportunity to conduct research, co-author a paper, and present at a national conference that will enhance my application for top tier graduate schools."
Long added, "The students enjoyed the opportunity to present their research and network with other undergraduates, faculty, and representatives from a large number of graduate schools. This experience should encourage these students to present at future conferences in their own specific fields, and also let other UH undergraduates know that presenting at a national conference is a very achievable goal."