Graduates Tell Their Honors Stories

by Adrienne R. Huntsman
Every story has a beginning and an end. The graduating seniors you'll meet in this article—standing in for the 289 graduates from Honors this year—are coming to the end of their beginnings in Honors, and they each have a story to share. Some Honors stories begin before freshman year even starts, as students embrace the new friends and activities at Honors Retreat; other students take a little longer to warm up to the College, and their Honors stories begin later. These graduating seniors reflect on courses and professors, on friends and events. But each of these stories shows that Honors is more than just a graduation designation; it is a journey through undergraduate life that includes memorable instruction, leadership opportunities, and the further preparation for life that can only occur outside the classroom.
As a high school senior, Rzan Swaidan ('12, Marketing) thought her destiny was at Texas A&M University. She was initially hesitant when her father signed her up for a campus tour of the University of Houston. "I thought UH would be a concrete jungle, but I came here and saw that they actually had a nice campus. We took a tour of the business college, and then we walked over to Honors. And I fell in love." She touts her experience in the Human Situation course as a defining moment of her Honors career: "Coming into the Honors College, I was pretty cocky about my writing and argumentation skills. However, I quickly came to realize that what I possessed was the tip of the iceberg. Through the process of being torn down and built back up, I rose from the ashes a fantastic communicator." 
Similarly, both Christina King ('12, Chemistry) and Conner Lund ('12, Political Science and Classical Studies) believe the Human Situation course had a major impact on their academic careers. Conner said, "Human Sit taught me how to read, think, and write, in that order."
Christina King is a Houston native who wanted to stay in town for college. As a shy chemistry major a bit wary of university life, she found a world of opportunities here at Houston. Christina connected with fellow students through a variety of experiences and activities, beginning with her first Honors experience—Freshman Honors Retreat—which was also her most meaningful. She recalls retreat as the best experience of her college career. "I met some of my closest friends there. I talk to them to this day, and will talk to them after I graduate." As a student she was highly invested in her science classes, but also thoroughly enjoyed the Human Situation course. Her extracurricular experiences ranged from Model Arab League to work with the University of Houston chapter of the Partnership for the Advancement & Immersion of Refugees (PAIR), where she and her peers volunteered at health fairs and offered free health screenings to Congolese and Burmese refugees.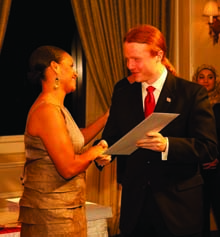 Conner Lund is a music education turned political science and classical studies major who found a wealth of success through Honors. As a former high school band president and drum captain, Conner thought his future was in the arts. But during his first semester of classes, he realized music would not be his path. He even began working on a plan to transfer to another school. But one thing kept him here: his tie with the Honors College. Conner reflected, "The better story isn't how I got to Honors, but what kept me here." He had thoroughly enjoyed his Human Situation classes with Professors Steven DiMattei and Andy Little, and before he knew it, he had found his niche through programs like the Phronesis minor, which continues the close reading and critical thinking central to the Honors cornerstone course, and in subjects like Latin, classical studies, and political theory. Conner maintained his ties to Honors throughout his college career, and still serves as a senior staff member in the Student Services Office, where he assists with Honors Orientation, Honors Retreat, and logistics related to the Human Situation course. 
The leadership you see in these students' activities is an important part of any Honors story. All three graduating seniors were active in Honors Ambassadors, sharing their Honors experiences with students, parents, and other members of the community. Conner and Christina have also both participated in the Model Arab League as delegates. In Conner's senior year, he was named head delegate and led the Honors College team to the national competition in Washington, D.C. "Conner was really the intellectual and spiritual leader for the group," said Assistant Dean Jodie Köszegi. Conner and Rzan also served as mentors to incoming freshmen through the Honors College and Bauer Business Mentor programs.
As an Honors story comes to its conclusion, students and alumni reflect on where their journey has taken them and how Honors continues to play a role. Graduation is just the beginning. In the fall of 2012, Christina will attend a doctoral program in chemistry and chemical biology at the University of Pittsburgh. She hopes to teach one day and to follow in the footsteps of some of the professors who influenced her time in Honors, including history professor Dr. Orson Cook and biology professor Dr. Anna Newman. 
Rzan is currently working in the two-year Analyst Rotation Program at American General Life Companies. As a business analyst in this program, she switches into a different functional department every three months, which allows her to gain broad exposure to American General with the intent of understanding how its departments work together to achieve common goals. In retrospect, Rzan finds her ability to set her own path—a talent she cultivated in Honors—to be a valuable asset in her current position.
Putting his love of reading and political theory to good use, Conner Lund will be heading to Michigan in the fall to complete his Ph.D., fully-funded, at The Hillsdale College Graduate School of Statesmanship. During his final year, he will apply to law school, where he plans to concentrate on corporate law. 
At this year's graduation banquet—an annual event to celebrate the achievements of another outstanding class of Honors students—Dean Bill Monroe reminded attendees that they would "hear not just about academic achievements, grade point averages, majors and minors, but also about participation in Honors Ambassadors, Club Theater, and Coffeehouse, of study abroad, of papers and presentations given at conferences, of internships and athletics." These three graduating seniors offer just a taste of the successes and contributions of this year's graduating class. 
This issue shares the stories of a few other new graduates, like Randy Hannemann, Kristen Flack, Jana Trojanowski, and Alicia Karim (see pages 13, 19, and 18). Others have had their stories shared in recent issues of Areté, like Joshua Ellis ('12, History), who will attend Howard Medical School in Washington, D.C., this fall and Erica Fauser ('12, History and Political Science), who will intern in Egypt, working to promote international human rights law in the region, before applying for law school in the fall. We'll have to wait for more of Honors' newest alumni to send in their updates to share the stories of the rest of this year's graduates.
Student and Faculty Awards
In addition to the introduction and recognition of each of the attending graduates during the Graduation Banquet on May 10, the Honors College and the Student Governing Board also presented awards.
Each year, the College names winners of the Areté awards. These students are recognized for their substantial and sustained contribution to the Honors College. In the words of Assistant Dean Jodie Köszegi, these students "eschew apathy" and consistently and remarkably act for the good of the College and their colleagues.
The 2012 Areté award winners are Conner Lund, Alicia Karim, Sana Mohammed, Rzan Swaidan, Joehan Garcia, Joshua Ellis, Cecilia Cai, Jasmine Patel, Andrew Ingalls, Andrew S. Hamilton, Lindsey Slavin, Kristen Flack, Adrienne Huntsman, Reyes Ramirez, Diego Lopez, Jana Trojanowski, and Erica Fauser.
(If you're trying to figure out the rhyme and reason behind the order of the winners listed above, each year Jodie devises a creative order in which to announce the winners. This year, the students are listed based on the alphabetical order of the high school from which they were graduated.)
The Student Governing Board (SGB) also presents awards—two Outstanding Senior Service Awards go to those students who have offered exceptional service to the College, especially through their service to the SGB. Joehan Garcia and Joshua Ellis were this year's awardees. In addition, SGB gives a Distinguished Service Award to a faculty or staff member whose student support and service goes beyond the ordinary. This year, Medicine & Society coordinator Dr. Helen Valier was recognized for her work advising and supporting the Medicine & Society students and program.