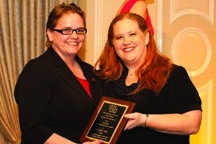 David Brenner will be conducting research this summer in Germany thanks to a grant from the Alexander von Humboldt Foundation.
Robert Cremins' short story "The Apprentices" is scheduled to appear in the summer issue of The Dublin Review. The story was partly inspired by a myth mentioned in The Odyssey, which Cremins taught last fall as part of the Human Situation's Team Omega.
Sue Collins was just appointed to the Ross M. Lence Distinguished Teaching Chair in the Department of Political Science. She said, "As a result of Ross' outstanding talent and dedication to the University (he served on virtually every academic committee at the University over his career), a large group of his students raised funds to honor him by endowing a chair in his name in the political science department. Ross was the original holder of the  Ross M. Lence Distinguished Teaching Chair; how many professors have an endowed chair funded and named in their honor during their lifetimes? Such was the excellence of Ross Lence."
Jamie H. Ferguson is completing a book manuscript, Faith in the Language: Biblical and Literary Authority in Early Modern English, on the convergence of biblical hermeneutics and English literature from Tyndale to Donne. In 2011-12, he published articles in  Psalms in the Early Modern World and other journals. In the summer of 2012, he will participate in the National Endowment for the Humanities Summer Seminar, "Tudor Books and Readers, 1485-1603," in Antwerp, London, and Oxford, and has been invited to give a plenary address at Oxford in the summer of 2013. He has recently received New Faculty Research and Martha Gano Houstoun Research Grants and was a finalist in 2012 for the University of Houston Teaching Excellence Award.
Cynthia Freeland has been named a Moores Professor in recognition of her outstanding scholarly achievements (including six books and many articles) and her status as a leading figure in the philosophy of art. The John and Rebecca Moores Professors Program honors faculty who have made outstanding contributions in the areas of research, scholarship, creative activities, teaching, and service. The program supports continued excellence by providing funds for individual career development. In addition, Dr. Freeland has posted an Oxford Press blog titled "Laughing in the Art Museum." blog.oup.com/2012/05/laughing-in-the-art-museum/
Kimberly Meyer will have new essays published in Ploughshares and The Kenyon Review. Another essay, previously published in Ecotone, has been selected for Best American Travel Writing 2012. In addition, she has received a month-long fellowship for this summer to the Vermont Studio Center.
David Mikics has recently published two pieces in Tablet, a Jewish life, arts, and ideas magazine. His real work though, is keeping up with his son Ariel, below. Tabletmag.com/author/david-mikics 
Tamler Sommers was recently promoted to associate professor with tenure. 
Helen Valier was honored at the Honors College Graduation Banquet with the Student Governing Board's Distinguished Service Award for her work in advising and assisting students in the Medicine & Society program.
Karen Weber won the inaugural Staff Award for Distinguished Service to Women from the University of Houston's Commission on Women. 
Welcome New Faculty
Honors alumnus Jesse Rainbow ('99, History) will join Honors this fall to teach in the Human Situation. He has just completed his Ph.D. in near eastern languages and civilizations at Harvard University. Also, Sarah Spring will join us to direct the new Policy Debate program (see page 8). She comes to us from the University of Iowa where she is completing her Ph.D. in rhetoric. In addition, George Hawley and Jacqueline Hunsicker will be joining us to teach American government.