Summer in Xi'an Brings New Challenges, Opportunities for CLS Recipient
By Elizabeth Cregan
July 18, 2018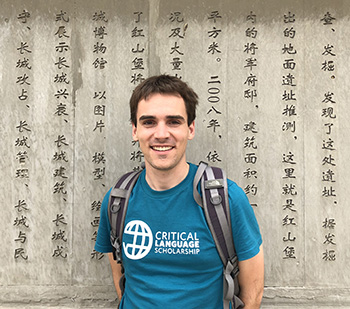 UH master's student Andy Neilson was recently awarded the Critical Language Scholarship (CLS)––an opportunity given to American students to intensively study one of fourteen "in-demand" critical languages. These are languages that are more intensive to learn than the average Western European languages and that belong to countries whose cultures significantly differ from that of the West. The scholarship covers free tuition, airfare, and a stipend from June through August. This summer, Neilson is spending time in Xi'an, China, studying Mandarin. 
Neilson describes this experience as, thus far, "positively one of the most challenging things I have ever done in my life...As soon as your plane lands in the country, you hit the ground running and you begin a non-stop sprint, jet lagged or not." He continues, "my teacher is one of the best I have ever had. It's absolutely every language lover's dream." 
Leading up to this opportunity, Neilson attended the University of Texas Moody School of Communication for his undergraduate degree, where he studied Mandarin. After graduating from UT Austin, Neilson worked as part of Young Audiences of Houston, a non-profit that strives to ensure all Houston-area children access to fine arts programs. Although he always knew he wanted to go to graduate school for Chinese, after witnessing this organization's impact on students, Neilson realized he wanted to pursue the educational route as opposed to a more policy-oriented approach. After three years with Young Audiences, Neilson enrolled in the University of Houston's master's program in World Cultures and Literatures so that he could eventually become a Chinese teacher––to encourage students not only to challenge themselves with a difficult language, but also to find it enjoyable in the process.           
With the CLS, Neilson has had the opportunity to take his language education further than would otherwise be possible. It has also put him in a wide network of people who share similar career interests and has opened his eyes to possibilities in other work sectors. "It also gives me some professional and academic credibility as a person who is very serious about mastering Chinese and representing the United States abroad," he adds.
In terms of the application process itself, Neilson says that he was able to fine-tune his essays with the help of Honors College director of National Fellowships and Major Awards, Ben Rayder. This extra set of eyes, Neilson says, was essential in making his essays as strong as the could possibly be. Neilson also emphasizes that "You don't learn a critical language in two months...it is a lifetime commitment." Thus, this commitment should shine through in your application; you should find creative ways to prove your dedication to learning the language outside the classroom. 
Neilson adds, "I wish more students would know that it is okay to have no idea what you are doing with yourself when you walk across that podium on graduation day, even though you need to demonstrate so on paper. Just keep yourself active and flexible, and always be willing to learn new things." As for his next steps, Neilson will be looking for work when he returns in August. "But the most important thing to me is to find a career where I am helping people in some way, and ideally using Chinese," he said.