Honors College Student Chosen for Prestigious International Debate Tour in Japan
by Jillian Holden
May 15, 2023
Honors College junior Nine Abad ('25) has been handpicked by the Committee for International Discussion and Debate (CIDD) of the National Communication Association (NCA) to represent the United States in its biannual Japan-U.S. Exchange Debate tour. A highly sought-after honor for debate students across the country, the tour facilitates cultural exchange while promoting a deeper understanding between the United States and Japan.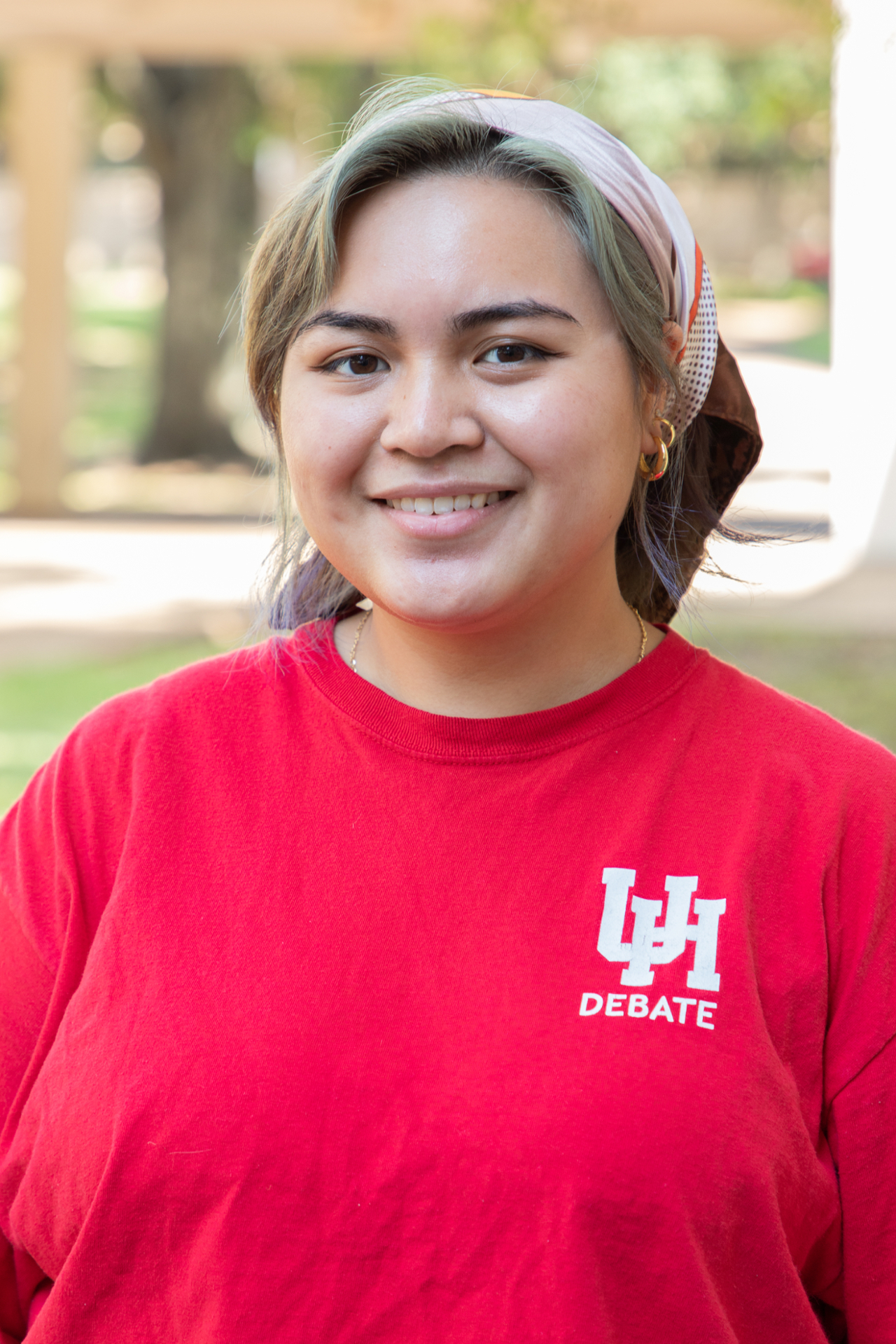 "I am incredibly excited about this opportunity," said Abad. "I was one of only two people in the U.S. selected for this international experience, and I am really looking forward to the new cultural experiences that Japan offers." 
Every year, the Japan Debate Association (JDA) rotates selecting and sponsoring a team of Japanese debaters to tour the U.S. to participate in an intercultural dialogue with inviting an equally well-chosen U.S. team to tour their debate system in Japan. It is one of the most prestigious events sponsored, and Abad will travel to Kyushu University in Fukuoka, St. Andrew's University in Osaka and Tokyo to debate the Japanese legalization of gestational surrogacy. 
"Nine has shown a deep love for debate, speaking passionately about its power to not just educate and bring people together but also to change lives," Rob Glass, director of debate, said. "When I saw that the tour was looking for recruits, I knew Nine would be the perfect person to help showcase that love to anyone who would listen."
The NCA is dedicated to the art of communication, sponsoring research, events and programs that promote its education and practice. Student applicants to the biannual tour were evaluated on debating skills and their ability to teach debate to others in multiple formats. In addition, their diplomacy, representation of the United States and all forms of American forensics and global knowledge of political, social and cultural conditions was critiqued. 
"It feels amazing to both see Nine recognized for the hard work and dedication they've put into debate and the potential inside them to bring this joy to others and also to know that the University of Houston is being represented on an international stage the way it ought to be," Glass said. "Over the last few years, we have had many moments to be proud of as an organization, and this has to be on the top of the list." 
Abad is a double major in both political science and women's gender and sexuality studies with a minor in leadership studies. Virtually training with partner Daniel Ardity from Vanderbilt, they will be in Japan for nine days to engage in academic and professional arenas, showcasing research, ideas and theories. Debates will be live via Zoom on Wednesday, June 14 at 5 a.m. CDT.
The U.S. team will oppose the Japanese Businessperson's Debate Federation, teach the All Japan High School English Debate Association (HEnDA) debate format and go head-to-head at the Tokyo Zoom event. They will discuss various debate techniques and the importance of confidence in communication.
"It's very interesting having to delve into completely new politics and histories that you wouldn't usually get out of American debate because in America the debates are over American policy and U.S. government policy," Abad said. "It's a completely different history and government structure that we are just completely relearning in a couple of months that Japanese students have probably been exposed to their entire life. We are anticipating learning a lot about Japanese politics and how they go about policymaking." 
An accomplished debater with an enthusiasm for learning and a passion for communication, Abad is involved in myriad extracurricular activities, including being a 2023-24 Mellon Scholar, 2022-23 FrameWorks fellow and Pi Kappa Delta vice president. 
"Nine has shown themselves to be not just incredibly dedicated to debate but also to helping teach others debate at all levels of the activity, helping to teach newcomers what debate ought to look like while also helping to finely hone and finesse varsity-level arguments," Glass said. Abad is a high school speech and debate coach seeking to provide research-based education focused on training and creating meaningful advocacy skills.
After graduation, Abad plans to pursue a Master of Arts in Communication or a doctorate program with a concentration in Filipino folklore, rhetoric and culture to begin a career as a debate coach. The Speech & Debate program and events such as the Japan-U.S. Exchange have provided unique opportunities and networking advantages to best achieve that goal.
"Debate is a consistent learning experience, and it is exciting if you keep an open mind to learning," Abad said. "It is something that never gets boring, and I am very excited to see what the Japan tour has in store for me!"