The Barbara Karkabi Memorial Endowment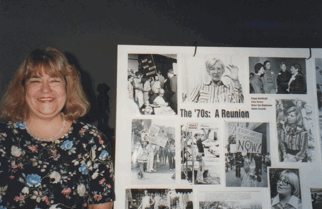 Journalist Barbara Karkabi, a longtime member of the UH Friends of Women's Studies board, organized and moderated the first Living Archives panel in 1997, on 70s Feminism in Houston.
A passionate teller of the stories of Houstonians, Barbara especially delighted in building community through sharing the stories of immigrants and of women.
Penny Loyd, Bill & Sally Russ, Nina Andrews Karohl, Christine Attar, Andrea Georgsson, Carey Shuart, Chinhui Juhn, Holly Maffitt, Zeba Shah, Beverly Robinson, Terry Morales & others, some of the many friends of the late Barbara Karkabi, invite you to join them in establishing an Endowment in her Memory in the UH Women's, Gender & Sexuality Studies Program.
These funds will support The Barbara Karkabi Living Archives Series & research on women's stories.
The Barbara Karkabi Living Archives Series features interviews with women from the Houston area, which are videotaped and collected in the Shuart Women's Archive at the UH library, Special Collections.
To date $113,000 has been given or pledged toward our $150,000 goal.
Major Funder
Penny Requa Loyd
Lead Underwriters
Christine Attar, Nina Karohl, Sally & Bill Russ
Core Sponsors
Andrea Georgsson, Chinhui Juhn, Holly Maffitt, Carey Shuart
Key Contributors
Ann Lacy Brown, Claudia Feldman, Terry Morales, Beverly Robinson, Zeba Shah, Anonymous
Supporters
Phillipa Gard, Rosamund Quay, Sherry Merfish
Additional thanks to those who donated to the Friends of Women's Studies in Barbara's memory:
Phyllis Bailey, Annie Benzon, Patricia Bernstein, Ann Bragdon, Anne Bushman, Betty Chapman, Claudia Feldman, Leslie Gerber, Sarah Gish, Shelley Gottschalk, Claudia Kolker, Kathryn McNiel, Zeba Shah, Rebecca Trounson, Paula Webb, Laura Whalen