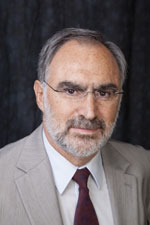 Education
Ph.D. Hispanic Linguistics – University of Southern California (1989)
M.A. in Spanish – University of Southern California (1987)
M.A. Linguistics – University of Concepcion, Chile (1984)
Teacher of Spanish Language and Literature, Institute of Spanish American Cooperation, Madrid, Spain. (1982)
B.A. Spanish and Education – University of Concepcion, Chile (1979)
B.A. Linguistics and Literature – University of Concepcion, Chile (1978)
Teaching and Research Interests
Courses Taught
Undergraduate
Bilingual Communities in Spain
Advanced Spanish Grammar
Introduction to Spanish Linguistics
Contrastive Structures
Spanish Phonetics
Public Speaking in Spanish
Advanced Oral Communication in Spanish
Intermediate Spanish for Native Speakers I
Intermediate Spanish for Native Speakers II
Intermediate Spanish I
Intermediate Spanish II
Graduate
Language change: sociolinguistic aspects
Spanish in a Contact Situation
Spanish Sociolinguistics
Spanish Dialects in the United States
Spanish Syntax
Spanish Phonology
Historical Grammar
Spanish Semantics
Spanish Grammar for Teachers
Ways of Speaking in Mexico
Ways of Speaking in Spain
Selected Publications
"Hablando en chiquito: -ito en el español de Houston." Bulletin of Spanish Studies: Hispanic Studies and Researches on Spain, Portugal and Latin America, 90:3, 2013: 295-313.
"La media subida de clíticos en el español de Houston." Nueva Revista de Filología Hispánica, Vol. 58:2, 2010:645-662.
Restringiendo la subida de clíticos: reflexividad, modalidad verbal y contacto lingüístico en el español de Houston." Hispanic Research Journal, Vol. 9: 4, September, 2008: 299-313.
"Violando la consecutio temporum: variación en el subjuntivo." Revista Mapocho, 64, 2008:295-311.
"Incorporating linguistic variation into the classroom" (co-author: Marta Fairclough. Spanish Second Language Acquisition: State of the Art of Application, 173-191, ed. by Rafael Salaberry and Barbara Lafford. Georgetown University Press, 2006.
Pablo Neruda: Yo respondo con mi obra (1932-1959: conferencias, discursos, cartas, declaracio nes), co-edited with Pedro Gutiérrez Revuelta. Salamanca, Spain: Ediciones Universidad de Salamanca, June 2004.
"Simplification and innovation in US Spanish." Multilingua, 22, 2003:169-184.
"Discurso irreal de pasado en el español de Houston: la disputa continúa," Bulletin of Hispanic Studies, LXXIV:3, 1997:257-269.
"Tendencias y alternancias en la expresión de condicionalidad en el español hablado en Houston," Hispania, 79, 1996:316-326.
"On the future of the future tense in the Spanish of the Southwest." Spanish in Four Continents: Studies in Language Contact and Bilingualism, 214-226, Ed. By C. Silva-Corvalán. Georgetown University Press, 1995.
Ser y Estar en el Habla de Michoacán, México . México D.F.: Universidad Nacional Autónoma de México, 1994.
Dissertations and Theses Directed
Press