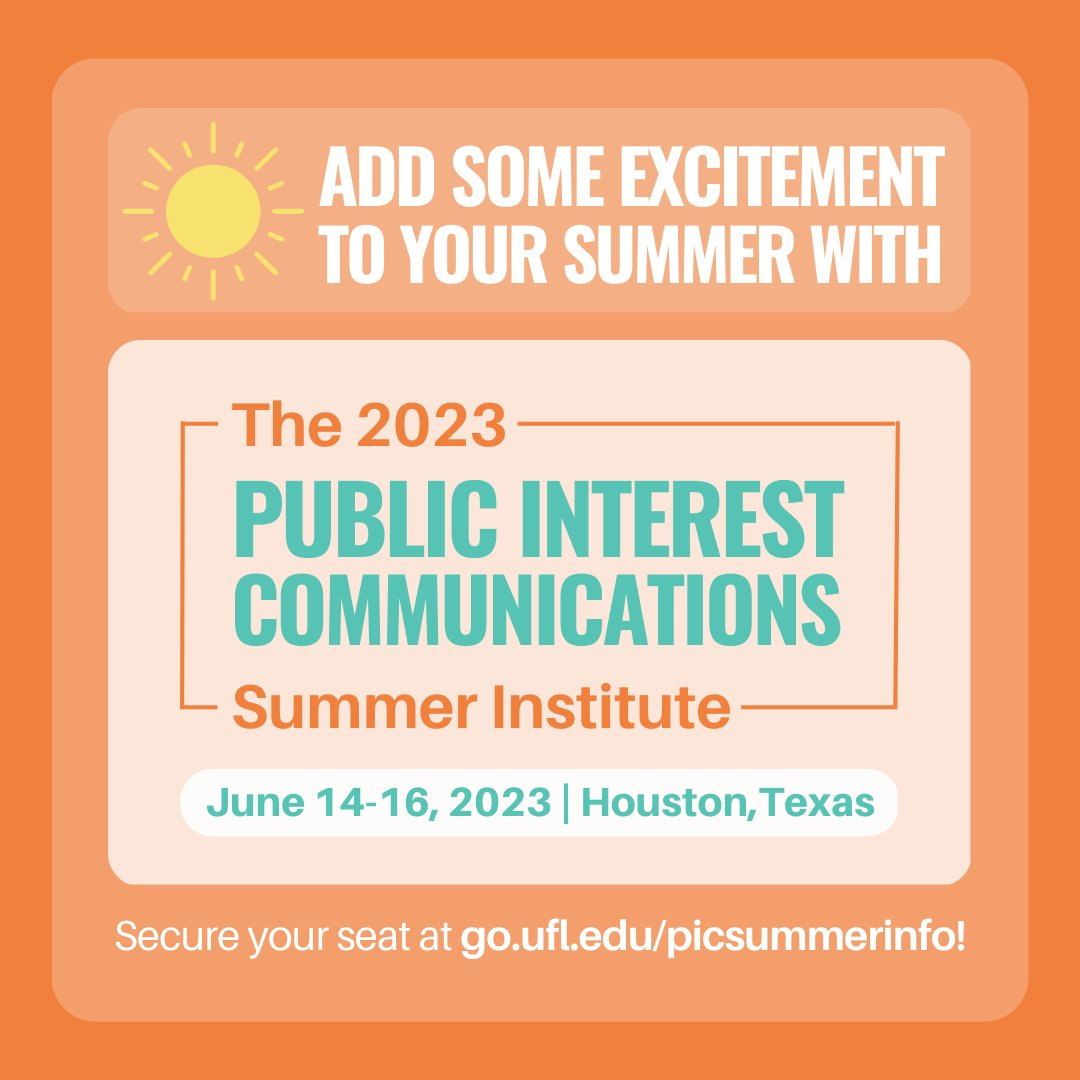 Media Contact: Tish Ochoa lmochoa2@uh.edu
The climate crisis. Harsh border policies. A lack of affordable housing. Reproductive rights under attack.
Increasingly, students want to use the communications skills they learn at UH and at institutions nationwide to advance solutions to these and other pressing social issues.
An emerging academic field – public interest communications – is designed to provide them with the tools to do so. To help build the field, the University of Houston is hosting the 2023 Public Interest Communications Summer Institute, which will bring together scholars, researchers, faculty, administrators, practitioners, and activists to share resources, learn, and collaborate in building the field.
The event, which is organized by the Public Interest Communication Educators Network, will be held June 14-15, with an optional half-day syllabus workshop on June 16. With a theme of activism, attendees from around the country will explore the connection between public interest communications and activism, work collectively to create a mechanism to bridge the researcher-practitioner divide, dive into community engaged scholarship and public interest technology, and more.
"The University of Houston, in the heart of the most diverse city in the country, is the perfect place for scholars and activists from around the country to come together to figure out what the future of public interest communications will look like," said Dr. Summer Harlow, associate professor of journalism, who is a member of the network, which formed last year. "This is a chance for the UH community, and Houston at large, to think outside the box when it comes to engaged scholarship, and centering community voices in our classes, in our research, and in our storytelling, whether for journalistic or strategic communication purposes."
The Summer Institute will feature an impressive lineup of speakers, with more panelists being added and the keynote speaker still to be announced.
Public interest communications uses research-based strategic communications to effect positive social change in the critical issues of our times. The discipline transcends the interests of any single organization, making it distinct from public relations. The goal goes beyond raising awareness to mobilizing people to act – either to change behaviors (don't text and drive campaigns) or policies (reducing reliance on fossil fuels).
Public interest communications borrows from public relations, journalism and marketing. It is informed by insights from fields including neuroscience (how we process information), psychology (how we respond to messages that evoke emotion), sociology, and more.
Only a handful of colleges and universities offer courses in the emerging field of public interest communications; the educators' network aims to change that.
"Our vision is for students throughout the country to one day major in public interest communications just as they study public relations, mass communications, and journalism today," said Angela Bradbery, the Frank Karel Endowed Chair in Public Interest Communications at the University of Florida who organized the PIC educators network. "With all the problems society is grappling with, we need to equip as many graduates as we can with the best possible skills to advance solutions.
Over the past year, network members have presented panels at International Communication Association and Association for Education in Journalism and Mass Communications conferences. They also organized the first summer institute last year at Howard University, drawing 100-plus faculty, researchers, graduate students and practitioners both in-person and online. The group created a Wiki to house resources for instructors who want to weave public interest communications into existing courses or offer standalone courses.
The institute, which is sponsored in part by the UH College of Liberal Arts and Social Sciences Initiative in Media and the Moving Image, is pay-what-you-can, with a suggested registration fee of $60 for students and $100 for others. Free and online registrations are available as well. Get details and your ticket here.