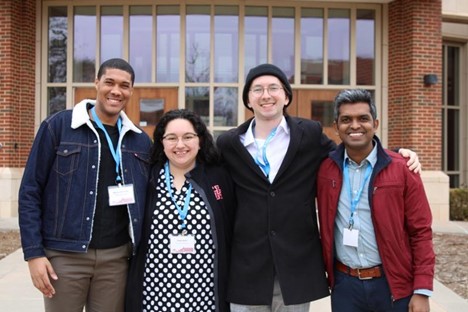 A group of Valenti students competed at the Association for Education in Journalism and Mass Communication Midwinter Conference the weekend of Feb. 24-25 to showcase the research they worked on for qualitative methods courses.
Held at the University of Oklahoma, AEJMC is a national conference where students working towards undergraduate degrees, master's degrees, as well as doctorates, could present research they worked on. Professors also had the opportunity to present findings that furthered their careers.
Following the advice of Dr. Summer Harlow and Dr. Lindita Camaj, participants like mass communications master's student Dylan Stracener were able to showcase their research papers that had been in the works months prior to the conference.
"My partner, Matthew Zimmerman, and I have been working for the last few months on our research paper, 'Female Depictions in Video Games: Gamer Girls in a Gamer World'," Stracener said. "It has been extremely difficult to work on my first conference paper but extremely rewarding. I have developed a much deeper understanding of what it means to conduct true academic research."
Part of the study Zimmerman and Stracener worked with looked into the intersectionality of race and gender, specifically in the gaming world.
"It is no shock to many people that the gaming industry is dominated by white men and this has led to creating a culture that isn't welcoming to some other groups," Stracener said. "My goal is to help create a culture around video games that anyone can play and enjoy this hobby."
Other participants like mass communication master's student Amber Duarte discussed the prep that went into presenting their research findings at AEJMC.
Duarte, with research partner Rashda Khan, took on the topic of looking at the effect of the Supreme Court's decision to overturn Roe v Wade through Twitter posts and hashtag activism. The presentation and their research involved analyzing social media spaces and digital activism in response to specific events.
"Most of the preparation for the event was updating our paper and presentation based on the feedback we received when we originally submitted the paper," Duarte said. "We did have to collect some more data, but it led us to find new and interesting results that we could share at the conference. We also had great advice and help from our professors throughout the entire process as we prepared for the conference, which we are really grateful for."
This was Duarte's first academic conference and it was a highlight of her graduate experience, she said.
For the conference awards, mass communications graduate student Mahbubul Haque Bhuiyan was awarded a place in the category 'Top Paper Abstract in the International Communication Division' for his paper "Weaponizing the Religion in Facebook Against the Women in Bangladesh."
"I will describe this participation as one of the breakthroughs in my academic journey," Bhuiyan said. "This was my first ever conference as a presenter. I experienced the whole journey from submitting an abstract to presenting the paper, getting feedback and finally responding to queries from discussants and fellow researchers."
Bhuiyan added he made plenty of communication about his topic of interest at the conference and was able to request other presenters and participants to collaborate with him in the future. For him, this was a personal benefit, he said.
Overall, the student participants got the chance to learn and grow at this conference, as well as develop research they have been working on as far back as early last year.
"There are scholars coming from all over the world to present at this conference," Stracener said. "Which means it is a huge honor for me, a 1st-year master's student, to be presenting."