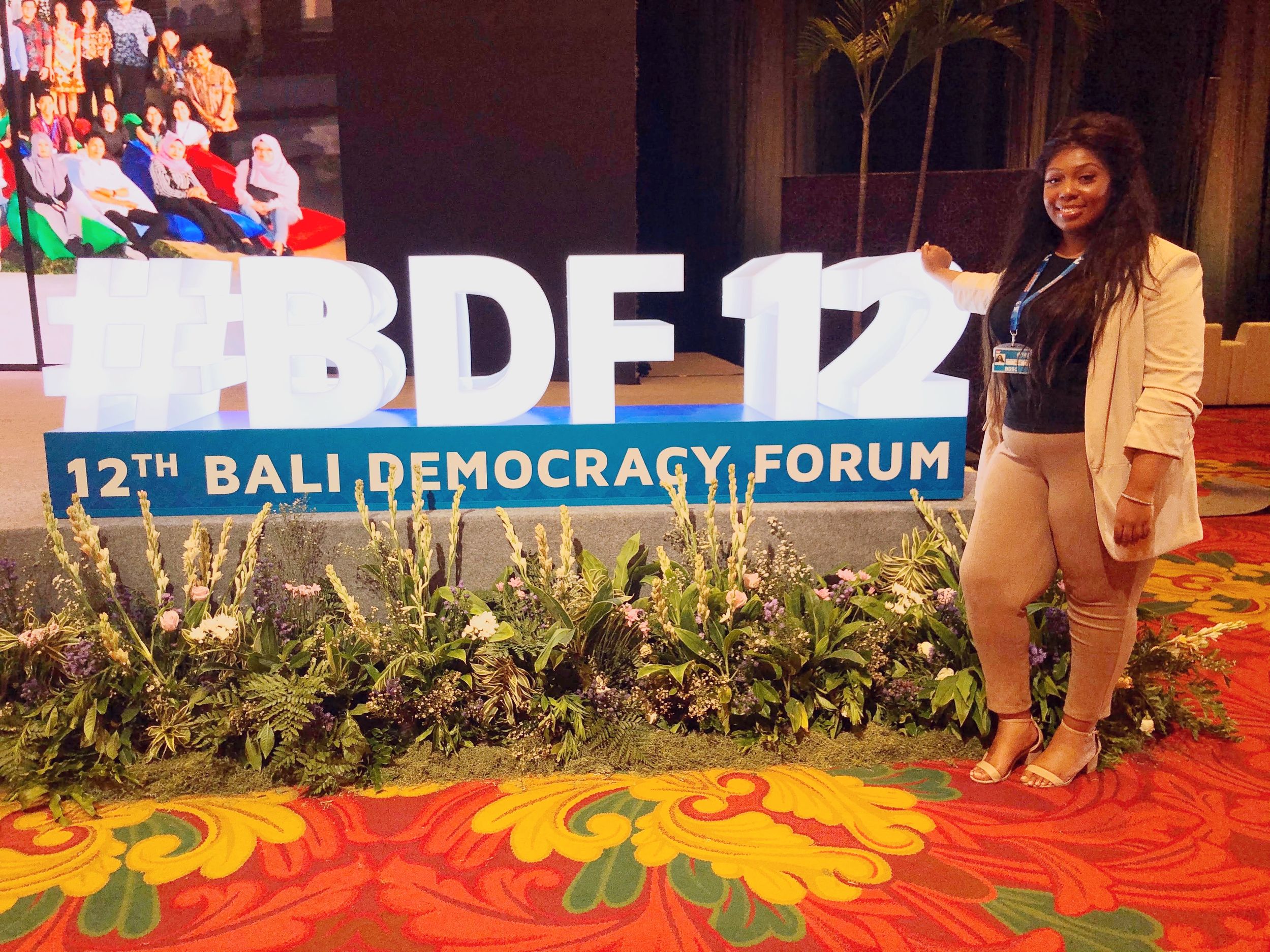 Carla Warren, a senior majoring in broadcast journalism and minoring in law values and policies at the Valenti School of Communication, was chosen as one of 150 students worldwide to attend the Bali Democracy Student Conference on 5-6 Dec. 2019 in Nusa Dua, Bali. 
The conference is an annual event hosted by the government of The Republic of Indonesia. It began in 2017, and was created as part of the Bali Democracy Forum, an annual intergovernmental meeting whose mission is to demonstrate the progressive democratic architecture in the Asia-Pacific region. 
Warren first heard about the opportunity through Dr. Temple Northup, director of the Valenti School of Communication, after scrolling through her email inbox. 
"I saw the email from him and I thought, 'am I reading this correctly?'" said Warren. "It was something directly up my alley. It had to do with democracy, one of the cornerstone parts of journalism, and it tied into the digital era. It involved a lot of things I'm interested in." 
Since 2019, the Bali Democracy Forum has made an effort to involve students through the Bali Democracy Student Conference, which aims to display the value of democracy to the younger generation and to receive input from them. 
"The highlight of the conference was hearing how democracy exists in everyone's respective country," Warren said. "I think we sometimes forget that our system of government is actually a privilege, and other people are actively fighting to get to the point we're in."
Each year the forum focuses on a theme that is then used to produce documents that are utilized as recommendations to enhance the value of democracy in the participants' respective countries. Last year, the theme was "Democracy and Inclusivity: Youth and Inclusive Digital Democracy."
Despite the conference's short time period, Warren had time to sightsee in Bali along with other students on the trip. During her time off, she also witnessed how American culture is perceived by the rest of the world.
"Most of our conversation outside of the conference was about the United States," Warren said. "The most popular question was, 'so how often do you guys eat McDonald's?'"
Warren notes that studying at Valenti has placed opportunities on her doorstep and globalized her perspective of journalism.
"Ever since I stepped into Valenti, there's always been an array of opportunities. I've been able to build off my future plans from the experiences I've had at Coog Radio," Warren said. "I've also had great professors who helped prepare me, like Dr. Lea Hellmueller with her Global Journalism class. It changed my life a little bit because I was able to see journalism from a different perspective."
Warren hopes to continue to pursue journalism from a political perspective and cater information to individuals from her own demographic.