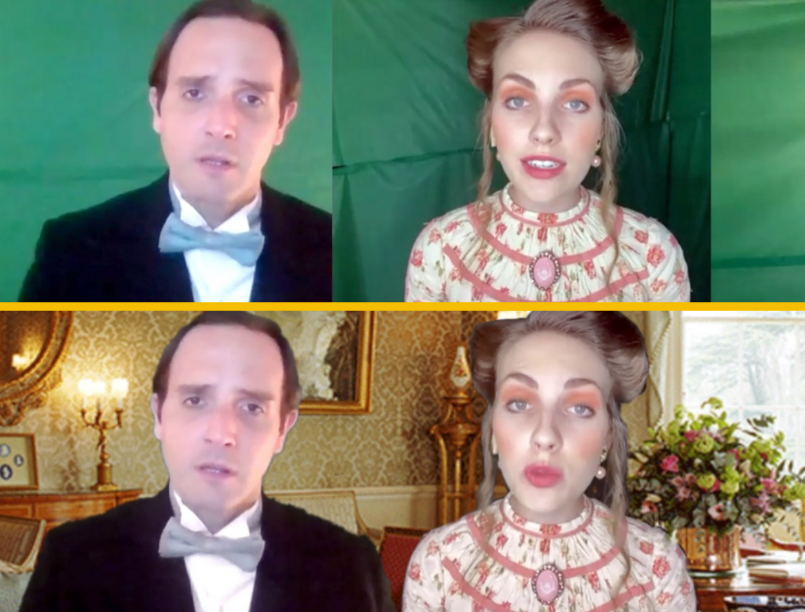 Many theater departments across the United States were unable to put on performances this season due to COVID-19. However, while the pandemic brought many live events to a standstill, it also forced theater departments to explore new, socially distanced ways to bring their productions to life. 
This fall, multiple classes at the Jack J. Valenti School of Communication collaborated with the UH School of Theatre & Dance to bring eight of its live plays to digital screens. The plays were recorded and assembled by Instructional Associate Professor Keith Houk's electronic field production, digital cinematography and advanced non-linear editing classes. 
"The School of Theatre and Valenti have an ongoing partnership between their acting for Camera Class and my Single Camera Production course. Our students need acting talent, and their students need camera-experience and more productions mean more opportunities," said Houk. "Since this was our first pandemic, it was also the first chance for us to involve both departments on a much larger scale."
Initially, the crew was set to shoot at the Cynthia Woods Mitchell Center for the Arts – then the pandemic struck.  As new restrictions were placed on large gatherings, the teams were forced to create new plans of action. For plays like "Kid Simple," a play about a young girl embarking on a magical quest to save her stolen invention, the crew relocated to an off-campus location. For others, like "An Ideal Husband," a play by Oscar Wilde about political corruption and blackmail, Houk devised a green screen recording technique that allowed full-screen recordings of each actor live on Zoom and backgrounds added in post. Finally, in "Freefall," a story about what family means in a society that has splintered the traditional institution, a black background resembling a theater box was used during the Zoom recordings. 
"Our students were the production element. Once we got the gear to the location, I explicitly trusted their knowledge and experience gained from prior class projects" said Houk. "It was a massive undertaking and responsibility, and a lot of students grew into their roles." 
Senior media production major Emily Frazee is a student in both the electronic field production and advanced non-linear editing classes. She was one of the camera assistants and editors for "Kid Simple," the first play of the season to be shot in-person at an off-campus location. 
Shoots often ran late due to a hectic two-week filming period for sixteen total scenes. The crew also encountered various complications, such as the lack of a soundproof location and a 36-hour rushed post-production period. However, Frazee is thankful for her experience during a time when the ability to adapt has been key. 
"It was a super collaborative project, as it was the first time we were all doing something like this," said Frazee. "Being able to have this experience went above the inconveniences of COVID."
Media production students weren't the only ones with the opportunity to help the School of Theatre and Dance. While Houk's students created videos for online distribution, Instructional Associate Professor Julie Fix's public relations campaigns class was given a choice of two clients to work with throughout the semester. One was the School of Theatre & Dance. 
Eight of her students volunteered to work on this team, and they helped promote the videos through a variety of public relations strategies, primarily social media promotion. 
"Other units at the University of Houston are becoming aware of the Valenti School's 'expertise' and are seeking collaborations that allow our students to apply the skills they are learning," said Fix. "It's a win-win for everyone. The price is right, too—we don't charge for our work."
Adam Noble, associate professor of acting and movement and head of the Bachelor in the Fine Arts Acting program, was the director of "Kid Simple." Noble decided that the play would be shot in film-style at an off-campus location, and so "Kid Simple" was filmed from late September to early October, showing the closest resemblance to a real film shoot. It was his dedication to the project that made "Kid Simple" a reality.
In the end, "Kid Simple" was this partnership's biggest undertaking in the context of COVID-19. The completed production was just over two hours and involved over a thousand edits.
"Making art in the middle of the pandemic was hard, as no one knew exactly the measures we should take," said Noble. "We were all afraid of becoming a cautionary tale." 
Originally, "Kid Simple" was the only play that would be filmed face-to-face, yet this changed as other directors saw its production success. Noble attributes much of the success to the steadfast dedication of both the Theatre and Valenti students, faculty and staff involved. The play wrapped up in about a month, a steep time period that put pressure on the cast and crew to work quickly and efficiently. 
"One of my colleagues often says that lessons learned in pain last longest," said Noble. "At the end of the day, it was an exquisite challenge and learning experience for me. I think I will remember these lessons for a long time." 
Among the recorded plays are "What We're Up Against," "An Ideal Husband," "Mommies and Mimosas," "Kyle's Memorial," "Kid Simple," "The Carrier," "Freefall" and "Holy Ghosts". Out of these plays, "What We're Up Against" and "Kid Simple" were recorded in person while the latter five were recorded via Zoom then edited together by Valenti students and faculty. The productions were available for streaming on platforms such as Broadway on Demand, as well as through Facebook and YouTube showings. 
In addition to shooting the School of Theatre & Dance plays, Houk's classes will also be working with senior students from the Dance department. Houk's goal with these partnerships with other university departments is to foster open-mindedness for his media productions students, as well as provide them with real-life experience. 
"It is a growth beyond the world we live in, and it is a great opportunity to expand our students' horizons," said Houk.