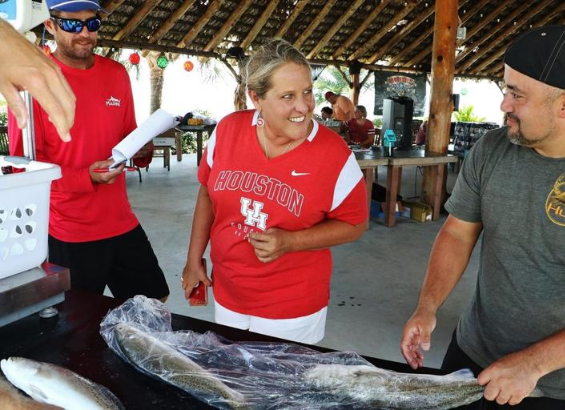 When Kimberly Maraldo ('03) read her former news writing professor Ted Stanton's email requesting volunteers for the school of communication's alumni group, she was immediately interested. The chapter had been inactive for more than five years and needed alumni with the passion and commitment to help revive it.
Weeks later, she joined a meeting with other communication alumni and alumni association officials. One of their first orders of business was to raise funds to sustain the organization and give back to the school.
"We had this huge meeting with all of these people at the Alumni Center," remembers Maraldo, who majored in public relations during her time at the University of Houston. "Everyone was talking about different fundraiser ideas, and I asked 'what about a fishing tournament?'"
Maraldo recalls receiving at least one puzzled look. ("I think she thought I was crazy," she laughs now.) But the idea for a fishing tournament had been quietly brewing in her head for sometime, and she became fixated on seeing it through. 

"I used to fish in a South Padre tournament every year. One year I thought to myself: 'I want to put on a fishing tournament,'" remembers Maraldo. "I knew I wanted to do this, even if I only did it once."
As fishing tournament chair, Maraldo went on to oversee the first Cougar Saltwater Open in 2007, which raised $1,500 without incurring expenses. Now, more than a decade later, she is gearing up for the tournament's 13th run. Although Maraldo, who served as the president of the Valenti Alumni Association from 2009 to 2017, oversees the tournament, she works closely with co-chairs who help with everything from labor and logistics to moral support. With their help and a host of sponsorships, this year's event has already quadrupled its inaugural year's profit.
The tournament's low overhead has made it a key driver for how the Valenti Alumni Association raises scholarship money for students. Each year, The Cougar Saltwater Open adds thousands of dollars to the organization's scholarship fund, raising approximately $75,000 in scholarships to date. At least two $2,500 scholarships are awarded every school year.
"This 13-year tradition has been an amazing fundraiser for our alumni association and for our school. This has been Kim Maraldo's brainchild, and we are so appreciative of her leadership and dedication for all these years," says Cathy Frank ('80), current president of the Valenti Alumni Association.
Still, the 2020 tournament has faced unique challenges unlike any of its previous iterations. Originally scheduled for June, the event was postponed a mere months beforehand due to the COVID-19 pandemic. Ultimately, this tough call paid off.

"This past week, the last of the sponsorship money came in. We're blessed and lucky. I never would've imagined I would pull this off in the middle of a pandemic," says Maraldo.
Luck accounts for some – though not all – of the success. As knowledge about how COVID-19 is transmitted has become more robust, officials have warned against gathering in poorly ventilated, indoor spaces. Instead, outdoor recreational opportunities are in high-demand, with families working to combat pandemic fatigue with quality time outdoors. 
But another success factor is Maraldo and the community she has nurtured around the event. A powerhouse personality, Maraldo's twin passions for the University of Houston and fishing coalesce beautifully for this event. On June 7, she posted a request for raffle items from friends for the fishing tournament due to lack of stores being able to donate. Along with the $75.00 registration fee, the raffle is an important way the event raises scholarship funds.
The donations poured in quickly. 
"My friends know that I love UH, they know that I love fishing, and they know what these things mean to me. I'm grateful for my UH family and for everyone who offered their support," says Maraldo.
Maraldo's passion is contagious. T-shirt sponsor Brian Pool ('02), also a communication alumnus, is a returning sponsor for this year's tournament. He felt motivated by Maraldo's efforts to keep the event going, despite the "craziness" that the ongoing pandemic has caused.  
"I am hoping the sponsorship will allow the attendees to keep some semblance of normalcy and bring joy to those who may not have been able to get out and do much the past few months," says Pool. "Outside of the actual event itself, I hope to support the scholarships funded by the Cougar Saltwater Open to help students in need."
For the most up-to-date infomation about the next Cougar Saltwater Open, please visit www.cougarsaltwateropen.com.