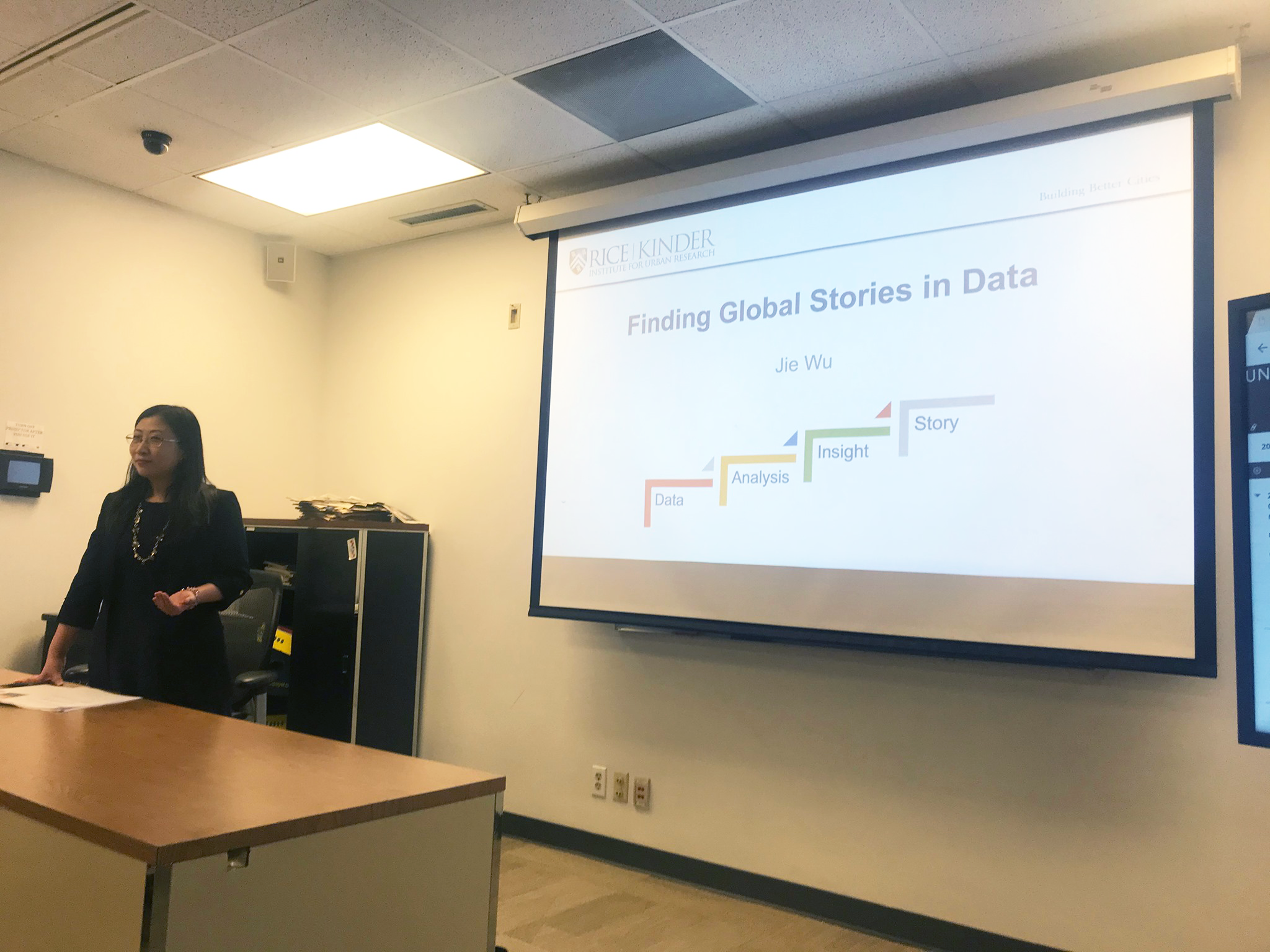 Students at the Valenti School of Communication gained first-hand experience this spring conducting data-driven reporting in Global Journalism, a new elective class offered by Dr. Lea Hellmueller.
The class was made possible through collaboration with the Kinder Institute for Urban Research, a multidisciplinary think-and-do tank at Rice University that uses research, data and policy analysis to propose solutions to critical problems plaguing urban communities.Students learned about the data resources, data storytelling strategies and visualization techniques employed by the Kinder Institute.
"This class has been in the making for over a year," said Dr. Hellmueller, an assistant professor in journalism. "Our students learned to tell journalistic stories of diversity using real-world datasets made available through the Kinder Institute at Rice."
Students also worked closely with Kinder Institute staff, including director of research management Dr. Jie Wu, program manager Katie Wang and research analyst Mingming Zhang.
The final project for the class was to produce a data-driven project focused on diversity in Houston and beyond.
"Our collaboration with the Kinder Institute created a real-world-learning experience that was as exciting as it was rewarding. By being taught by experts in the field and then directly applying what we learned to their generously-provided datasets, we were able to witness and demonstrate how data visualization is a powerful means of discovering new insights and telling valuable stories," said journalism major Sherin Johnson.
Johnson used data and research to paint a somber picture of refugee resettlement efforts in the United States and, in particular, Texas in her collaborative article, Refugees and their flight to a better life. Other students focused their final projects on a variety of topics – such as human trafficking, gentrification and urbanization, immigrant life in Houston, devastation from Hurricane Harvey, Houston's response to homelessness; public transportation systems and inequality, and mental health issues among different ethnicities during Covid-19.
The following articles emerged from the students' semester projects: