Application

Applications are closed. Click to subscribe to our mailing list for information on future programs.

Pricing

Complete Program: $2,700 | One Badge: $1,000

Schedule

Hydrogen Pro. Badge Starts: August 21st |COH Badge Ends: November 13th

Weekly Synchronous Sessions, 6:00-7:00 pm, Mostly Mondays
Program Overview
With the energy industry going through dynamic transition, energy professionals – current and future – need to be informed and equipped to meet challenges of today and tomorrow. The Hydrogen Economy is an essential program that provides key insights about the evolving global energy system, and a key component of sustainable energy development. Designed and presented by industry leaders and accomplished faculty from the University of Houston, the program offers a unique balance of industrial expertise and academic rigor.
The Hydrogen Economy is offered jointly by the University of Houston and the American Institute of Chemical Engineers. Successful candidates will receive digital badges from UH Energy for completing each of the three course modules, and a certificate of completion from AIChE upon completion of the full program.

Why This Program?
The energy transition is in progress, and the world is grappling with the energy trilemma: How can we supply energy that is affordable, secure and reliable, and environmentally responsible, for everyone? There is no single solution to this formidable challenge. But hydrogen is a key component of the most credible sustainable energy scenarios, with significant growth projected for a global energy system over the next 30 - 50 years.
Hydrogen is currently used heavily in the process industries, and it is seen as a significant future replacement option for the fossil fuels that are now used in power generation, transportation, and industry. However, most hydrogen today is produced from fossil energy sources. It will need to be decarbonized if it is to take its place as a dominant player in sustainable energy.
Our interactive, online educational program shares insights into the technology, economics, policy, and business drivers and barriers for hydrogen, both in the short term and in the long term. It examines hydrogen's production, transportation, safety, use, and commercial opportunities, and considers both onshore and offshore applications. It also includes a capstone project to consolidate the learnings, and to better equip students with skills, knowledge. and expertise to thrive in the hydrogen economy.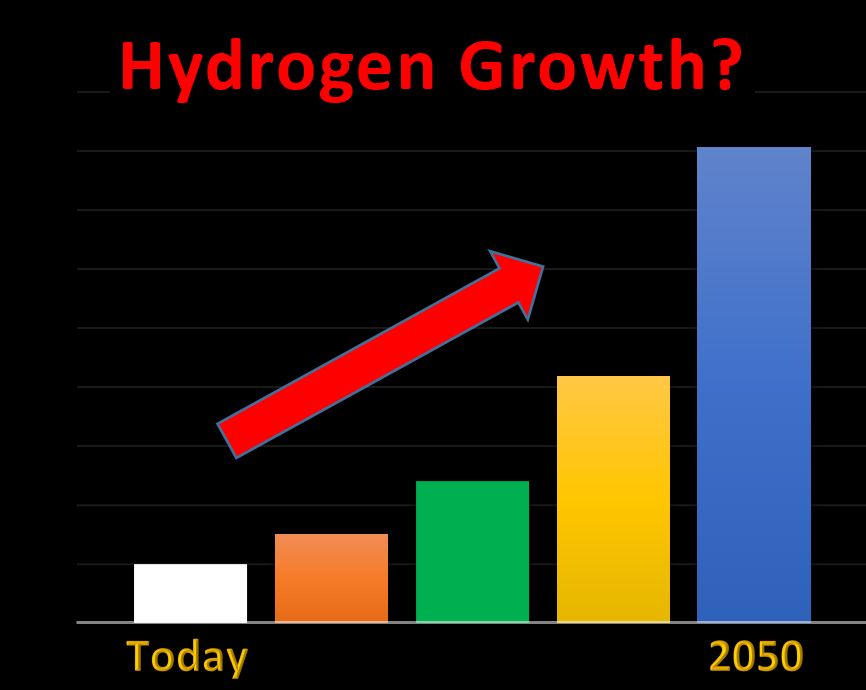 Who should attend?
The Hydrogen Economy Program caters to two distinct groups:
Industry Professionals: Those who are already in the energy industries and seeing significant changes almost daily. The Hydrogen Economy Program will provide new information, new insights, and new skills for professionals to help them manage new demands and be a valuable part of the energy transition.
For Future Energy Professionals: This program would be ideal for students preparing themselves for a successful energy career and professional life. The Hydrogen Economy Program provides a unique perspective and skillset, giving students a competitive edge, understanding, and competence as they enter the energy marketplace.
Enroll Today!
Program Pricing
INDIVIDUAL BADGE PRICE:
$1,000
EACH
COMPLETE PROGRAM PRICE (3 Badge Program):
$2,700
 Discounted price of $2,500 for AlChE Members and UH Alumni
Schedule
The Fall 2023 cohort of The Hydrogen Economy is presented as a combined synchronous/asynchronous package. The synchronous (real time) segments are weekly 1-hour Zoom meetings, 6:00-7:00 pm US Central Time, on Monday evenings unless holidays or other scheduling factors dictate otherwise. These sessions include overviews, updates, course guidance, and Q&A. The first synchronous segment is an orientation session, which comes at the start of Badge 1 (Hydrogen Production Badge). The other weekly synchronous segments are for review of assigned asynchronous material and for Q&A.
The asynchronous segments consist of recordings, lecture notes, and pre-read documents. These are to be reviewed and studied between the weekly synchronous sessions. There are 2 x 2½-hour asynchronous sessions per week, together with weekly quizzes.
Dates for the synchronous segments are:
Orientation Session: August 21
Badge 1 - Hydrogen Production: August 28 | September 6 | September 11
Badge 2 - Hydrogen Transportation, Safety & Use : September 27* | October 2 | October 11*
Badge 3 - Commercial Opportunity for Hydrogen†: October 23 | October 30 | November 6 | November 8* | November 13**
*Wednesday Session
**Contingency Session
†Much of Badge 3 consists of a capstone project. Additional synchronous sessions may be needed for project reviews.
All dates are subject to change.
Credentialing Overview
This micro-credentialing program delivers a multi-disciplinary understanding of challenges and solutions involved in developing a viable hydrogen economy. It is taught by world-class instructors, including leaders from industry and the marketplace and accomplished faculty from the University of Houston, the Energy University, in the Energy Capital of the World.
The program is offered in 15-hour modules, each module taking place over a three-week period. Digital badges are awarded for each module, and a set of three badges earns a "Silver Belt" from UH Energy. Successful students will also receive a certificate of completion from AIChE.
The Hydrogen Economy is a standalone program. However, it is also a Silver Belt Program within the Sustainable Energy Development portfolio. The introductory Sustainable Energy Development Bronze Belt, followed by two additional Belts (Silver and Gold) lead to the coveted UH Digital Certificate in Sustainable Energy Development. The badges and belts provide a permanent record, endorsed by UH Energy and the University of Houston, that can be made a part of your resume to credential your new skills.
---
Silver Belt
This Silver Belt program builds upon the introduction to the energy transition given in the Bronze Belt in Sustainable Energy Development. It provides a deeper look at hydrogen – one of the most promising vehicles for decarbonizing the global energy system. The three badges explore hydrogen production, hydrogen transportation, safety and use, and the commercial opportunity for hydrogen. A capstone project is included, to consolidate the multidisciplinary learnings of this exciting new program.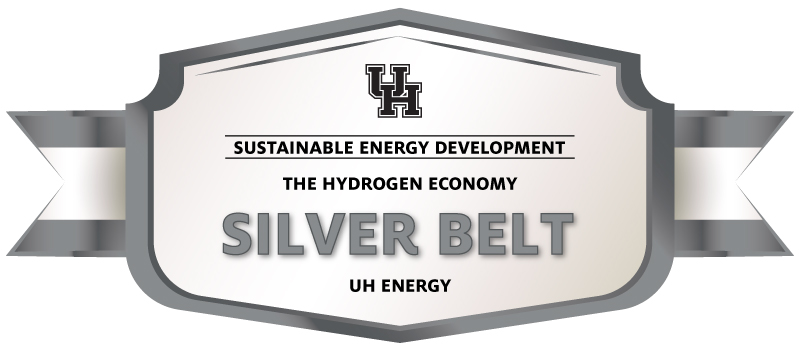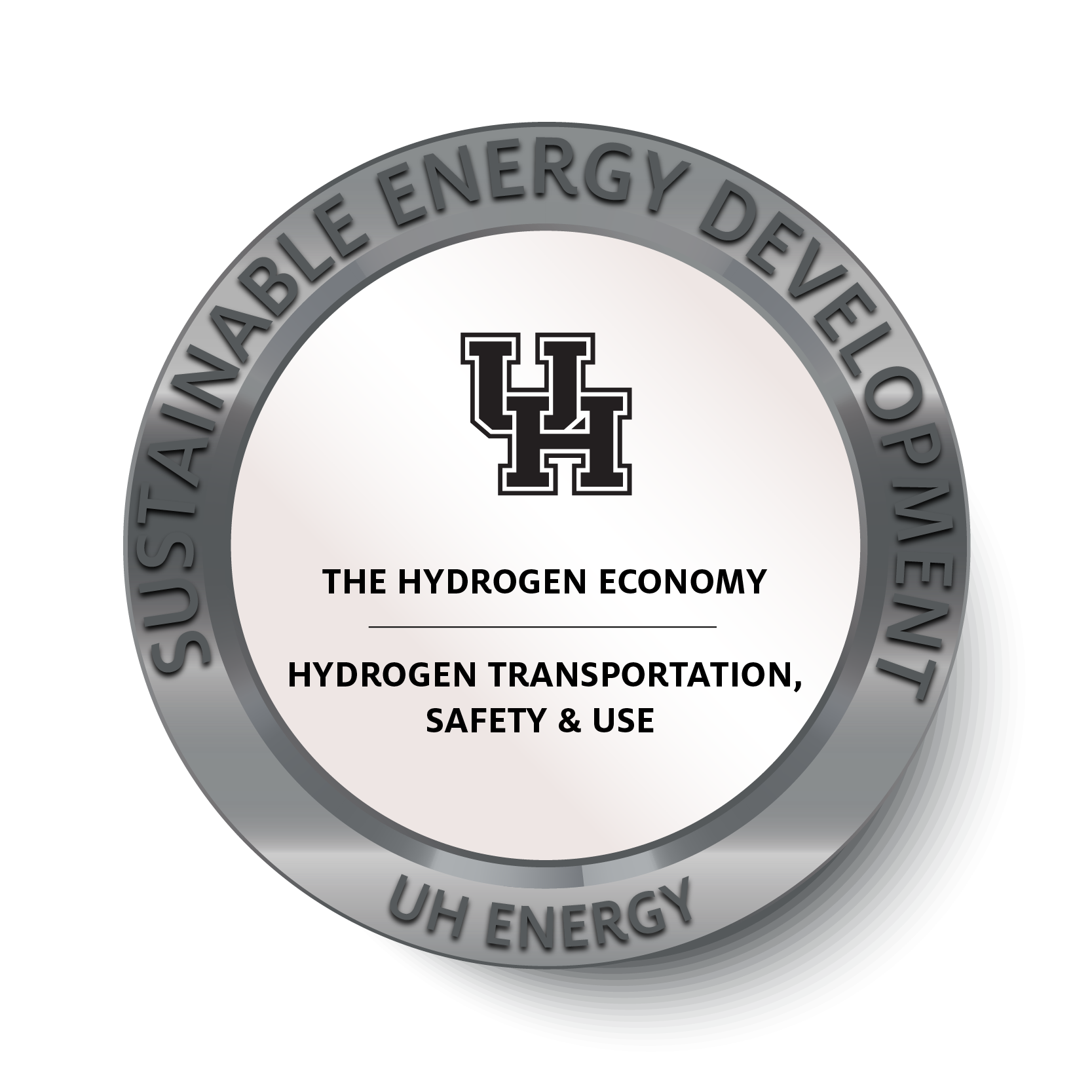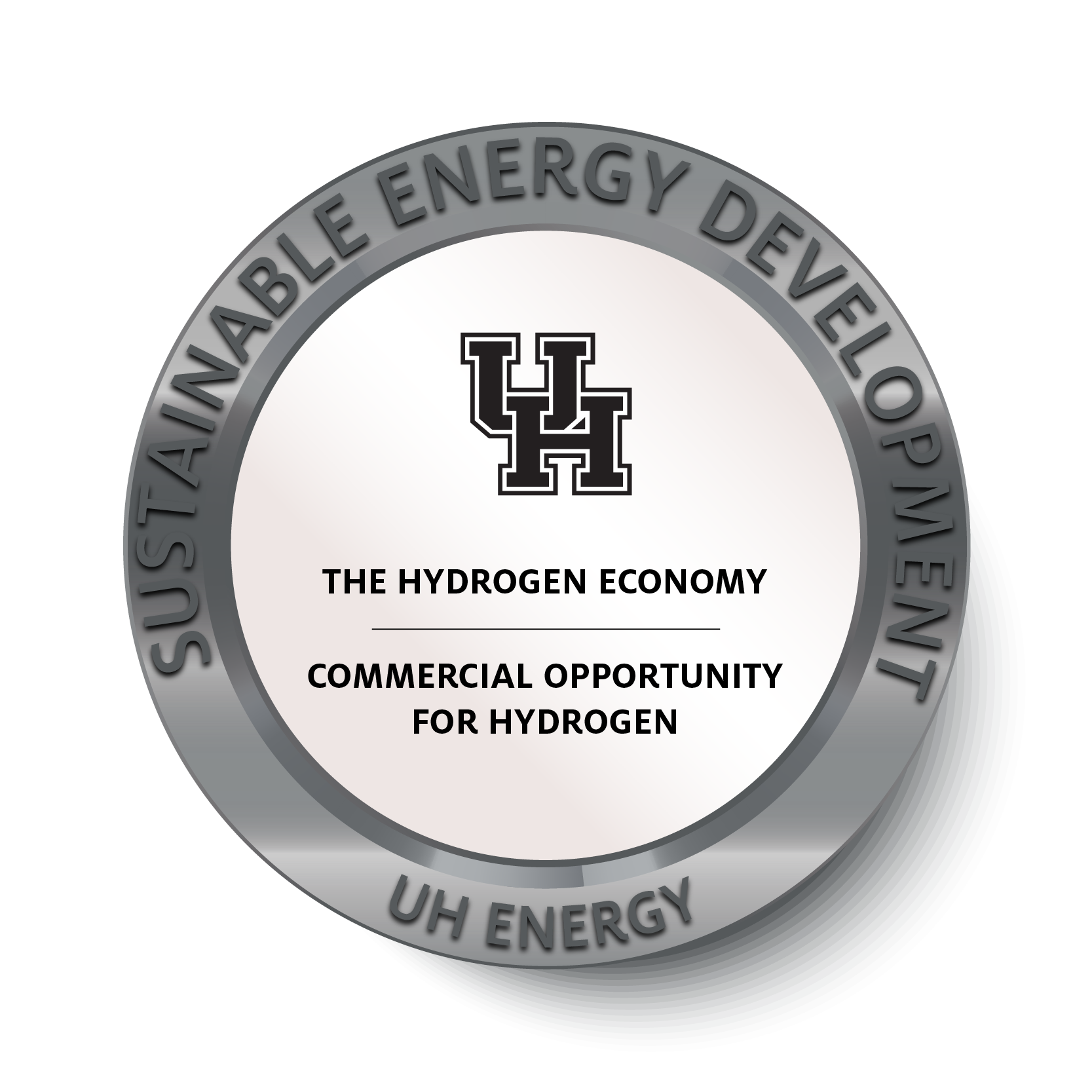 Instructors
UH INSTRUCTORS
Greg Bean

Executive Director of the Gutierrez Energy Management Institute, Bauer College of Business, University of Houston

Aparajita Datta

Research Scholar, UH Energy, University of Houston

Dr. Birol Dindoruk

American Association of Drilling Engineers Endowed Professor, University of Houston

Dr. Ramanan Krishnamoorti

Chief Energy Officer, University of Houston

Charles McConnell

Energy Center Officer, CCME, University of Houston

Dr. Ognjen Miljanic

Professor of Chemistry, University of Houston

Dr. Suryanarayanan Radhakrishnan

Managing Director, UH Energy, University of Houston

Dr. Alan Rossiter

Executive Director, External Relations & Educational Program Development, University of Houston
INDUSTRY INSTRUCTORS
Dr. Richard Helling

Director, Sustainability/Life Cycle Assessment, Dow

Nigel Jenvey

Managing Partner - New Frontiers, Baker Hughes

Dr. Teresa Jurgens-Kowal

Founder and President, Global NP Solutions

Scott Nyquist

Senior Partner, McKinsey & Company

Dr. Joe Powell

Principal | Retired Shell Chief Scientist – Chemical Engineering, ChemePD LLC

Dr. Pieter Smeets

Sr. Manager, Industrial Sustainability (MEA), SABIC

Andy Steinhubl

Vice Chair of the Board, Center for Houston's Future (CFH)
Learning Objectives
After successfully completing this program, participants will be able to understand:
Key characteristics and drivers for hydrogen as the decarbonization fuel of choice
Fundamentals for the existing hydrogen market, and how it is poised to change
Policy and strategy: Critical factors in building The Hydrogen Economy
Hydrogen as a means for transporting and storing renewable energy
Current and emerging options for producing hydrogen, including offshore options
Basics of hydrogen safety
Technical options for storing and transporting hydrogen, including decision factors
Fuel cells and their roles in transportation, in the electric grid, and in domestic and commercial power supply
Hydrogen fueled vehicles – from forklifts, trains and ships to aircraft
Hydrogen as a fuel to decarbonize industry
Trade-offs for use of hydrogen vs. electrification vs. advanced renewable hydrocarbon fuels as vectors for decarbonization
Credentialing Program Prerequisites
Either:
Rising senior in a bachelor's degree program or graduate student; business, engineering, or technology preferred.
Industry professional
Frequently Asked Questions
Additional Program Resources
The Hydrogen Economy Information Session
Recording Date: January 26, 2022

Information Session for The Hydrogen Economy held on Wednesday, January 26th from 2:00pm - 2:30pm

Recording Date: July 1, 2021

Information Session for The Hydrogen Economy held on Tuesday, June 1st from 2:00pm - 2:30pm
Sustainable Energy Development Program Info Session
Recording Date: July 9, 2020

Information Session for the Sustainable Energy Development Program held on Thursday, July 9th from 10:00am - 10:45am
RECENT PROGRAM CAPSTONE PROJECT HIGHLIGHTS
The Hydrogen Economy Program experience culminates with a capstone project. The project is based on developing and defending a business plan for a clean hydrogen start-up venture, demonstrating knowledge of the principles taught in the course. This is augmented by additional independent research related to the specific type of business model, technology deployment, and location chosen. Students can either work individually or form teams to evaluate their ideas, and then present them to the class and the panel of judges (aka the shark tank). Past cohorts have shared some wonderful ideas and creative presentations, and the whole activity was great fun. Below are summaries of the winning projects.
Fall 2022
1st Place

Team: H2Mining (Anna Gretchina & Rob Haun)

3rd Place

Team: Shivaprakash C Rao, Head of Consulting and Energy Transition, BMT Asia Pacific

Team: Joao B. S. Gonzaga, Sr. Director of engineering, Gerdau Steel
Spring 2022
1st Place

Team: Ryan Davis, CJ Okafor, and Ozgur Ozen

1st Place (tie)

Team: Brian Peterson

Team: James Abrams, Gareth Burton, Joseph Rousseau, Derek Schmidt
Testimonials
Ricardo Chona -  Business Development Manager

"Excellent program from UH, outstanding instructors and guest speakers. "

Kay McCall - Board member and advisor

"Thank you to UH Energy for presenting the Hydrogen Economy program for those of us wanting more than a superficial view of the potential role of hydrogen in the energy transition. "

Ram Seetharam

–

Energy Center Officer & Hydrogen Lead at Univ of Houston

"Completed Badge 1 on Hydrogen Production - highly recommend this micro-credential course at UH Energy."

Daniela Ismail, EIT, MBA

–

Zero Emission Business Development Manager/Women in Hydrogen 50

"I´m so happy to have completed the Hydrogen Economy Silver Belt Program at the University of Houston."