Long-Time Nursing Faculty, Terry Kirk, to Retire
August 7, 2019
After 50 years of nursing and teaching, Terry Kirk is trading his lab coat and grade book for traveling and birding. Kirk is retiring from the University of Houston College of Nursing.
"I have thoroughly enjoyed being a nurse and would not exchange it for any other profession," he said. "I will miss the students most of all. They provide energy to me and allow me to continue to enrich my knowledge."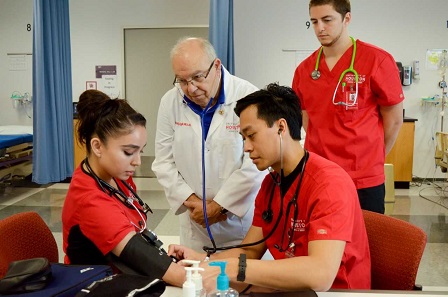 Kirk retires as a clinical associate professor. He has led classes in graduate nursing administration, the RN to BSN program, the Second Degree BSN program and the Study Abroad program in Swansea, Wales. In addition, Kirk developed the first Emergency Nursing elective course for the college. His research interest has been in learning styles of students from various countries resulting in changes in teaching strategies for student success.
"We feel very privileged to have had Dr. Kirk as a colleague and a friend these many years at UH," said Kathryn Tart, professor and founding dean of the college. "We wish him great happiness as he heads into a well-deserved retirement."
Though Kirk says it was inevitable that he become a health care professional (he grew up surrounded by family who were doctors, nurses and patient care assistants) teaching high school was where his heart was initially.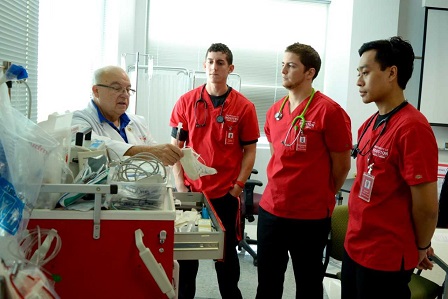 "It wasn't until I got a part time job as a hospital orderly did I began to feel the call to become a nurse. There were very few men in the field at that time," he said. "As my education advanced in nursing from BSN to MSN to Ed.D I was able to integrate my desire to teach and still practice nursing."
Kirk says teaching and guiding nurses always has been part of him, in practice and in education, AND estimates hundreds of students and professionals have been under his guidance throughout his career.
On the changing field of nurse education, Kirk says teaching the next generation of health care professionals will require integrating more advance technology into curriculum, while not losing the personal one-on-one touch. He warns that the need for nursing faculty is critical.
"The future of nursing is very good, but many faculty are retiring and there isn't a big supply of nurses who want to teach," he said.
Kirk, who plans to travel and volunteer in various organizations, will return occasionally to the college as a guest lecturer.
"UH has allowed me to continue giving back to the profession by teaching and guiding students to be the best nurses they can be," he said.