College of Technology Professor Named 'Woman of Distinction' Zarzycka Honored by OutPutLinks Communication Group at Industry Annual Conference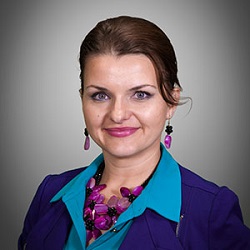 Monika Zarzycka, instructional associate professor with the University of Houston College of Technology Digital Media program, was one of 10 women honored as a Woman of Distinction at the Graph Expo & Print 2016 Annual Conference. The annual award celebrates the achievements of women in the graphics communication industry and took place in ceremonies in Orlando, Florida.
"It's such a great honor to be recognized as one of the Women of Distinction among many great female leaders in the graphic communications industry who were chosen for this award," Zarzycka said. "I would like to thank Jerry Waite for supporting me and helping me strive in my career."
 Professor Jerry Waite is the coordinator of the digital media program.
The "Women of Distinction" designation is an industry recognition program from OutPutLinks Communication Group, which has been honoring women for 15 years. All honorees were nominated by their peers and selected based on their contributions to the industry.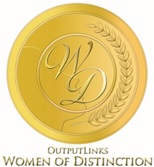 Zarzycka began her teaching career at the University of Houston in 2005. She and Waite created the digital media major in 2008, and secured a six-year accreditation from the Accrediting Council for Collegiate Graphic Communications in 2010 and in 2016. The major currently has nearly 500 students.
Through university grants, Zarzycka designed interactive lessons for various courses, including those that help students improve their writing. In fall 2016, she obtained a $25,000 Teaching Improvement Grant to utilize interactivity and gaming in online teaching.
"Seldom in a professor's career is it possible to watch a young student grow from an inquisitive and hardworking college student to a nationally-renown 'Woman of Distinction,'" said Professor Jerry Waite, coordinator of the UH Digital Media program. "I am fortunate because I was her teacher at University of Houston and am now her proud colleague. Even though I'll always consider her my 'padawan learner,' she's grown to a position of national prominence and is a positive force in our digital media industry."
Zarzycka is the former president of the Graphic Communications Education Association (GCEA), past director of college relations for the Houston Production Management Association, and faculty sponsor of a student chapter of GCEA (GCEAUH).  She has published scholarly articles in the Visual Communications Journal and presented her research at numerous national and regional conferences.
Zarzycka join 117 women worldwide, representing professional, technical, entrepreneurial and management, who have been recognized by OutPutLInks Communications Group.  For a complete list of honorees, click here.
Originally from Poland, Zarzycka moved to United States in 1996 as a high school exchange student. Her American host family—C. J. and Martha Fertitta—exposed her to graphic design and printing, which inspired her to pursue studies in that area.  A scholarship allowed her to pursue undergraduate studies at the University of Houston College of Technology, where she earned a degree in technology leadership supervision. She later earned a master's degree in training and development and later a Master's of Divinity.