Manage the Stress of Home, Work and School Life CAPS Counselor Offers Tips for a Healthy Semester
The pressures of being a college student may seem like a rite of passage, but unchecked, stresses can become unhealthy.  Balancing classwork, home life and work life can be challenging.
"Sometimes stress can be a motivator, but too much can interfere," said Mona Drucker, a licensed professional counselor with the University of Houston Counseling and Psychological Services (CAPS). "If stress is paralyzing us, it's time to ask for some help to develop strategies to manage time and stress."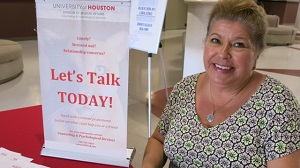 (CAPS) is open to all enrolled students and includes crisis intervention, counseling, assessment, outreach and consultation.  All clinical services are confidential.
CAPS offers some tips to having a productive and healthy semester:
Be Open to Meeting People: Don't just commute to class and leave. Get to know your fellow students and instructors.
Take Advantage of Campus Services at UHSL:  In addition to CAPS, there are academic counselors and career advisors available to students.
Know How You Respond to Stress and Plan Ahead: Look at your course syllabus and academic calendar. Many UHSL students work and it makes sense to ask for time off in advance for mid-terms and finals.
Get involved! Attend campus events at UHSL and take a moment to talk to someone new. Feel free to visit the main campus where we have over 400 student organizations and campus events like Frontier Fiesta and football games that you can attend as a UHSL student. 
How to Access UH Sugar Land Services for CAPS:
Call the UH CAPS main number to schedule an appointment (713-743-5454). Please let our Front Desk Staff know that you want to meet with a clinician on the UHSL campus.
You can find Mona Drucker, MA LPC, a licensed professional counselor, at "Let's Talk", a drop-in consultation service. She can help you get connected with other services as well.
If you are a UHSL student experiencing a mental health crisis you can call the UH CAPS main number at 713-743-5454 and you can speak with a CAPS clinician. If you are in imminent danger, please call 911.
If you are a UHSL student and are experiencing a crisis situation after hours, please contact CAPS at 713-743-5454, and you will be connected to an after-hours counselor.