From the Fire Marshal: October is Fire Prevention Month October 3, 2016
It's a weekly routine for the University of Houston Sugar Land Assistant Fire Marshal.  Once a week, Nathan Green visits every room in Brazos Hall and the Albert and Mamie George building, checking for any violations of the fire code or incidents that could prove troublesome.
"It might not be winter time, but so many people want space heaters in their offices," he said. "Having those is against the fire code. I have to be the bearer of bad news.  Most times there are alternatives to using space heaters and everyone has been receptive to those other ways to stay warm."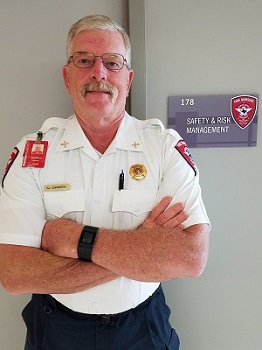 Every October is Fire Prevention Month, which gives Green extra reason to be vigilant.
"There are small, easy things we all can do to ensure that we are safe in our environment," he said. "That's at work and at home."
The theme of this year's National Fire Prevention Association's campaign focuses on smoke alarms--"Don't Wait. Check the Date. Replace Smoke Alarms Every 10 Years."  According to the association, only a small percentage of people know how old their smoke alarms are or how often they need to be replaced. Green joins them in recommending:
Smoke alarms in all sleeping areas of the living home
Monthly checks of all smoke alarms (push the "test" button)
Monthly battery checks of all smoke alarms (change them twice  year) 
Replace the smoke alarm every 10 years. If you don't know how old your smoke alarm is look at the date of manufacture on the back of the alarm.
Purchase smoke alarm models that are interconnected wirelessly throughout your home, so if one activates, all activate.
NO smoke alarms in the kitchen or bathroom due to steam created in those areas
 For additional safety tips or answers to questions, visit with your Fire Marshal. Find him in Brazos Hall, room 178.